My most anticipated releases of the week are here!  Make sure you check them out, add them to your TBR, and pre-order as soon as possible.  They are must reads!
Check back throughout the week in order to see my reviews and other book news, and make sure you head over to my Facebook page for your chance to win an e-book copy of one of the many new releases being published this week!
Also, don't forget to comment on any post throughout the week in order to enter to win any ebook from your own TBR ($5.99 Limit).  Each comment is an entry, so make sure to comment multiple times.
---
 AVAILABLE MONDAY
Musings…
Words. Words just evade me right now. This book closes the story of Maddison and Bishop but opens the world to so much more. So. Much. More.
I can promise you that Tacet a Mortuis is everything readers of this series expect. Surprise plot twists, suspense, edge of your seat moments, the often antagonistic and real love between Bishop and Madison, and loyalty and dedication of the Kings.
FULL REVIEW TO COME ON FRIDAY
Synopsis:
Hail to the king, and watch him reign, this game was somewhat fun, until the finale came…
Now we're here, with carnage and despair, and the only questions left to answer, are the ones that do not appear…
A king loses a war, and a swan sheds her wings, chaos collides with peace, as the crows begin to sing…
Enter if you dare, because I swear the end is near, but nothing is as it seems, and everything is so bare.
So what the f*ck is going on at Riverside, I think, I think… everyone is about to die….
Preorder your copy today!
---
AVAILABLE TUESDAY
Musings…
My excitement for this duet is through the roof.  I have been waiting for this story since that surprise plot revelation in a previous book in the series, and it is finally here.  I know K.A. Linde is going to tear my heart apart, but it is going to hurt so good!
FULL REVIEW TO COME FRIDAY
Synopsis:
A sexy new contemporary romance duet from USA Today bestselling author K.A. Linde…
I have the perfect life.
Until the day my husband tragically dies.
Being a single mom and widow was never part of the plan.
When David Calloway enters my life, I have no room for love in my heart.
But he's determined to do right by me.
Could he be the Wright love?
The Wright Love is the first book in the Wright Love Duet, and Sutton and David's story will conclude in The Wright One—coming May 29th! Get ready for your newest binge read.
PREORDER YOUR COPY TODAY!
---
AVAILABLE TUESDAY
Musings…
What have I been doing with my life? Why have I never read R. Scarlett's words? Her beautifully crafted prose captivated me, her cast of delicious and elite characters seduced me, and her sexy prose enthralled me. I have never wanted to live as a mortal among gods more in my life.
FULL REVIEW TO COME SATURDAY
Synopsis:
Prelude in the American Gods series.
Young. Wealthy. Elite. Attractive. The gentlemen's secret society at Yale was filled with them.
And Nathaniel Radcliffe, the bane of my existence, was one of them.
As the right hand of the American Gods, he was conceited and arrogant. A dangerously handsome man in a tailored custom suit and shiny black oxford loafers.
The classroom was our battlefield. We made a sport out of arguing and debating, ready to do anything in order to win over the other.
Deadly opponents, deadlier minds.
I'd sworn I'd never give him the upper hand, until…
The secret I've been hiding for the last three years?
He just discovered it…and now he has all the power.
---
Musings…
I have completely fallen in love with the Malone brothers (all standalone books if you haven't read them). Each one is so sexy and swoon-worthy. Just adding to my obsession with these fictional men is the single dad, second-chance romance tropes and I'm done for. This is going to be a guaranteed must read.
FULL REVIEW TO COME NEXT MONDAY
Synopsis
This whole contest was supposed to be easy. I know, I know. Famous last words.
It's a long story, but I messed up at work. Big time. To earn back the trust of my boss, I promised to save one of our magazines. Yep. That Hot Dad contest you've seen advertised all over the place was my idea. And if I'm successful, if I'm able to increase our online readership, then I get a shot at my dream job.
But the one thing I never expected to happen, happened: Contestant number ten, Grayson Malone. Hello, Mr. Difficult. And did I mention sexy as hell?
Unfortunately he knows me. The old me, anyway. And while we might be older now, I remind him of before. Of the woman who broke his heart, who hardened him, and who left him alone to raise the cutest little boy I've ever seen.
But I don't want a relationship. And I definitely don't fall for single dads with baggage. Even ones with chiseled abs and killer smiles.
But he got to me. They got to me. Him and his son and their messy, crazy life. But I got to him too. I see the stolen glances. I feel the walls he built start to crumble. I recognize that there's an unexpected beauty to the chaos in his life.
And now that the contest is about to end, we're left to decide whether the last six months were just fun or if what we have is worth risking it all?
Preorder Your Copy Today!
---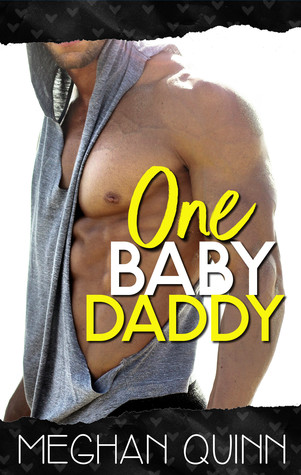 AVAILABLE THURSDAY
Musings…
The final book in my favorite series of standalones by Meghan Quinn is finally here. I have been dying for Hayden's story ever since he appeared in the Team Player anthology as a secondary character, and I fell even more in love with him during Three Blind Dates. I need his HEA!
FULL REVIEW TO COME THURSDAY
Synopsis:
"What are you doing now that your team is out of the running for the Stanley Cup?"
Forget.
I need to forget. I need an escape.
Only one person isn't falling for my reputation as the NHL's Golden Boy; she captured my attention the minute she called me out for snooping through my best friend's house. She didn't want to hear my reason–she only wanted to playfully give me a hard time.
Adalyn is bold, sassy–and the perfect escape.
She's everywhere. In town and in my dreams, and suddenly I need to spend every waking moment with her.
And I do, making this summer the best off-season I've ever had.
But in the midst of getting lost in Adalyn, what I don't expect is to get her pregnant.
And what I definitely don't expect is having to fight for her affection.
---
AVAILABLE THURSDAY
Musings…
I am beta reading this one, and I can whole-heartedly tell you that The Wild Heir is going to be a must read for this week.  It is one of my favorite Karina Halle books thus far, and I am completely smitten with Magnus. Their story is slow-burn perfection.
FULL REVIEW TO COME THIS WEEK
Synopsis:
At first glance I probably seem like any good-looking guy in their late twenties. I have an obscene amount of confidence, a tattooed body sculpted by the Nordic gods, and I love the ladies as much as they love me.
If I'm not BASE jumping or car racing, I'm chasing other devious thrills with the woman of the week. And that's fine if you're the average single guy.
But I'm not the average single guy.
​
​I'm Crown Prince Magnus of Norway and my latest scandal just landed my entire royal family in hot water.
Now the only way the monarchy can save face is for me to smarten up – publicly. If I don't, I'll no longer be heir apparent to the throne. So it's either I abdicate my future role as King or…
I get married.
To a blue-blooded stranger.
Enter Princess Isabella of the tiny country of Liechtenstein.
Quiet, intelligent, and uniquely beautiful, Ella doesn't like this arrangement any more than I do and she's not afraid to show it. She says I'm a womanizer, that I don't take anything seriously, that my ego should be taken down a few pegs, and I think she aims to make me miserable for the rest of my life.
But even as our arranged marriage becomes a war of wit and words, I'm determined to break through Ella's prim and proper façade to find the wild​, sexual​ and risk-taking woman underneath. I want to uncover the Queen inside her.
The only question is – will she let me?
The Wild Heir is a standalone full-length royal romance.
---

AVAILABLE THURSDAY
Musings…
Staci Hart is another must read author for me.  Her prose is always just so beautiful and moving, and I have no doubt this will be more of the same.  On top of loving her writing style, this synopsis has pulled me in. It seems fun and light and incredibly sexy.  It is going to be amazing!
FULL REVIEW TO COME THURSDAY
Synopsis:
Marble isn't the only thing that's hard at this museum.
His body is as chiseled as Adonis. His lips are as sculpted as David. And his ego is the size of the Guggenheim.
You know the type—wolfish smile and the gravity of a black hole. The kind of man who sucks all the air from the room the second he enters it. My cocky boss thinks this internship was wasted on me, and he doesn't hesitate to let me know.
But he's wrong, and I'm going to prove it to him. If I can stay away from his devil lips, that is. Lips that cut me down and kiss me in the same breath, leaving me certain he's on a mission to ruin my life.
And maybe my heart.
---
Happy reading,