My most anticipated releases of the week are here.  Make sure you check them out, add them to your TBR, and pre-order as soon as possible.  They are must reads!
Check back throughout the week in order to see my reviews and other book news, and make sure you head over to my Facebook page for your chance to win an e-book copy of one of the many new releases being published this week!
Also, don't forget to comment on any post throughout the week in order to enter to win any ebook from your own TBR ($5.99 Limit).  Each comment is an entry, so make sure to comment multiple times.
---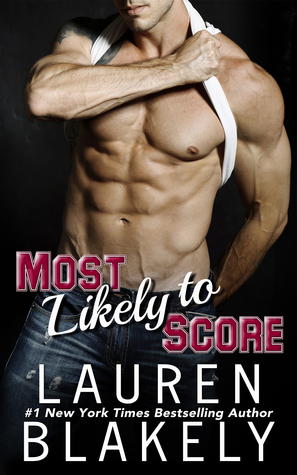 Releasing Monday, January 8, 2018
My musings…
Lauren Blakey delivers another must read! I absolutely love every single moment of this story. The characters are charming. The story is hilarious and steamy. I couldn't get enough of Jones and Jillian, and I suspect that there is only more good things to come from this series!
Full review to come on Monday.
Synopsis:
A sexy new forbidden romance from #1 NYT Bestselling Author Lauren Blakely about a sports star and the woman who's off limits… 
It should have been a simple play…
She needed a football player to step up and be the star for a charity calendar. I needed a sharp and savvy publicist to manage a brand-new sponsorship deal. I scratched her back. She scratched mine. And oh hell, did Jillian ever drag her nails down my back on one hell of a hot night. Okay fine, it was several hot nights on the road.
Now we're back in town and it's time to set the play clock back to when we were simply player and publicist. Given the way the last few years have gone, I can't risk this deal, so it's hands off for us once again. Trouble is, I want more than than just another night with her.
What's a guy to do when he's always been most likely to score, but the woman he's falling for is just out of bounds?
I don't date players.
And I definitely don't sleep with players.
And I absolutely don't fall for a certain player when I get to know him and learn he's more than just sexy — he's clever, funny and has a heart as big as his . .. well, you get my drift.
But my job is at stake, and I can't afford to lose that as well as my heart. The problem is, I think I've already lost that game.
What's a girl to do when the clock is running out, but the man she's falling for is off limits?
Pre-order your copy today!
---
Releasing Monday, January 8, 2018
My musings…
This is my first new-to-me author of 2018, and I was sucked in by the title and the teasers.  Then I went to read the synopsis, and I was sold. I'll be diving into this one tonight, and it seems like the perfect way t end my weekend.
Full review to come tomorrow.
Synopsis:
Niko
My life is great. I love my job, have awesome friends, and a great family.
Women love me, even if they know it's just for a night.
I always thought love at first sight was bullshit. Then she came storming into my life.
She tore through my every rule, rocked my world, and knocked me on my ass.
There's only one problem…she lied.
Turns out my best friends little sister isn't so little anymore.
Everly
I stole a night with my fantasy. Lied to him.
After ten years of not seeing each other, Niko doesn't even recognize me.
So I take what I want from him, what I need from him. Without worry. Without consequence.
What I didn't count on was the lingering need for him.
What I chose to forget is that he is my brother's best friend.
Once the truth is out, the game changes. There are consequences.
I should have known nothing in my life is ever simple.
Pre-order your copy today!
---
Releasing Monday, January 8, 2018
My musings…
Tia Louise writes such a great suspenseful romance.  There are always elements of dange, and she writes some of the HOTTEST sex scenes I've read. This is going to be another fabulous duet.  I can feel it.
Full review to come January 17.
UNDER THE LIGHTS (Book One)
Synopsis:
Heroes don't last long around here…
Fall in love with the sexiest girl in New Orleans?
Check.
Prepare to die for her?
Double-check.
Larissa is the most beautiful woman I've ever seen.
She's the rising star of the Pussycat Angels, the hottest burlesque show in the French Quarter.
I'll never forget the first time I saw her.
The curve of her breast outlined by sparkling rhinestones.
Slim hips wrapped in black fishnets.
Long, dark hair…
She's the Dark Angel who stole my heart.
Her body is intoxicating, our love overwhelming.
Cat eyes and blood red lips.
Sizzling fingers on white-hot skin.
I couldn't keep my hands off her…
But her fame had a dark side,
A sinister shadow lurking under the lights.
I would do anything to save her…
He would do anything to see me dead.
A CONTEMPORARY ROMANCE Duet, coming Jan. 8, 2018!
Under the Lights will be a LIVE release on Amazon!
 Get notified when LIVE on Amazon click HERE
---
Releasing Tuesday, January 9, 2018
My musings…
This is my FAVORITE Karina Halle series.  I adore each of the brothers, and the stories have been so HOT! It helps that this is also one of my favorite tropes, so I'm sure the conclusion to this novel will burn the house down.
Full review to come on Friday.
Synopsis:
Delilah Gordon has a secret.
She's been in love with her best friend and the boy next door, Fox Nelson, since she was six years old.
And while most of her friends and family know about her unrequited crush, the one person who remains oblivious is Fox himself. To Delilah, it's better this way. She'd rather pretend that they're just friends, even though her feelings for the moody rugged mountain man are anything but tame.
Fox Nelson has a secret too.
As a wildland firefighter or "hot shot," Fox parachutes into danger every day he's on the job, risking all to fight wildfires that threaten ranches, forests and thousands of lives. But while Fox's job is only for the brave, inside he feels anything but. The more he grapples with his raging demons, the more he realizes Delilah is the only one who can put out the flames.
As the two friends grow closer – and more intimate – than ever before, the more complicated their relationship becomes.
And Delilah has one more secret to reveal.
A secret that will change both their lives…forever.
Pre-order your copy today!
---
Releasing Tuesday, January 9, 2018
My musings…
K.A. Linde has produced one of my favorite family series in the romance world (rivaled only by the Landry/Gibson crew).  Being in love with your best friend's sister is another favorite trope.  Add to that the stellar writing of K.A. Linde, and it is guaranteed perfection.
Full review to come on Tuesday.
Synopsis:
A new brother's-best-friend stand alone romance by USA Today bestselling author K.A. Linde…
I was just his best friend's little sister.
But he was always more than that to me.
After twelve years of pining over Patrick's easy smile, baby blues, and captivating charm, I decide to take matters into my own hands—and completely blow my chance.
Who knew a self-proclaimed manwhore would decide to be a gentleman the first time I'm naked in his bed? Definitely, not me. But when I land there again, neither of us has any intention of stopping.
There's only one problem: nobody can know. Especially not my three older brothers. If they found out, all hell would break loose.
So I'm willing to keep our secret. Because I want him Wright here, right now.
Pre-order your copy of The Wright Secret today!
---
Releasing Wednesday, January 10, 2018
My musings…
Julie Johnson is one of those authors who doesn't get the acclaim she deserves. Her novels are impeccably written, overflowing with angst, and sexy.  This woman knows how to write a romance, and is always seen on my best list.  If you haven't read any of her books, this is the perfect place to start.
Full review to come on Wednesday.
Synopsis:

"When we crash-landed on the island, I thought my story was over. Turns out, it was about to begin." 
He was an asshole from the first moment we met.
I took one look at the stranger in the airport terminal and knew he was exactly the kind of man my mother spent seventeen years warning me against. Gruff, grumpy, and far too good-looking to stare at without experiencing heart palpitations.
Thankfully, I'd never see him again.
Or so I thought.
I couldn't have known our plane would crash.
I couldn't have predicted we'd be the only survivors.
I couldn't have ever, in my wildest dreams, anticipated that the asshole from the airport would become my only source of solace in the darkness.
It's so wrong to want him, for so many reasons. But as the months slip by and our hopes of rescue grow dimmer… the spark between us kindles into something impossible to ignore.
Sometimes, survival requires swimming in uncharted waters. But if salvation doesn't come soon…
I might just drown in him.
** UNCHARTED is a full-length standalone story of survival and forbidden love. Due to action elements, adult language, and sexual content, it is recommended for readers ages 16 and up. ** 
Pre-order your copy of Uncharted today!
---
Happy reading,