My most anticipated releases of the week are here!  Make sure you check them out, add them to your TBR, and pre-order as soon as possible.  They are must reads!
Check back throughout the week in order to see my reviews and other book news, and make sure you head over to my Facebook page for your chance to win an e-book copy of one of the many new releases being published this week!
Also, don't forget to comment on any post throughout the week in order to enter to win any ebook from your own TBR ($5.99 Limit).  Each comment is an entry, so make sure to comment multiple times.
---
COMING TUESDAY
Sarah's Musings…
I'm emotionally wrecked. Destroyed. Happy. Sad it is over. Epic book hangover! Tillie is savage. Nate is my favorite king! I love his soft, his hard (winks) and his depraved! I never want to let them go.
FULL REVIEW TO COME ON TUESDAY
Synopsis:
Blurb:
Some girls don't like pretty things.
Some girls like things that are destructive, and toxic. Things that fuel our bodies with adrenaline and bring our demons to their knees.
They say magic isn't real, but it's it the closest way to describe love? It doesn't exist physically. It merely exists around us, within us, possessing our souls and making us do stupid shit. Shit like falling in love with a boy who knows how to rip my world apart and raise hell with a simple flick of his wrist. Their secrets are now mine. I'm not just in the middle of this game, I'm helping orchestrate it. Can the cries of my aching soul be enough to drown out the burning embers of my mistakes?
The mind strengthens the heart, roughing the edges to prepare it for war. This is a war I will not win.
This is a war of fate.
𝘚𝘩𝘦'𝘴 𝘨𝘰𝘪𝘯𝘨 𝘵𝘰 𝘣𝘳𝘦𝘢𝘬.
𝘚𝘩𝘦'𝘴 𝘨𝘰𝘪𝘯𝘨 𝘵𝘰 𝘧𝘢𝘭𝘭.
𝘚𝘩𝘦 𝘸𝘪𝘭𝘭 𝘦𝘷𝘦𝘯𝘵𝘶𝘢𝘭𝘭𝘺 𝘤𝘰𝘮𝘦 𝘣𝘢𝘤𝘬 𝘵𝘰 𝘮𝘦, 𝘰𝘯 𝘢𝘭𝘭 𝘧𝘰𝘶𝘳𝘴
𝘉𝘦𝘤𝘢𝘶𝘴𝘦 𝘵𝘩𝘪𝘴 𝘪𝘴𝘯'𝘵 𝘢 𝘧𝘢𝘪𝘳𝘺 𝘵𝘢𝘭𝘦
𝘐 𝘢𝘮 𝘯𝘰 𝘬𝘯𝘪𝘨𝘩𝘵.
𝘐'𝘭𝘭 𝘵𝘢𝘬𝘦 𝘢𝘭𝘭 𝘰𝘧 𝘩𝘦𝘳 𝘴𝘰𝘶𝘭
𝘈𝘯𝘥 𝘱𝘰𝘶𝘳 𝘪𝘯 𝘮𝘺 𝘴𝘱𝘪𝘵𝘦.
𝘕𝘰 𝘭𝘪𝘨𝘩𝘵.
𝘕𝘰 𝘭𝘪𝘨𝘩𝘵.
𝘌𝘷𝘦𝘯 𝘮𝘺 𝘥𝘢𝘳𝘬𝘯𝘦𝘴𝘴, 𝘴𝘶𝘳𝘷𝘪𝘷𝘦𝘴 𝘪𝘯 𝘥𝘢𝘺𝘭𝘪𝘨𝘩𝘵.
𝘛𝘩𝘪𝘴 𝘪𝘴𝘯'𝘵 𝘢 𝘧𝘢𝘪𝘳𝘺-𝘵𝘢𝘭𝘦.
𝘉𝘶𝘵 𝘭𝘰𝘷𝘦 𝘥𝘰𝘦𝘴 𝘸𝘪𝘯
𝘉𝘦𝘤𝘢𝘶𝘴𝘦 𝘦𝘷𝘦𝘯 𝘵𝘩𝘳𝘰𝘶𝘨𝘩 𝘵𝘩𝘦 𝘴𝘪𝘯
𝘐𝘵'𝘴 𝘩𝘦𝘳 𝘵𝘩𝘢𝘵 𝘭𝘪𝘯𝘨𝘦𝘳𝘴 𝘸𝘪𝘵𝘩𝘪𝘯.
𝘚𝘩𝘦 𝘣𝘦𝘢𝘵𝘴 𝘵𝘩𝘳𝘰𝘶𝘨𝘩 𝘮𝘺 𝘷𝘦𝘪𝘯𝘴.
𝘞𝘩𝘪𝘴𝘱𝘦𝘳𝘴 𝘰𝘷𝘦𝘳 𝘮𝘺 𝘧𝘭𝘦𝘴𝘩
𝘛𝘶𝘨𝘴 𝘰𝘯 𝘮𝘺 𝘩𝘦𝘢𝘳𝘵 𝘴𝘵𝘳𝘪𝘯𝘨𝘴
𝘓𝘪𝘬𝘦 𝘢 𝘱𝘶𝘱𝘱𝘦𝘵 𝘵𝘢𝘯𝘨𝘭𝘦𝘥 𝘪𝘯 𝘢 𝘮𝘦𝘴𝘴
𝘞𝘪𝘭𝘭 𝘮𝘺 𝘩𝘦𝘢𝘳𝘵 𝘣𝘦 𝘦𝘯𝘰𝘶𝘨𝘩
𝘛𝘰 𝘣𝘳𝘪𝘯𝘨 𝘩𝘦𝘳 𝘣𝘢𝘤𝘬 𝘵𝘰 𝘭𝘪𝘧𝘦
𝘞𝘩𝘦𝘯 𝘵𝘩𝘦 𝘧𝘪𝘳𝘴𝘵 𝘵𝘩𝘪𝘯𝘨 𝘴𝘩𝘦 𝘳𝘦𝘢𝘤𝘩𝘦𝘥 𝘧𝘰𝘳
𝘞𝘢𝘴 𝘯𝘰𝘵 𝘩𝘪𝘮
𝘖𝘳 𝘩𝘪𝘮
𝘖𝘳 𝘮𝘦
𝘐𝘵 𝘸𝘢𝘴 𝘵𝘩𝘦 𝘰𝘯𝘦 𝘱𝘦𝘳𝘴𝘰𝘯 𝘵𝘩𝘢𝘵 𝘩𝘢𝘶𝘯𝘵𝘦𝘥 𝘩𝘦𝘳, 𝘪𝘯𝘵𝘰 𝘮𝘪𝘴𝘦𝘳𝘺.
𝘛𝘩𝘪𝘴 𝘪𝘴𝘯'𝘵 𝘢 𝘨𝘢𝘮𝘦.
𝘛𝘩𝘰𝘴𝘦 𝘢𝘳𝘦𝘯'𝘵 𝘮𝘺 𝘵𝘳𝘪𝘤𝘬𝘴
𝘐𝘧 𝘴𝘩𝘦 𝘥𝘰𝘦𝘴𝘯'𝘵 𝘰𝘣𝘦𝘺
𝘛𝘩𝘦𝘳𝘦'𝘴 𝘢 𝘯𝘶𝘮𝘣𝘦𝘳…
86
---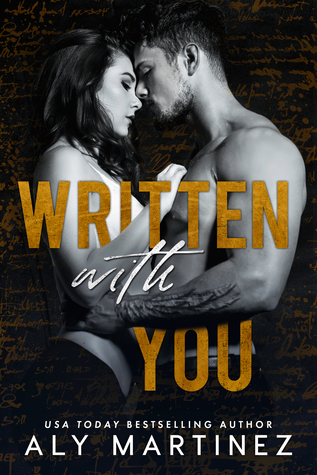 COMING THURSDAY
Sarah's Musings…
Aly Martinez has become the master of suspense romance. She keeps me engaged with these characters who have beaten by life and creates these epic romances that leave me hopeful for a better future. I cannot wait to see what stunning conclusion she has planned for us next with Written With You.
FULL REVIEW TO COME ON THURSDAY
Synopsis:
When I was fifteen, a single bullet changed my life. I spent the next decade trying to outrun the devastation of my past, building an empire that would shield me from whatever life could throw at me.
But all the money in the world couldn't help me when I found a screaming newborn abandoned on my doorstep.
I'd never wanted to be a father. Passing the sludge that ran through my veins down to an innocent child seemed like a tragedy. But there she was—pink cheeks, red hair, and mine.
Somehow, against all logic, that little girl became the best thing that ever happened to me. It was impossible to stay lost in the past when I was the only one who could protect her future.
Which is exactly why, when her mother came back four years later, I was ready for battle.
If only I could stop myself from falling in love with her during the war.
Pre-order Written With You, today!
---
COMING THURSDAY
Sarah's Musings…
Jesse and Allie are pure magic. Their chemistry – Jesse's self loathing, and Allie's need to protect her heart – creates magic. Add to that Jesse's addictive cocky mask to hide his broken soul and I was dead where I stood.
FULL REVIEW TO COME ON THURSDAY.
Synopsis:
Allie
When I moved to River's Edge, dating was the last thing on my mind.
I definitely didn't expect to fall for him.
Jesse Shepherd.
Popular. Star athlete. Cocky as hell.
You know the type.
But as time passed, I realized there was more lurking beneath that gorgeous exterior.
Secretive. Angry. A little bit broken.
The more I peeled back his layers, the deeper I fell.
Until I slammed headfirst into his sea of lies.
Jess
I blew my shot.
Pissed everything away—college, lacrosse, my future—only to end up right back where I started in River's Edge.
I was content to revel in my misery, spending my days drowning in a bottomless pit of booze and girls.
Until I saw her.
Allison Parrish.
Beautiful. Sarcastic. Perpetual bad attitude.
The pretty little distraction from the shit show that was my life.
But the sins of my past were closing in on me, and I learned the hard way that nothing gold can stay.