My most anticipated releases of the week are here, and this one of the hardest lists I had to make in a long time.  Make sure you check them out, add them to your TBR, and pre-order as soon as possible.  They are must reads!
Check back throughout the week in order to see my reviews and other book news, and make sure you head over to my Facebook page for your chance to win an e-book copy of one of the many new releases being published this week!
Also, don't forget to comment on any post throughout the week in order to enter to win any ebook from your own TBR ($5.99 Limit).  Each comment is an entry, so make sure to comment multiple times.
---
LIVE EARLY ON AMAZON
My musings…
I am such a huge fan of K. Bromberg. Her stories are always suspenseful, angsty, and super sexy. I always love her heroes, and the Malone boys are shaping to be some of my very favorite heroes.
Full review to come on Wednesday.
Synopsis:
From New York Times Bestselling author, K. Bromberg, comes the second standalone book in the Everyday Heroes series. Just how hot will firefighter Grady Malone turn up the heat?
Songwriter Dylan McCoy has been burned.
By her boyfriend she found in her bed . . . with someoneelse.
By the contract she signed that obligates her to work with him until the songs for his new album are complete.
By her agent when she asked Dylan to keep their breakup on the down-low.
When she finds herself in Sunnyville, she refuses to let her new roommate burn her too. Still . . . a rebound has never looked so good.
That's her first thought when she sees firefighter Grady Malone.
Sexy. Charismatic. Unapologetic. He's a man who carries his own scars—the ones on his back, the survivor's guilt on his soul, and the fear in his heart.
When an unexpected visitor puts their roommate status to the test, will their undeniable attraction burn out, or will they both take a chance and play with fire?
Pre-order your copy of Combust today!
---
Releasing TUESDAY
My musings…
You all know my love of KF.  The angst, the swoonyworthy heroes, the steamy romances. GAH! They never disappoint, but I have dying for these books since Courtney and Drew went to the Bishop's home. I automatically fell for these rowdy men, and I can't wait for you all to get your hands on them!
Full review to come on Tuesday.
Synopsis:
Alex Bishop is your typical cowboy.
Charming, sexy, and wears a panty-melting smirk.
Working on the ranch helped build his solid eight-pack and smoking body. He's every girl's wet fantasy and he knows it too. Alex doesn't follow the rules of your typical playboy bachelor. After wining and dining his dates and giving them the best night of their lives, he always sends flowers and calls the next day—even if it's to say, let's just be friends. His mama taught him manners after all and his southern blood knows how to be a gentleman. Still, that isn't enough to tame the wildest of the Bishop brothers.
River Lancaster has finally met the man of her dreams. Too bad after six months of romantic bliss, she finds out he's married. With a broken heart and blind rage, she books herself a ticket to Key West, Florida. Tired of cheaters and liars, she's set on escaping to forget he ever existed. Who needs a man when there's an all-you-can-drink margarita bar, anyway? That's what she tells herself until she bumps into the right guy who can make all those bad memories disappear.
Even if it's only temporarily.
Two weeks on the beach is what they both need. No strings attached, no expectations, no broken hearts. Too bad the universe has other plans—one that'll change the entire course of their lives in just nine short months.
**A complete standalone contemporary romance with a little southern drama**
Pre-order your copy of Taming Him today!
---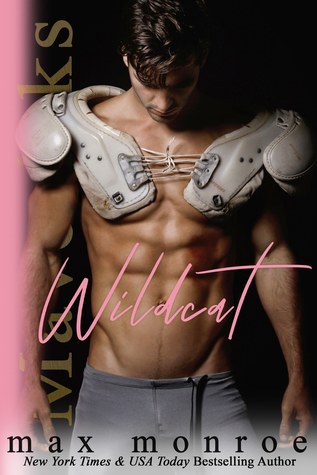 Releasing TUESDAY
My musings…
No one quite does sexy rom-coms like Max Monroe.  I love them, their crazy humor, and lovable as heck characters.  Quinn has been a secondary character who has popped up sporadically throughout the series, and I cannot express my excitement for more!
Full review to come on Tuesday.
 Synopsis:
Wildcat: a football formation in which the ball is snapped, not to the quarterback, but to another player lined up in the quarterback position.
Wild, Cat: a beautiful woman from the sky, who hooked me against the rails, and has me on the ropes. Sweet like honey, with a hint of sass burning behind her pretty brown eyes, she took over my heart without warning.
I'm Quinn Bailey, quarterback for the New York Mavericks.
Sports analysts predicted I'd break records and take my team all the way.
But no one predicted this.
And just like the other team, I never saw it coming.
Pre-order Wildcat today!
---
Releasing TUESDAY
My musings…
Do you ever get tired of reading the some tropes? The same plot lines? Meeting the same character archetypes?  The cure for that is L.H. Cosway. Her writing is brilliant, the plots unique, and the romances exquisite. She is a must read author!
Full review to come in Feb. 
Synopsis:
Life used to be simple.
I was a city girl with humble dreams. Then Dylan O'Dea broke into my flat, held me against the wall and told me to stay quiet.
It was like in the movies, where the universe zeros in on a single scene. I looked into his eyes and knew he was going to change me.
For Dylan, the sky was always falling. He showed me how our world is a contradiction of beauty and ugliness. How we choose to ignore the awful and gloss over it with the palatable. How you need just a tiny drop of something unsavoury to create every great scent.
Pretty deep for a pair of teenagers living in a block of council flats in inner city Dublin, right Probably. But we weren't typical. We both had our obsessions. Mine was growing things, Dylan's was scent. He taught me how to use my nose, and I introduced him to the magic of flowers.
I had no idea that one day he'd build an empire from what we started together. But before that, there was love and happiness, tragedy and epic heartbreak…
My name is Evelyn Flynn and I'm going to tell you about the crack in everything.
A Crack in Everything is Book #1 in L.H. Cosway's Cracks duet.
Pre-order A Crack in Everything today!
---
Releasing THURSDAY
My musings…
Staci Hart is an author I love not only because of the stories she writes but also because her writing style is impeccable.  Her words are beautiful, moving, and these Austen retellings speak to me English loving soul!
Full review to come on Tuesday.
Synopsis:
When Annie Daschle arrives in New York City, the only thing she can control is her list.
Not her father's death or the loss of her home. Not the hole in her heart or the defective valve that's dictated so much of her life. But she can put pen to paper to make a list of all the ways she can live out loud, just like her dad would have wanted.
See the city from the top of the Empire State Building: Check.
Eat hot dogs on the steps of The Met: Check.
Stand in the middle of Times Square: Check.
Get a job at Wasted Words: Check.
Two things not on her list: Greg Brandon and Will Bailey. And just like that, she finds herself caught in the middle of something she can't find her way out of, with no clear answers and no rules.
List or no list, she realizes she can't control anything at all, not even her heart.
Not the decisions it makes, and not the moment it stops.
*Standalone contemporary romance Inspired by Jane Austen's Sense and Sensibility.*
---
Releasing THURSDAY
My musings…
R.S. Grey is a one-click author for me.  She writes angsty romance, sweet romances, hearfelt romances, basically everything. I love the variety she brings. This synopsis in particular speaks to me, and I cannot wait to dive into it this week!
Full review to come on Thursday.
About THE BEAU & THE BELLE:
Beau Fortier starred in most of my cringe-worthy teenage fantasies.
I met him when I was a junior in high school, a time that revolved exclusively around bad hair, failed forays into flirting, and scientific inquiries into which brand of toilet paper worked best for stuffing bras.
That is, until Beau moved into the small guest house just beyond my bedroom window.
A 24-year-old law student at Tulane, Beau was as mysterious to me as second base (both in baseball and in the bedroom). He was older. Intimidating. Hot. Boys my age had chicken legs and chubby cheeks. Beau had calloused hands and a jaw cut from steel. Our interactions were scarce—mostly involving slight stalking on my end—and yet deep down, I desperately hoped he saw me as more of a potential lover than a lovesick loser.
Turns out, I was fooling myself. My fragile ego learned that lesson the hard way.
Now, ten years later, we're both back in New Orleans, and guess who suddenly can't take his eyes off little ol' me.
My old friend, Mr. Fortier.
But things have changed. I'm older now—poised and confident. My ego wears a bulletproof vest. The butterflies that once filled my stomach have all perished.
When I was a teenager, Beau warned me to guard my heart.
Let's hope he knows how to guard his.
You'll be able to preorder your copy for .99c starting January 29th!
---
Happy reading,