My most anticipated releases of the week are here!  Make sure you check them out, add them to your TBR, and pre-order as soon as possible.  They are must reads!
Check back throughout the week in order to see my reviews and other book news, and make sure you head over to my Facebook page for your chance to win an e-book copy of one of the many new releases being published this week!
Also, don't forget to comment on any post throughout the week in order to enter to win any ebook from your own TBR ($5.99 Limit).  Each comment is an entry, so make sure to comment multiple times.
---
COMING MONDAY
Sarah's Musings…
Vi and Penelope are one of my favorite writing duos, and I love this standalone world they created. I am always very pleasantly surprised by the plots, and the romance.
FULL REVIEW TO COME THIS WEEK
BLURB
It started out like any normal day.
Then the fender bender happened.
The guy I collided with drove an expensive car and was drop-dead gorgeous. Too bad he was also a total jerk. We argued over whose fault it was and any other thing that came out of his condescending mouth.
Eventually, the police came and we went our separate ways. The insurance companies would have to figure things out. I had a job interview to get to anyway—one I was excited about.
Though that excitement changed to disappointment the moment the person interviewing me walked in. The guy from the accident.
Whoops!
Yeah, so I didn't get the position.
The problem was, I really wanted it. No, I needed it. Anything to get me out of my current career and back into working with kids.
So, even though Hollis LaCroix was as intimidating as he was devastatingly handsome, I went back to see him and begged for a chance.
To my surprise, he gave me a shot taking care of his troubled niece.
At least my attraction to him wouldn't be able to go anywhere. I wasn't about to jeopardize my job or the strong bond Hailey and I formed.
But resisting the magnetic pull between us wasn't that simple. (Then there was our little underwear game—don't ask.)
We continued to flirt without crossing the line—until it finally happened.
This is the part of the story where we fall in love and live happily ever after, right?
Well, life has a way of throwing some major curveballs.
Ours was one I didn't see coming.
PURCHASE LINKS:
Sign up for Penelope & Vi's mailing list now and be the first one notified when it goes live!
---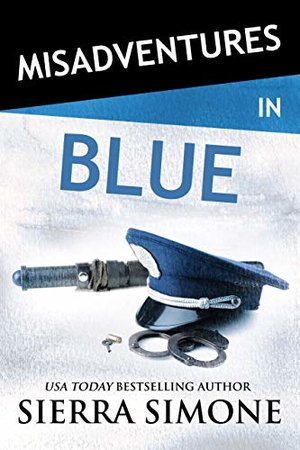 COMING THURSDAY
Sarah's Musings…
Helllo!!!! It is Sierra! I will be reading. More than that, thought, I love this series of standalones, and anything is needed to get rid of my Feast of Sparks hangover.
FULL REVIEW TO COME THIS WEEK
Synopsis:
Senior Detective Cat Day has one hard and fast rule about dating: no cops. They live hard and die young—a truth she's faced every day since her fiancé's tragic death several years ago.
But when rookie Jace Sutton shows up to work the same robbery investigation, she feels desire she hasn't felt in years.
—
Jace knows what he wants the minute Detective Day strolls onto his crime scene in heels and a pencil skirt tailored by God himself. He wants to thaw the legendary Ice Queen, and it only takes one hot, dirty night for Jace to realize he wants more. Much, much more.
But more is the last thing Cat wants from any cop—especially a playboy rookie like Jace. As the robbery investigation heats up and he repeatedly puts himself in danger, Cat must ask herself if Jace will be as reckless with her heart as he is with his life.
Preorder your copy today!