My most anticipated releases of the week are here! Make sure you check them out, add them to your TBR, and pre-order as soon as possible. They are the books I am dying to read or the books I am raving about!
---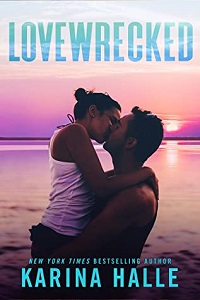 AVAILABLE NOW
Sarah's Musings…
I love Karina Halle's books. She is one of the authors I generally one click, and I love the synopsis. Plus, the cover is so pretty.
FULL REVIEW TO COME
Blurb
Daisy Lewis is experiencing a relentless string of bad luck.
Fortunately, Daisy has her sister's destination wedding coming up. A week of sand, sea, and sun in the South Pacific as the maid-of-honor is exactly what Daisy needs to forget her upturned life and focus on the positive.
That is until Daisy meets the best man.
If you take tall, dark, and handsome, and add a dash of rugged, a pinch of brooding, and a whole lot of sexy, you've got Tai Wakefield. Unfortunately he's also a major grump, total alpha, and seemingly out to antagonize Daisy at every turn.
As if being part of the wedding party with Tai wasn't bad enough, Daisy's bad luck soon resurfaces when she ends up on a cramped sailboat with Tai and the newlyweds.
Which then shipwrecks on a deserted island near Fiji.
Okay, so they aren't completely alone. There's an oddball research scientist who has been isolated for far too long, they have rundown bungalows as shelter, stores of water and canned food, plus a feral goat named Wilson. It's Lost…without the smoke monster.
But with rescue weeks away, Tai and Daisy realize the only way they're going to get through this mess is to stop fighting and start working together.
And with their guards down, they get closer.
A lot closer.
Soon, Daisy realizes that the only thing worse than being stuck on a deserted island, is being stuck on a deserted island with a man she hates to love and loves to hate.
A man that can break her heart.
Download your copy today!
---
COMING MONDAY
Sarah's Musings…
This is always a favorite duo of mine, but I got really excited when I read the excerpt. It is a unique meet cute, and I love the premise of the story.
FULL REVIEW TO COME THIS WEEK
BLURB
My planned trip for two unexpectedly turned into a trip for one. Rather than let my breakup get me down, I packed my bags and decided a week at a luxury resort was just what I needed.
But one calamity after the next, and suddenly I was stuck without a hotel room, along with a few hundred other people.
It looked like my fancy vacation was about to turn into me sleeping on the hotel lobby floor.
Until I overheard a gorgeous man pretending to be someone he wasn't in order to steal a reservation from a guest who hadn't shown up yet.
When I realized there were two rooms, instead of calling him out, I pretended to be his sister. That's how the story of "Milo and Maddie Hooker" began.
We were the Hookers.
My depressing trip quickly made a U-turn into an adventure.
My fake brother spent the next few days showing me around his hometown. When it was time to leave, neither of us really wanted to go yet.
So, instead of flying back to our respective homes, we ventured on a road trip.
At every stop, we'd pick up souvenirs.
But as hot as our chemistry was, we never crossed the line.
Milo knew I'd just come out of a tough relationship and didn't want to mess with a vulnerable woman.
So instead, at the end of our trip, we made a pact to meet again in three months.
It was always my intention to meet him.
But when I got back home, reality hit in a big way.
And I worried I may have lost my handsome stranger forever.
Was there a place for him in my future?
Or had the memory of him just become my favorite souvenir?
Sign up for Penelope & Vi's mailing list now and be the first one notified when it goes live!
---
COMING WEDNESDAY
Sarah's Musings…
I died over the synopsis of the book, and then the cover. I am here for it. This will be the second book I've read from this author, and I am very excited.
FULL REVIEW TO COME THIS WEEK
Blurb:
They might be richer than gods, but they're morally bankrupt.
As far as the boys who run America's most exclusive international academy are concerned, I'm an unwelcome interloper, an inconvenience, and they're determined to make my life a living hell.
When Wren Jacobi sets eyes on Wolf Hall Academy's newest inductee, all he sees is an easy mark. A reserved little girl with a target painted on her back. He knows nothing of my troubled past, though. Nothing of my mother's suspicious death, or the horrific treatment I've had to endure at the hands of my psychotic father.
And he has no idea of the lengths that I, unassuming little Elodie Stillwater, will go to in order to break the savage beast who dreams of breaking me first.
There's a wolf stalking the forests that surround my new school.
Little does he know…
There are far scarier predators lurking out there in the dark.
---
COMING FRIDAY
Sarah's Musings…
Sierra is my queen. I love her style of writing. I love the steaminess of it all. I LOVE IT. This world has been fantastic, and I have no idea what is coming but it will be amazing!
FULL REVIEW TO COME NEXT WEEK
Blurb:
The genius and the sunshine girl. As children, we fought bitterly and often, bickering every chance we got.
But then we grew up.
Then we came back.
Delphine Dansey carries her heart on the outside of her body; she's looking for love and chasing dreams. She's spoiled and selfish, the kind of beautiful that's made for money and fame. But somehow she's ended up in my keeping: a pretty submissive I can't seem to resist, a lover who obsesses and tempts me.
I thought I'd locked my heart away a long time ago, along with all my other weaknesses. But some doors won't stay closed, no matter how hard I fight to keep them shut. She unravels me, just like our friends are unraveling, just like Thornchapel itself is unraveling.
All year long, we've been sowing lust and jealousy and pain, heedless of the consequences. But a harvest is inevitable, and so now we must reap our sorrows.
And our sighs.
*Harvest of Sighs is Book Three in the Thornchapel series.
PRE-ORDER TODAY!
---
COMING FRIDAY
Sarah's Musings…
I love Kristy Marie's voice as a writer. She was comedy and steamy romances down. I absolutely adore her characters and worlds she builds.
FULL REVIEW TO COME THIS WEEK
Synopsis:
It's official.
I, Ainsley James, am crazy.
Desperate and crazy.
It's the only explanation as to why I'm nauseous, standing outside Maverick Lexington's door.
I mean, it's possible the stories about his deck of playing cards—with the words IOU scrawled across the back—are just rumors of the ruthless quid pro quo deals he barters.
But the flutters in my stomach know better.
Maverick is as cold as they come.
But, I need one of those cards.
I NEED to owe Maverick Lexington a favor…
Whatever the terms, I'm willing to pay.
Because, at this point, I have nothing left to lose.
---
Happy reading,