My most anticipated releases of the week are here!  Make sure you check them out, add them to your TBR, and pre-order as soon as possible.  They are must reads!
Check back throughout the week in order to see my reviews and other book news, and make sure you head over to my Facebook page for your chance to win an e-book copy of one of the many new releases being published this week!
Also, don't forget to comment on any post throughout the week in order to enter to win any ebook from your own TBR ($5.99 Limit).  Each comment is an entry, so make sure to comment multiple times.
---
 AVAILABLE NOW – EARLY
Musings…
If you love a story of a broken man (and a single dad) who is struggling to live after a huge loss, then Ava Harrison has just what you need. I personally love Jace. He is a surly bastard, and I thoroughly enjoyed watching this man come to life again at the hands of the heroine. This is a must read.
Full review to come tomorrow.
Synopsis:
I was done with love. When I opened my heart, it was for the men I couldn't have. The unattainable ones. The ones who would hurt me. A vicious cycle I couldn't seem to stop. But I had a new resolve. Focus on my career. Stay single. And then I met him. Jace Montgomery. A wounded widower with two young kids. He was exactly everything I was avoiding. So I did my best to stay away. But then he kissed me. And I fell. Hard. Hard for a man who would never be mine… A man who was broken beyond repair. A man who would break me.
Get it today for a special release price – $2.99!
---
 COMING MONDAY
Sarah's Musings…
Once Upon a Wild Fling solidifies that the Hart brothers officially own my heart, and Lauren Blakey has written my favorite romcom series EVER. These books not only tell a tale of romance but they also tell a tale of second chances for families.
Full review coming tomorrow.
Synopsis:
My brother's best friend has a proposition for me. Have I mentioned he's a sexy single dad? Tell me more…
There are a million reasons why Miles Hart isn't the man I should date but allow me to enumerate the top three. He's friends with my brother, he's a single dad, and he's a sexy, in-demand rock star. He might as well wear an off-limits, totally unavailable, and don't-even-attempt-to-ride-this-ride sign.
Then he asks me to be his plus-one when his band plays at his high school reunion, and the night unfolds in ways I never expect.
***
I have three good reasons to keep my hands off Roxy Sterling–her brother's my business manager and good buddy, my kid is the center of my world, and the last time I fell hard for a woman I was burned so badly that my interest in relationships has gone up in flames. But once I bring Roxy's body next to mine on the dance floor, I want all the not-safe-for-work things I can't have with her. So I make a proposition.
Then I learn exactly how risky we might be.
Preorder your copy today!
---
COMING TUESDAY
Sarah's Musings…
Laurelin Paige wrote it. It is a Rock Star Romance. It is in a series with some of my other favorite authors.  Enough said.  I cannot wait to devour this one.
Full review to come on Tuesday.
BLURB
Everyone wants to get close to a rock star.
The bright lights.
The music.
Those talented fingers strumming… a guitar.
Everyone wants to bang a rock star.
So why do I keep running from the one who wants me?
I'm America's Sweetheart.
I have a reputation.
He's a boy-band icon turned rock god.
I'm vanilla.
He's every flavor of bad.
And he's much, much too young for me.
If I end up in Nick Ryder's bed, my career and I will both be screwed.
…but that's only if I'm caught.
---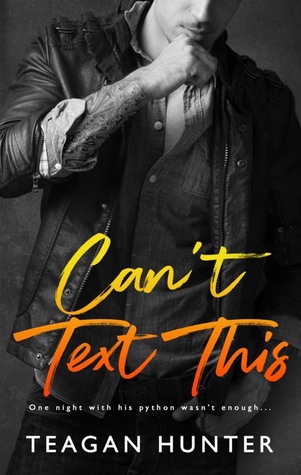 COMING TUESDAY
Sarah's Musings…
I have been waiting to dive into this series. The covers and the titles have always drawn my attention, and now I can finally dive into this world.  I am so excited to read a new to me author.
Full review to come this week
Synopsis:
"Hi Monty. Wanna see my python?"
That's how I ended up in the bathroom of some dive bar with a stranger.
Me, Monty Andrews, the quintessential virgin girl next door.
I was so out of my element, but there was no denying our explosive attraction, even via text.
Commence Operation Bang Each Other Out of Our Systems, because that was all it was—unfinished business.
I had no intention of falling back into the sheets with the tattooed, muscly, dirty-in-the-best-kind-of-way single dad over and over again…but I did.
Everything was going great—until we discovered I was his son's teacher.
This book does feature characters from Let's Get Textual & I Wanna Text You Up but can be read as a standalone, as the book does not follow the same timeline.
---
COMING THURSDAY
Sarah's Musings…
Staci Hart is one of my favorites because her style of writing just appeals to me. This one, though, has a special place in my heart for the underlying message that runs through them. I love the Red Lipstick Coalition. I love the idea of loving our flaws and ourselves. IT IS FANTASTIC.
Full review to come Thursday.
Synopsis:
He's a player.
He plays the bass with expert fingers. He plays women with intoxicating charm. And he'll play me with the ease of a virtuoso.
Who better to teach me to play than the master himself?
I'm his model student, front row, pencil sharp. Pick up lines? I've got them. Free drinks? By the dozen. Kissing? Let me grab my chapstick.
But the most valuable lesson I've learned is that there's so much I don't know. Like why his touch sets off a chain reaction straight to my nethers. Or how I'm certain each kiss is the best I'll ever have, until the moment his lips take mine again.
There's so much I don't know.
Like the fact that I'm only a bet.
But we are what we are. He's a player, through and through.
And I'm the fool who fell in love with him.
$0.99 Preorder – Special Price until Release Day
---
COMING THURSDAY
Sarah's Musings…
Tara Leigh is weaving a story of epic proportions!! Betrayal. Star Crossed Lovers. Second Chances. You are going to need this one!
Full review to come this week
Blurb:
I was called a prodigal son.
A scion of Midas.
I believed it. Why wouldn't I?
Everything my father touched turned to gold.
The proof was all around me.
Luxury cars.
Elite schools.
A billion-dollar business.
Even my girlfriend, a Park Avenue Princess.
I reigned from a throne of lies.
My fall from grace… wasn't graceful at all.
Prequel novella to Legacy of Lies 
---
Happy reading,