Of the many books being published this week these six books are the ones that I am most excited to read or to share my reviews with you.  Make sure to check back throughout the week in order to see my reviews and other book news.
Don't forget to comment on any post throughout the week in order to enter to win any eBook from your own TBR ($5.99 Limit). Each comment is an entry, so make sure to comment multiple times.
---
Releases Monday, February 13, 2017
My musings…
I love Penelope Ward's books! They are fun, light, romantic, and entertaining from the opening pages.  Her words provide me a guaranteed escape from the world, and I just can't resist one-clicking her books. What makes this book a top contender this week is the single dad plot-line. I am sucker for a single dad romance (insert sigh here)!
Full review to come on February 15 during the Blog Tour!
Synopsis:
They called him Mack Daddy. No, seriously, his name was Mack. Short for Mackenzie. Thus, the nickname. Perfect, right?
So was he: perfect. The perfect physical male specimen.
At the private school where I taught, Mack Morrison was the only man around in a sea of women.
Everyone wanted a piece of the hot single father of the sweet little boy.
I was riddled with jealousy, because they didn't know that—to me—he was much more.
They didn't know about our past.
He'd chosen my school for his son on purpose, because Mack and I, we had unfinished business.
As my friend Lorelai so eloquently put it: "Unfinished business between two people who are clearly attracted to each other is like an eternal case of blue balls." And I was suffering in pain from my case.
I was still intensely attracted to Mack. I tried to resist him, immersing myself further into a relationship with another man just to protect my heart.
Not to mention, getting involved with a parent was strictly against school rules. But seeing Mack day in and day out was breaking me down.
And soon I might be breaking all the rules.
Author's note – Told in alternating points of view, Mack Daddy is a full-length standalone novel.
 Pre-order your copy of Mack Daddy today!
---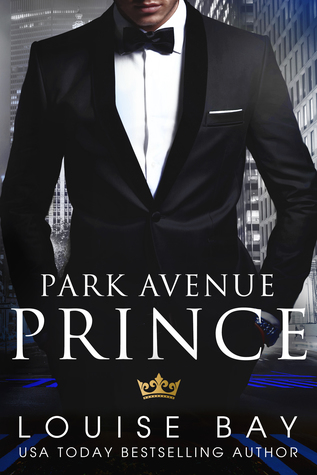 Releasing, Monday, February 13, 2017
My musings…
Louise Bay novels bring me so much joy!  Her novels are so seductive and sexy, and I love the often more angsty plot lines that are laced with dirty talking alphas, sassy heroines, and scenes guaranteed to heat you up! She is definitely one of my go-to authors when I am looking for a steamy read! Make sure you check it out!
Full review to coming on February 14, 2017 during the Blog Tour!
Synopsis:
THE PRINCE OF PARK AVENUE FINALLY MEETS HIS MATCH IN A FEISTY MANHATTAN PRINCESS.
I've made every one of my billions of dollars myself—I'm calculating, astute and the best at what I do. It takes drive and dedication to build what I have. And it leaves no time for love or girlfriends or relationships.
But don't get me wrong, I'm not a monk.
I understand the attention and focus it takes to seduce a beautiful woman. They're the same skills I use to close business deals. But one night is where it begins and ends. I'm not the guy who sends flowers. I'm not the guy who calls the next day.
Or so I thought before an impatient, smart-talking, beyond beautiful heiress bursts into my world.
When Grace Astor rolls her eyes at me—I want to hold her against me and show her what she's been missing.
When she makes a joke at my expense—I want to silence her sassy mouth with my tongue.
And when she leaves straight after we f*ck with barely a goodbye—it makes me want to pin her down and remind her of the three orgasms she just had.
She might be a princess but I'm going to show her who rules in this Park Avenue bedroom.
A sexy, standalone, contemporary romance.
Pre-order your copy of Park Avenue Prince today!
---
Releasing Tuesday, February 14, 2017 (Amazon)
Releases on all other platforms on Monday, February 13, 2017
My musings…
Penny Reid and L.H. Cosway are both brilliant writers on their own, so when these two powerhouse authors come together, it is pure magic. Every single book in this series has been absolutely brilliant, and this one is not any different. If you haven't started the series, don't worry, they can all be read as standalones. And trust me, you need this series in your life!
Full review to come on March 8, 2017 during the Blog Tour!
Synopsis:
Keeping a secret this big is going to take lots of balls. Specifically, rugby balls.
THE CAD
Bryan Leech is a cad.
Or, he *was* a cad.
No one is quite certain.
Once the quintessential playboy, Bryan claims he's done with wild parties and weekend benders. No more one night stands leading to mornings he can't remember; no more binges and blackouts; no more exploits plastered all over the tabloids and rag sheets. According to Bryan, he's cleaning up his act.
The only problem is, no one believes him.
THE CO-ED
Eilish Cassidy never thought she'd be a mother at nineteen or still in college at twenty-four. Cut off from every member of her family except her favorite cousin, she's finally managed to put her life back together. Stronger and wiser, Eilish enters her last semester of university determined to stand on her own. Now she just needs to find an internship.
The only problem is, her best option—by far—places her directly in the path of her son's father, and he doesn't remember her at all.
THE PLAN
Bryan is determined to prove he's changed. Eager to settle down with the right woman, he's got his sights set on the gorgeous redhead who seems terribly familiar.
Eilish is determined to hide her secret. She'll do anything to keep her child safe, even if that means ignoring her own wishes and desires.
But what happens when Bryan starts to remember? And what will it take for Bryan to convince the girl he forgot that she's unforgettable?
Pre-order your copy of The Cad and the Co-ed today!
---
 Releasing Monday, February 13, 2017
My musings…
The Cyberlove series is one of my absolute favorite MM series.  Megan Erickson and Santino Hassell have created a cast of characters who are complex, flawed, and completely lovable. The growth and development of each character, the love that is depicted between each couple, and the writing of these two authors makes this series an absolute must read! I know that this will be a series I will miss terribly whenever they choose to end it, but hopefully that isn't anytime soon.
Full review to come February 15 during the Blog Tour!
Synopsis:
My FallenCon agenda is simple: sit on a couple of panels and let people meet the real me. Jesse Garvy—mod of a famous Twitch channel and, if I ever come out of my shell, future vlogger. I definitely didn't plan to sleep with a moody tattooed fan-artist, but he's gorgeous and can't keep his hands off me. There's a first time for everything, and my first time with a guy turns out to be the hottest experience of my life.

But the next day, I find out my moody fan-artist is Ian Larsen AKA Cherry—someone I've known online for years. And he'd known exactly who I was while shoving me up against that wall. Before I figure out whether to be pissed or flattered, the con ends.

Now we're back online, and he's acting like nothing happened. But despite the distance between us, and the way he clings to the safety of his online persona, we made a real connection that night. I don't plan to let him forget.
Pre-order your copy of Hard Wired today!
---
 Releasing Thursday, February 16, 2017
My musings…
I love this story so much! The characters are incredibly complex and unique, making this new novel unlike the traditional romances. The story line is a tad darker than a traditional romance, and the hero is not anything that you would expect, but I loved the story line she explored and Declan. This is book one in the series, so if you have not had the chance to revel in the beautiful words of A.M. Johnson, this is the perfect place to start.
Full review to come on February 16!
Synopsis:
Paige Simon was the only girl Declan ever loved. The only one capable of silencing his voices, the only person to ever have faith in who he was, until the day her faith turned to doubt and destroyed everything they'd made together.
Declan O 'Connell was the only person Paige could be herself with. The only one she could rely on, until the day she was forced to make a choice that would condemn them both.
They've had years apart, and second chances don't belong to the damned. But when you come face to face with your savior, it's almost impossible to walk away. In order to move beyond the sins of their past, and forever silence the demons in his head, they'll have to risk it all.
But with love, there are real reasons to be afraid and, sometimes… your salvation is your damnation.
Add Possession to your TBR on Goodreads!
---
 Releasing Saturday, February 18, 2017
My musings…
Samantha Towle has become one of my one-click authors over the past two years.  What I love most about her books are that they are all different. There are sport romances, contemporary romances, second chance romances, rock star romances, and so much more.  While each story is different, there are elements of her books that stay the same: phenomenal writing, sexy heroes, and lovable heroines. If you haven't read her work yet, this would be a great place to start!
Full Review to come on February 18!
Synopsis:
From New York Times bestselling author, Samantha Towle, comes a new standalone romantic comedy.
Vaughn West, Hollywood heartthrob, has been at the top of his game for years. He thinks he's untouchable—until a betrayal brings him spiraling down. Now, everyone pities him, and if there's one thing Vaughn hates, it's pity.
After a few months of working his way through every available actress, pop star, model, and waitress in California, Vaughn needs to get his life back on track and focus on what he does best—making hit movies.
Charlotte Michaels is in love. Just not with one person.
Louis Vuitton…
Christian Dior…
Valentino…
Gucci…
And the list goes on.
Sadly, Charly's limited bank account doesn't allow her those luxuries, and the closest she gets are lucky finds in charity shops and working closely with some of those names in her job as a wardrobe assistant.
Now, Charly has landed the mother of all jobs—working on the new Vaughn West movie. Excited doesn't even cut it.
Only things don't go as planned, and it turns out that Vaughn is actually a jerk. A hot jerk, but a jerk nonetheless.
So, why do their clothes keep falling off whenever they're around each other? And why can't Charly keep her mind in the closet and off Vaughn?
Getting mixed up with a smart-mouthed, fashion-obsessed wardrobe assistant is the last thing Vaughn needs.
Getting mixed up with an arrogant, self-centered, obnoxious, jumped-up actor who has a lack of respect for fashion is the last thing Charly needs.
Things are about to get hot, dirty, and messy in Hollywood. Very messy. Especially if Charly's closely guarded secret falls out of her closet.
Pre-order your copy of Wardrobe Malfunction today!
Available on Kindle Unlimited
---
Happy reading,