Of all the books being published this week these five books are the ones that I am most excited to read or to share my reviews with you.
Make sure to check back throughout the week in order to see my reviews and other book news, and head over to my Facebook page for your chance to win an e-book copy of one of the many new releases being published this week! Also, don't forget to comment on any post throughout the week in order to enter to win any eBook from your own TBR ($5.99 Limit). Each comment is an entry, so make sure to comment multiple times.
---
Releasing Monday, November 28, 2016
My musings…
Melanie Harlow is an automatic one-click author for me.  If I see her name, I know without-a-doubt I will buy the book. Not only do I enjoy her writing style, but she also brings interesting and likable characters, great story lines, and the sex in her books is out of this world, often without being overly kinky or taboo.  Although there have been books that I have liked more than others, Melanie Harlow has never let me down as a reader, and I don't see that staring with After We Fall!
Full review to come on Monday, December 5 during the Tour!
Synopsis:
Jack Valentini isn't my type.
Sexy, brooding cowboys are fine in the movies, but in real life, I prefer a suit and tie. Proper manners. A close shave.
Jack might be gorgeous, but he's also scruffy, rugged, and rude. He wants nothing to do with a "rich city girl" like me, and he isn't afraid to say so.
But I've got a PR job to do for his family's farm, so he's stuck with me for ten days, and I'm stuck with him. His glares. His moods. His tight jeans. His muscles.
His huge, hard muscles.
Pretty soon there's a whole different kind of tension between us, the kind that has me misbehaving in barns, trees, and pickup trucks. I've never done anything so out of character—but it feels too good to stop.
And the more I learn about the grieving ex-Army sergeant, the better I understand him. Losing his wife three years ago left him broken and bitter and blaming himself. He doesn't think he deserves a second chance at happiness.
But he's wrong.
I don't need to be his first love. If only he'd let me be his last.
"Second chances are not given to make things right, but are given to prove that we could be even better after we fall." —Unknown
Add After We Fall to your TBR on Goodreads today!
Pre-order your copy today!
---
 Releasing Monday, November 28, 2016
My musings…
My first foray into the world of Nicola Rendell was with her second novel, Confessed, and I will never leave the amazing worlds she creates with her books.   They are unique and interesting, and her stories and characters captivate me.  She is truly a refreshing voice in the world of romance, and Hail Mary is only another shining example of everything I love about her and her writing!
Full review to come on Wednesday, November 30!
Synopsis:
 At a boxing gym in Chicago, Mary Monahan accidentally knocks out the most handsome man she's ever met. After she wakes him up with a few slaps and some smelling salts, the very first thing he does is ask her out for ribs and beer. His name is Jimmy. He looks like a Gillette model. And he's just too hunky to resist.

Jimmy "The Falcon" Falconi is mystified that Mary has absolutely no idea who he is. Mystified and refreshed. He is, after all, not your everyday NFL quarterback. He shops at Costco, has a soft spot for Pinterest, and is in the midst of an epic losing streak.

Jimmy falls for Mary fast and hard, the way he does everything—balls out and like it's fourth and long. And he realizes he's finally met his match. That stamina he's so proud of? Doesn't stand a chance against her Kegels.

But what they don't know is she's also his new physical therapist, recently hired by the Bears to work on his rotator cuff…and groin injury. If she can't help him, he'll be traded faster than they can say "offensive penetration."

In spite of the thousands of internet memes featuring Jimmy's face with captions like: "HEY GIRL, WANT TO TOUCH MY BALLS?" Mary finds herself falling for him and his unrelenting desire to make her his.

Until a toddler shows up at Jimmy's door.

And throws their lives into total chaos.

***

To the reader: Contents includes love, sweetness, naughtiness, honey, champagne, and an HEA. Safe.
 Pre-order exclusively via iBooks!
---
Releasing Tuesday, November 29, 2016
My musings…
I have truly loved every book, word, character, story line of this series.  I've laughed at the antics of this crazy yet lovable group, and I have sighed at the romance and love that is abundant between not only each couple but also the group as a whole.  It is truly the epitome of romantic comedies!  It is truly a bittersweet ending, but the consolation is that I can return time and time again to visit with this lovable and entertaing trio of couples!
Full review to come on Tuesday, November 29!
Synopsis:
A secret duo of romance authors team up under the New York Times & USA Today Bestselling pseudonym Max Monroe to bring you the end of their sexy, laugh-out-loud Billionaire Bad Boys series.
The end of the Billionaire Bad Boy era, the series comes to a close.
From Kline and Benny to Wes and Winnie with Thatch and Cassie in between, spend time with the characters that have stolen the hearts of both each other and readers alike, and meet the men of the upcoming spinoff series Mavericks Tackle Love.
Pre-order your copy of Scoring Her today!
---
 Releasing Wednesday November 30, 2016
My musings…
Unplugged by L.K. Collins will be my first venture into her world, and I am unbelievably excited for this journey.  The cover, the synopsis, and the trope sucked me in, and it sounds completely and utterly delicious.  I cannot wait to dive into this ARC!
Full review to come on Sunday, December 11
Synopsis:
From the moment I laid eyes on her, I was doomed.
Quinn Whitmore was unlike any other woman in the world.
She was it for me. That spark, that instant connection became my sole purpose for breathing.
Her laugh would take over a room.
Her smile brought me to my knees.
And her body was…pure perfection.
When I met Quinn, she was fresh off a nasty breakup and had ruled out all men. She wanted to spend the week in the Rocky Mountains unplugged from the world, unwinding and focusing on herself.
So I decided to let it go.
But my mind wouldn't.
Every thought suddenly became consumed with Quinn, and I knew I had to have her. So when she finally agreed to a week of just sex, no strings attached, I took the deal and ran. It would give me time to fuck my Quinn obsession out of my head.
But, man, was I wrong, a week wasn't enough. A lifetime wouldn't be enough.
The problem…Quinn was hiding a secret—a secret that would ruin my life. And ruin it she did.
Add Unplugged to your TBR on Goodreads!
Pre-order your copy today!
---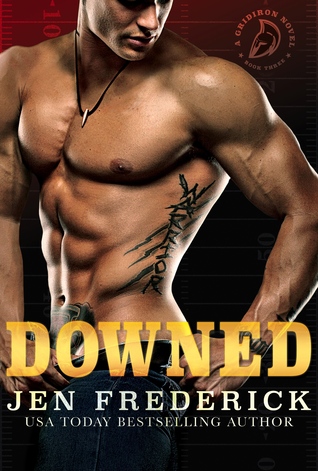 Releasing Thursday, December 1, 2016
My musings…
My very first experience with Jen Frederick was Sacked, the first book in the Gridiron series, and I was sold from the opening pages.  She only solidified my love of her work with her partnership in Erin Watt duo and the amazing series centering on the Royal family.   But I a most excited for Downed because I love, ABSOLUTELY LOVE, redemption stories, and Ace absolutely needs redeemed from Jock Blocked.  I cannot wait to see how his story unfolds! 
Full Review to come on December 1!
Synopsis:
He's the guy no one likes…
Despite winning two national championships, JR "Ace" Anderson was sent packing from his old school after losing the trust of his coach. At Southern U, he has a second chance to prove that his college legacy isn't endless debauchery and selfishness. But his reputation precedes him, and his teammates offer a chilly welcome in the locker room. The one person who is willing to accept him is the very woman he should stay away from—his new coach's daughter.
She's the girl everyone loves…
Bryant Johnson's only goal in life is to make others happy, even at her own expense. One look at her father's new star quarterback, and she knows that Ace is her next project. With a reputation for being a "jerk whisperer", Bryant has spent her last three years at college reforming sorry behavior and turning bad boys into the best boyfriends ever. In Ace, though, she's met with surly resistance and a sizzling attraction she doesn't expect. Fixing this wounded warrior will be her biggest challenge yet. Not falling for him will be even harder.
Between her big heart and his damaged one, a battle is ensuing. In this game of love, every defense will crumble.
Add Downed to your TBR on Goodreads!
Pre-order your copy today!
---
Happy reading,