From the New York Times bestselling author of Tapping the Billionaire comes a hilarious and sexy standalone about fate, chance, and one heck of an epically awkward meet-cute.
4th & Girl, an all-new standalone romantic comedy in the Mavericks Tackle Love series
from Max Monroe, is available now!
---
Synopsis:
I'm Leo Landry, one of the best shutdown cornerbacks in the nation, and the New York Mavericks' first round draft pick.
If James Bond spent his days running drills and his nights shutting out quarterbacks, he'd dream about being me. But professional football is on a whole other level from college, and as the new guy, I've got everything to prove.
No problem.
All I've got to do is focus, right?
Too bad life's got other plans.
Blond hair, long lashes, and criminal blue eyes, there's a pint-sized bombshell that I can't stop thinking about.
I don't even know her name, but she's completely screwing up my game plan.
It's too late to turn back now though. I have my eye on the prize, and I won't settle for anything less.
4th down and only one goal in my sights—this pretty little mystery girl.
Good thing I'm at my best when the pressure's on.
Download your copy today!
---
Start the series of standalones today!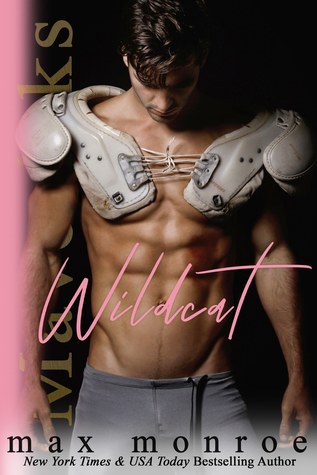 Synopsis:
Wildcat: a football formation in which the ball is snapped, not to the quarterback, but to another player lined up in the quarterback position.
Wild, Cat: a beautiful woman from the sky, who hooked me against the rails, and has me on the ropes. Sweet like honey, with a hint of sass burning behind her pretty brown eyes, she took over my heart without warning.
I'm Quinn Bailey, quarterback for the New York Mavericks.
Sports analysts predicted I'd break records and take my team all the way.
But no one predicted this.
And just like the other team, I never saw it coming.
Get Wildcat today!
---
About Max Monroe:
A secret duo of romance authors team up under the New York Times and USA Today Bestselling pseudonym Max Monroe to bring you sexy, laugh-out-loud reads.
Max Monroe is the New York Times and USA Today Bestselling author of more than ten contemporary romance titles. Favorite writing partners and long time friends, Max and Monroe strive to live and write all the fun, sexy swoon so often missing from their Facebook newsfeed. Sarcastic by nature, their two writing souls feel like they've found their other half. This is their most favorite adventure thus far. ​
Connect with Max Monroe:
Website: https://www.authormaxmonroe.com/
BookBub: https://www.bookbub.com/authors/max-monroe
Amazon: https://amzn.to/2ReoxkK
Facebook: https://www.facebook.com/authormaxmonroe/
Instagram: https://www.instagram.com/authormaxmonroe/
Stay up to date with Max Monroe by joining their mailing list today: https://www.authormaxmonroe.com/newsletter
---
Happy reading,