ONE BABY DADDY
By Meghan Quinn
Release Day – May 17
---
Musings…
4.5 Worth the Punch CROWNS
Ever since Reading Meghan Quinn's novella in the Team Player anthology, I've been dying for Hayden's story. When I found out he would be part of her new series, I was so excited. Then I had to wait. She tortured me, forcing me to be patient for Hayden, but, boy, is he worth it. Hayden is absolutely everything I wanted, and I know I've said it before here it comes again. HAYDEN IS MY FAVORITE MEGAHN QUINN HERO!
Hayden is a freaking dream, and not your typical athletic hero. This man has the athletic stamina and confidence of the athlete, but his heart and desire for love is abnormal for this genre and what will make readers love him. His desire for something real and his need to connect to Adalyn emotionally is so romantic. Every time he surprises her and every discussion between them had me swooning hard for this man, just absolutely dead. It is a wonder any woman could resist his charm and wooing.
Adalyn I love for most of the book. She is witty and fiesty, and I adore how she goes with the flow no matter how awkward and crazy a situation can get. Her banter and joking with Hayden makes her incredibly endearing. She has some fears, though, about her worth and a relationship, which affects her decision making, and while I understand it, it is incredibly frustrating. So many times I wanted to reach into my kindle and shake her, scream how can you not see what is happening. Her choices make me want to scream, especially because it stems from fear. Now, rationally and in regards to character development, her behavior is expected and true to the woman Meghan Quinn has developed her to be. It just makes me crazy. Adalyn gets it together, though, finally, and she really is so perfect for Hayden.
There is also a host of secondary characters who steal the show. It was so much fun to see returning characters from her previous series, especially since stories overlap a bit. Plus, we get a host of new characters, and it may be a bit of wishful thinking but I need the Holmes brothers to have stories.
This story is epitome of a slow burn. Heck, Hayden had me sexually frustrated in this book, so I fully understand Adalyn's need to jump his bones. He has everyone riled up with his charisma and teasing. They pay off and Hayden are absolutely worth he wait though, and their chemistry outside of the bedroom is so electric that readers won't miss the lack of intimate bedroom moments. Readers will see the conflict coming, and I expect they will be frustrated be the naivety of one of the characters. In the end, it all works out, and the hero an heroine get their HEA.
One Baby Daddy is certainly worth the wait. Meghan Quinn delivers her signature sense of humor with a steamy and swoon worthy romance. I couldn't put it down, and Hayden and Adalyn will be firmly sitting in my must read pile. It is romantic comedy perfection.
ARC received in exchange for an honest review
---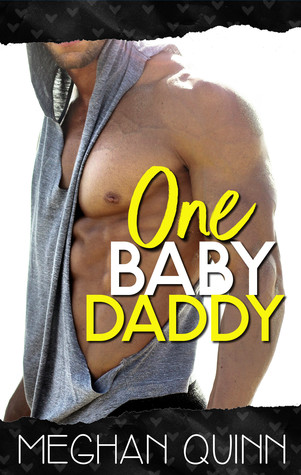 Synopsis:
"What are you doing now that your team is out of the running for the Stanley Cup?"
Forget.
I need to forget. I need an escape.
Only one person isn't falling for my reputation as the NHL's Golden Boy; she captured my attention the minute she called me out for snooping through my best friend's house. She didn't want to hear my reason–she only wanted to playfully give me a hard time.
Adalyn is bold, sassy–and the perfect escape.
She's everywhere. In town and in my dreams, and suddenly I need to spend every waking moment with her.
And I do, making this summer the best off-season I've ever had.
But in the midst of getting lost in Adalyn, what I don't expect is to get her pregnant.
And what I definitely don't expect is having to fight for her affection.
Get your copy today!
---
Teaser:
---
About the Author:
Born in New York and raised in Southern California, Meghan has grown into a sassy, peanut butter eating, blonde haired swearing, animal hoarding lady. She is known to bust out and dance if "It's Raining Men" starts beating through the air and heaven forbid you get a margarita in her, protect your legs because they may be humped.
Once she started commuting for an hour and twenty minutes every day to work for three years, she began to have conversations play in her head, real life, deep male voices and dainty lady coos kind of conversations. Perturbed and confused, she decided to either see a therapist about the hot and steamy voices running through her head or start writing them down. She decided to go with the cheaper option and started writing… enter her first novel, Caught Looking.
Now you can find the spicy, most definitely on the border of lunacy, kind of crazy lady residing in Colorado with the love of her life and her five, furry four legged children, hiking a trail or hiding behind shelves at grocery stores, wondering what kind of lube the nervous stranger will bring home to his wife. Oh and she loves a good boob squeeze!
Facebook | Follow on Goodreads | Website | Amazon Author Page | Instagram | Follow on BookBub | Newsletter
---
Happy reading,