Release Date: August 7, 2018
Cover Designer: Najla Qamber Designs
---
Musings…
4 Full Disclosure CROWNS
I'm fully in love with the Kincaid family. Zeus and, now, Ares have me fully infatuated with the whole crew.
Ares Kincaid is more brusque than I expected him to be. He is kind of a jerk in the beginning, but his reaction to Ari based on her recent actions and his family's past makes sense. It is just a new level of jerk that I wasn't expecting. He also has a dirty mouth and alpha thing in the bedroom that is HOT! While, for me, he didn't live up to Zeus, there is still a lot to love.
Ari is a heroine I wasn't expecting, but her dedication to getting better is worthy of admiration. Readers see her struggle but they also see her determination to succeed and to make the hard choices to stay healthy. Samantha Towle does a great job depicting the hardships she faces.
The tension and chemistry between these two is excellent. The hate and tension between them sizzles at the beginning of the story and they are combustible, igniting when they finally come together. While the their physical chemistry is fantastic, the emotional connection didn't resonate for me. I didn't feel them fall in love. It just kind of happened, and I wish I could have experienced the fall with them because I liked them individually and as a couple. I wanted to be a part of the romance and the move from hate to love. The ending, though, is perfect. We get a look at Zeus and Cam, a hint of the future for Ares and Ari, and a look at the next Kincaid!
Samantha Towle delivers another dirty talking Kincaid that readers will love, and a steamy romance that will heat up e-readers. Fans of the stand-alone series will absolutely love it!
ARC received in exchange for an honest review
---
Synopsis:
"With the first pick in the 2015 NFL Draft, the New York Giants select…"
It's been three years since quarterback Ares Kincaid's NFL dream came true, and he's living the high life. The days of cleaning up after his drunk of a father are long gone, and he has no intention of going back.
A car crash and DUI charge meant a lengthy stint in rehab for Arianna Petrelli, and her dream of being a professional artist slips further away when she's sacked from her position at a gallery. Her need for a job stronger even than her dislike of football, Ari goes to work for her father, the head coach of the New York Giants.
Ares hates alcoholics, which is fine with Ari because she thinks he's a brainless jock. Yet when Ares rescues Ari from a situation with her ex-boyfriend, an unlikely friendship begins – one that quickly becomes more.
But messing around with the coach's daughter can only lead to one thing…trouble.
Get your copy today!
---
Teasers: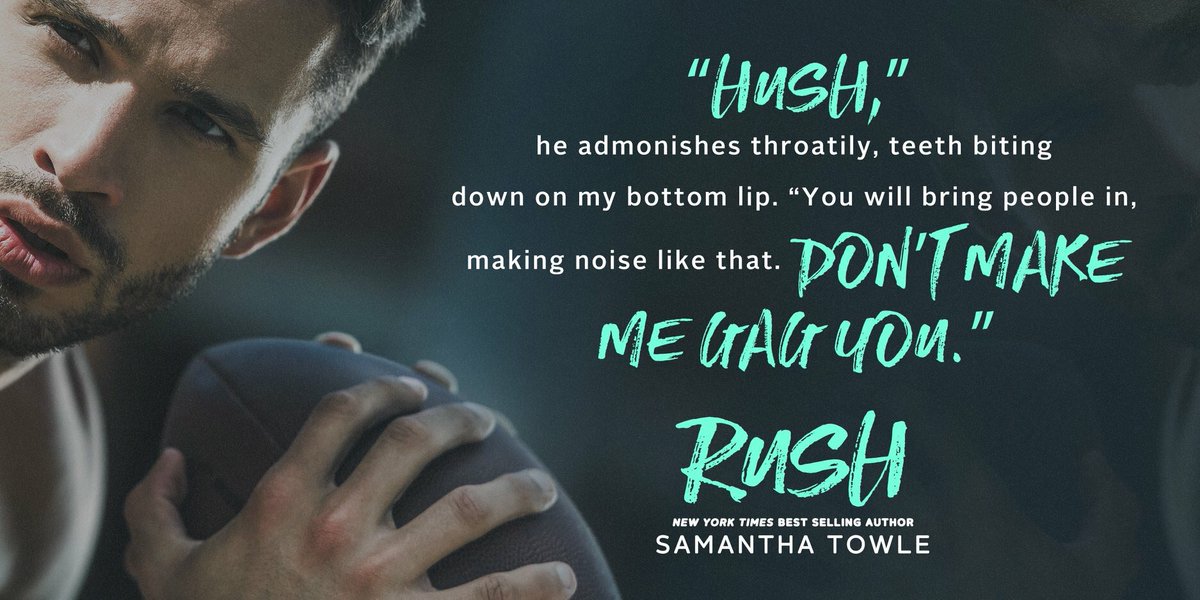 ---
ABOUT THE AUTHOR
SAMANTHA TOWLE is a New York Times, USA Today, and Wall Street Journal bestselling author. She began her first novel in 2008 while on maternity leave. She completed the manuscript five months later and hasn't stopped writing since.
She is the author of contemporary romances, The Storm Series and The Revved Series, and stand-alones, Trouble, When I Was Yours, The Ending I Want, Unsuitable, Wardrobe Malfunction, Breaking Hollywood, Under Her, Ruin and Sacking the Quarterback, which was written with James Patterson. She has also written paranormal romances, The Bringer and The Alexandra Jones Series. All of her books are penned to the tunes of The Killers, Kings of Leon, Adele, The Doors, Oasis, Fleetwood Mac, Lana Del Rey, and more of her favorite musicians.
A native of Hull and a graduate of Salford University, she lives with her husband, Craig, in East Yorkshire with their son and daughter.
---
Happy reading,