"END GAME is definitely worth the wait! This novel, much like the others in the series, is packed to the rafters with character and plot development."
—RT Book Reviews
END GAME: A Dirty Money Novel
By Lisa Renee Jones
---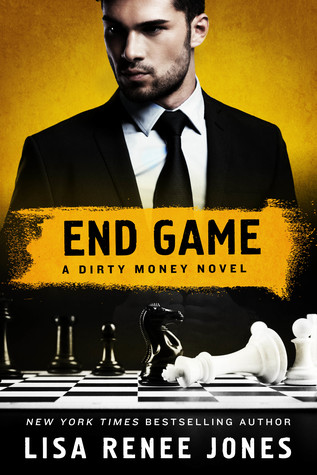 Synopsis:
With Hard Rules, Damage Control and Bad Deeds, New York Times and USA Today Bestselling author Lisa Renee Jones' Dirty Money series received acclaim from old fans and gained a new following of fans. Wall Street meets the Sons of Anarchy, with the smoldering, scorching final novel, the explosive END GAME (St. Martin's Griffin; January 2, 2018), the Dirty Money series comes to a head in the shattering conclusion.
Emily is gone, and Shane hovers on the edge of being consumed by his darkness. Emily is in danger. His family's empire is in turmoil. And he has blood on his hands. As shocking twists, dark secrets, and explosive betrayals within the Brandon family come to the light, Shane must fight harder than ever before. But without Emily, he is no one…
With every desperate, powerful touch, Emily belongs to Shane. She has been found, but she still isn't safe, and Shane will stop at nothing to keep her from harm. As they burn bright with passion, vengeance, and despair, the dangers they face grow closer and stronger. Emily has been opened up by Shane's touch, saved by the dark intimacy he craves. But can Emily save Shane?
With the final book in the Dirty Money series, fans and newcomers alike are sure to be enraptured by the latest saga in Emily and Shane's story and the Brandon Family. Praised as a "twisted telenovela-like" saga by Publishers Weekly, END GAME will have readers flipping pages late into the night as they binge on all the sexy, fun drama of this habit-forming series.
Get your copy of End Game today!
---
Start the Series Today!
Synopsis:
How bad do you want it?
The only man within the Brandon Empire with a moral compass, Shane Brandon is ready to take his family's business dealings legitimate. His reckless and ruthless brother, Derek, wants to keep Brandon Enterprises cemented in lies, deceit, and corruption. But the harder Shane fights to pull the company back into the light, the darker he has to become. Then he meets Emily Stevens, a woman who not only stirs a voracious sexual need in him, but becomes the only thing anchoring him between good and evil.
Emily is consumed by Shane, pushed sexually in ways she never dreamed of, falling deeper into the all-encompassing passion that is this man. She trusts him. He trusts her, but therein lies the danger. Emily has a secret, the very thing that brought her to him in the first place, and that secret could destroy them both.
Get your copy of Hard Rules today!
Synopsis:
Wall Street meets the Sons of Anarchy in Damage Control, the smoldering, scorching next novel in the explosively sexy Dirty Money series.
The only thing more dangerous than a dark secret is a damaged heart…
Shane Brandon has been pushed to the brink, torn between his corrupt family and his explosive, all-consuming desire for Emily Stevens, who he now knows is not who, and what, she seems. Has he trusted the wrong person? Will she, not his brother Derek, be the ultimate destruction of his family Empire?
Emily tries to run from Shane, but he will stop her, confront her, force her to reveal all — one hot touch and kiss at a time, under every intimate detail of who this woman is, and what she wants, is exposed. But as he tears away the dangers of the unknowns with the woman in his bed, and in his heart, The Martina Cartel has set their sights on his company, his family, and the one piece of leverage they believe he won't gamble with: Emily.
Get your copy of Damaged Control today!
Synopsis:
Wall Street meets the Sons of Anarchy in Bad Deeds, the smoldering, scorching next novel in the explosively sexy Dirty Money series from New York Times bestselling author Lisa Renee Jones.
Would you bleed for the one you love?
To save his family empire from the grip of the drug cartel, Shane is pushed to the edge of darkness, forced to make choices he might never make. His father is dying. His brother is desperate to rule the empire and this means war and all gloves are off. His brother only thought he knew what dirty meant. Shane is about to give it new meaning. There is another war brewing though, and that one, is inside him, his battle between right and wrong, light and dark, and in the heat of the night, it is Emily he turns to for escape. Driving her to new limits, pushing her to accept a part of him that even he cannot.
In every one of Shane's seductive demands, Emily can taste and feel, his torment, his struggle to save his family and not lose himself. But he is losing himself, and that is a problem just as dangerous as her secret, that still lurk in the shadows, a threat to the Brandon Family waiting to erupt. No matter where she and Shane have traveled, or will travel in the future, she can't just sit back and watch him become everything he hates, everything he never wanted to become, everything she tried to save him from when she tried to run. It could be their undoing, the end. His end.
This is war, blood will spill, and someone in the heart of the Brandon family will not survive….
Get your copy of Bad Deeds today!
---
About the Author
New York Times and USA Today Bestselling author Lisa Renee Jones is the author of the highly acclaimed Inside Out Series, and has now in development for a cable television show, to be produced by Suzanne Todd (Alice in Wonderland). In addition, both her Tall, Dark and Deadly series and The Secret Life of Amy Bensen series spent several months on a combination of the New York Times and USA Today lists.
Since beginning her publishing career in 2007, Lisa has published more than 40 books that have been translated around the world. Booklist says, "Jones suspense truly sizzles with an energy similar to FBI tales with a paranormal twist by Julie Garwood or Suzanne Brockmann."
Prior to publishing, Lisa owned multi-state staffing agency that was recognized many times by The Austin Business Journal and also praised by Dallas Women Magazine. In 1998 LRJ was listed as the #7 growing women owned business in Entrepreneur Magazine.
---
Happy reading,