It is hard to believe that November is over, and we are headed into the holiday season.  I hope that you all had a wonderful Thanksgiving, and if you don't celebrate Thanksgiving, I still hope you have a wonderful month filled with lots of reading time for everyone.
November brought another wonderful month of releases and books.  I read and reviewed 24 novels and revealed numerous covers, excepts, and teasers.  The list runs the gamut, with everything from romantic comedies, novellas, holiday romance, and suspense.  Below you will find a list of the books with a glimpse of my initial reactions to the book and a link to my full review and other book information.  As always, an MB will indicated my top 5 books of the month, and are books I would highly recommend being put on your TBR!
---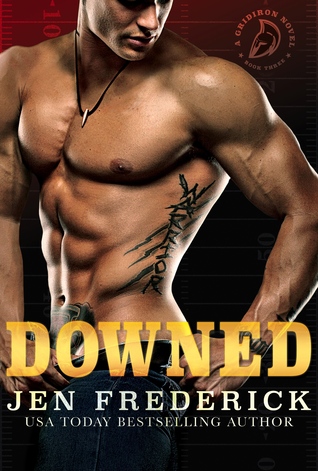 5 CHAMPIONSHIP CROWNS
I love this book!!!  From the very first word on the very first page I was captivated by Bryant and Ace's journey.  Their story of redemption will captivate your heart, and make you yearn for their happy ending.
---
5 Pop the Cork Crowns
Holly hell! What another fantastically dirty and fun ride Nicola Rendell has created with Hail Mary. The characters are wonderful, the story line is awesome, and the writing is superb. I loved every single thing about this novel!
---
5 PERFECTLY BITTERSWEET CROWNS
Max Monroe has slayed me with this series.  I've fallen in love with each set of characters and their unique stories and personalities.  I have laughed with them, cried with them, and fallen in love with them, but more than just the love of the romance between each couple, I have loved watching their friendship change and evolve as the move onto different parts of their lives.  The friendship among this group of friends has been just as enjoyable as watching each love story grow and evolve.
---
4.5 Crown Jewels
Ella James is an author that always brings the heat, the romance, and the suspense.  God, the suspense this woman puts in her novels sucks me in every single time, and Crown Jewels is another romance that is intriguing from page one.
---

4 PRINCESS WORTHY CROWNS
Even though it wasn't love at first sight for me with the characters, the chemistry between these two is explosive.  Sexual tension laces every conversation and every interaction, and their energy is palpable, and when they finally do the deed, WOW, just WOW.  These are some HOT scenes!
---

5 HOT QB CROWNS
Lauren Blakely delivers again with a new sports romance novella that is sweet and sexy.  The story follows a recently traded starting quarterback and a lawyer working for the same franchise.  Though they attempt to resist their attraction towards one another, they cannot.  What happens when they can't?  A whole lot of sexy goodness!
---
 5 F*ckin' A CROWNS
Major Love by Kate Stewart is absolutely, without a doubt, a GRAND SLAM, utter rom-com PERFECTION!  With its endearing characters and blazing chemistry between April and Andy that burns up the pages, readers will be laughing and swooning to pure reader nirvana!
---
4 LOVE IS HOPE CROWNS
Scarlet Wolfe has crafted an emotional story that not only tells of romance between two seniors in high school, but also reveals many truths about humanity.  The Scars Keeper is beautiful and raw, and its message of hope and love will resonate with readers.
---

5 EIGHTEEN CROWNS
You know how there are just certain authors that have that thing, that almost magical element to their writing that brings it to life, allows their words to embed themselves into the reader's soul, leaving the him or her emotionally worn out by the end of the book.  For me, this is Ginger Scott, and Hold My Breath is another beautiful tale of a broken boy and girl finding redemption in each other and in love.
---

4 TRUST ME CROWNS
Helena Hunting's ability to move between angst and humor just speaks to the talent this woman possesses, but no matter what type of romance she is writing the readers are always going to get characters with heart, plots that are intriguing, and glimpses into these unique families that have been created, leaving the reader to fall in love with her worlds and the people who inhabit them.  This novel, truly, only serves to exemplify how talented she is and solidifies her as one of my top authors.
---

4.5 FILTHY CROWNS
Raine Miller has started of the Blackstone Dynasty off with a bang.  There is romance, suspense, some surprises, and expertly laid secondary plots to draw the reader into the world of the Blackstone family.
---

5 GET ON YOUR KNEES CROWNS
Snowed in with the Boss is my first book by Lili Valente, and it will not be my last.  This little holiday novella was the perfect morning read.  It was quick, deliciously dirty, romantic, and just the right dash of Christmas.
---

5 YOU ARE ABSOLUTELY KILLING ME CROWNS
Monica Murphy has completely scored with More than Friends, but let's be honest, I was pulled in by Amanda and Tuttle from book one.  Something about him just drew me in, and like Amanda, it is hard to resist. Just be prepared that this story will hurt, but in the best absolute way in which an author can hurt a reader.
---

4 REDEMPTIVE CROWNS
Blow by Heidi McLaughlin is an emotionally charged tale of a famous boy-band sensation that has hit rock bottom.  This tale of redemption and healing will certainly affect readers, as my heart ached through most of the book for Bodhi and how broken he was by the industry and his past.
---

 5+ I'M HOME CROWNS
Managed, the second book in the VIP series is a standout, stellar, knockout, sensational, pretty much insert an synonym for AMAZING here.  Kristen Callihan has crafted a story that is not only full of romance, but also vulnerability and so much love, both friendship and romantic, and I was moved as I felt my heart clench and sigh in relief with each passing page of this story.
---

4 MOMENTOUS CROWNS
Karina Halle's writing just speaks to me on a literary level.  Her style of romance is one of my favorites, as her books provide the readers with more than just steamy reads but with complex stories that bring forth taboo or difficult topics.   She isn't afraid to discuss difficult and troubling issues in society and showing readers flawed and real characters, and this is the true mark of literary greatness.
---

 5+ SWEET and DELICIOUS CROWNS
Bromberg has brought her #A-Game with this sweet and delicious second chance romance! It is sweet, it is dirty, it is pure romance in all of its glory. I absolutely love every single word, every character, and every detail of this story line. It is simple delectable!
---

5 ROCKSTAR ROYALTY CROWNS
Sawyer Bennett has done it again!  Sexy Lies & Rock and Roll is absolutely everything readers have come to love about her stories.  With its highly entertaining plot, lovable characters, and fantastic writing, this book sits among my favorite Sawyer Bennett novels.
---

5 BEAUTIFULLY RAW CROWNS
Transference is one of those rare books that not only provides the reader with a heart-wrenching romance that will become embedded in readers' hearts but also a beautifully written story that truly shows the talent of Ava Harrison.
---

5 Wrecked Me CROWNS
Kim Karr delivers a fun and sexy romance that is heavy on the steam and swoon and low on the angst and drama, a perfect book for a relaxing weekend read or as a way to decompress at night.
---

5 Knock, Knock CROWNS
With Trust, Jana Aston has once again delivered a fun and sexy romance that is perfect for a lazy weekend read.  Readers will laugh, swoon, and root for these characters to find their happily ever after.  This is definitely a must read for readers look for fun and engaging romance, as Jana Aston delivers in all regards.
---

4 ENTERTAINING CROWNS
AJ Pine has crafted a wonderful story  of two opposing viewpoints in the romance world and laces it with humor and sweetness to create and fun story for readers to enjoy.  Seeing the realistic romance writer fall and the blogger who hates his rendition of the truth was just a fun experience that readers should definitely check out.
---

4.5 Big Daddy CROWNS
Meghan Quinn continues to impress with her romantic comedies, truly providing readers with endearing tales of love and great laughs.  Her stories never fail to put a smile on my face, and for that alone, she will continue to be a one-click author for me.
---

 5 Let Me Love You CROWNS
After We Fall is one of healing and making adjustments for a life one may have never planned for.  Melanie Harlow exemplifies in this novel how life has a way of messing up our  best laid plans, but she also exhibits how maybe these changes are exactly what we never knew we needed.  This plot line with its very emotional and heart-aching scenes is at its core a story of hope, of healing, and of learning to live the life you want for the people you love.
---
Coming up during the month of December…
December is shaping up to be a fantastic reading month, too.  My TBR list for this upcoming month has me excited for each new release week, and I cannot wait to share my thoughts and talk books with you.  So, make sure you check back this month for more reviews, cover reveals, excerpts, giveaways, and more special posts.
Happy reading,