Wildcat (Mavericks #1)
Max Monroe
AVAILABLE NOW
---
My musings…
4.5 Kitten & Pickle CROWNS
FUN. FLIRTY. HILARIOUS. UTTERLY CHARMING! Wildcat, the first book in Max Monroe's new series, is all of this and more.
Quinn Bailey. Quinn freaking Bailey. Where has this man been my whole life? He oozes charm and charisma. Every line that came from his mouth had me laughing or swooning. I caught myself smiling like a loon reading his chapters. I couldn't get enough of him or his romantic and ridiculous antics! He is absolutely what every romantic comedy hero should be.
Cat is such a great heroine, a bit awkward, hilarious, beautiful, yet she has a level of insecurity. This insecurity presented by the authors, though, isn't a result of how she sees herself but how the public will see her and her worth of the beloved QB, and this allows her to be seen, still, as strong heroine, one who is the perfect awkward match to Quinn.
True to the Max Monroe world, they have introduced us to a bevy of wonderful secondary characters who I cannot wait to see who we see again and get to know. It is truly one of the aspects of their series that I love!
This story is a slow burn, which often makes it hard for me to get into books, but the banter and flirting between Quinn and Cat is enough to keep readers invested. The chemistry between them is palpable with words alone, and when they finally come together the payoff is worth it. The conflict threw me for a loop, and I wasn't expecting what sets it all in motion. It is resolved very quickly, and I ultimately wish this time would have been more drawn out or more explosive. The ending, though, boy, that ending had me grinning like a fool and falling more in love with Quinn Bailey.
Need a good laugh? Need a hero so charming you will swoon right out of your chair? Need a slow burn with insane flirting and chemistry? Then you need Wildcat! It is romantic-comedy perfection!
ARC received in exchange for an honest review.
---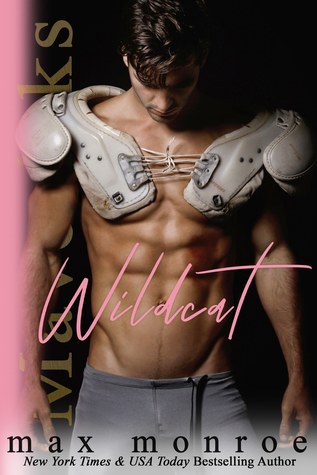 Synopsis:
Wildcat: a football formation in which the ball is snapped, not to the quarterback, but to another player lined up in the quarterback position.
Wild, Cat: a beautiful woman from the sky, who hooked me against the rails, and has me on the ropes. Sweet like honey, with a hint of sass burning behind her pretty brown eyes, she took over my heart without warning.
I'm Quinn Bailey, quarterback for the New York Mavericks.
Sports analysts predicted I'd break records and take my team all the way.
But no one predicted this.
And just like the other team, I never saw it coming.
Get Wildcat today!
---
BLOG TOUR GIVEAWAY 
---
WILDCAT SPOTIFY PLAYLIST
---
Happy reading,