SINNER by Sierra Simone
Release Date: March 15th
Genre: Contemporary Romance
Designer: Letitia Hasser from RBA Designs
---
Musings…
5 All I'll Ever Want CROWNS
Sierra Simone has done it again! She has delivered one of the steamiest romances I have read in some time while also slipping in ideas about religion and human relationship with deities, giving readers thoughts to struggle with and come out with either new or strengthened beliefs.
Sean Bell is nothing that I thought he would be. Well, the hot and dirty talking part is spot on, but he was so much more broken then I ever could have imagined. He is a man who punishes himself with the guilt he carries. He uses sex and degradation as a way to show his brokenness within himself and his relationship with God, unbeknownst to him. He is a man who sees things in black and white, sinners and saints, right and wrong. His anger taints his view of the world. Watching him, though, with Zenny and seeing him wrestle with her theological notions is rewarding. We see his growth, his ability to open up and love truly and unselfishly, and his evolution into someone new through it all. He exemplifies how love, not just romantic, is transformative and healing.
Like Sean, Zenny is a heroine I didn't see coming. Similar to Sierra Simone's previous heroine, Zenny seems small, maybe even weak on the surface (maybe this is due to her physical description), but her steadfast beliefs, her intelligence, and her ability to reflect speak to an immense strength rare for someone her age. She is strength of MIND. She is compassionate and understanding but forthright with what she wants, never afraid to make demands. Zenny's unwavering faith is admirable, and it is through her eyes that readers get to experience a more open religious theology. Her journey of self-discovery and reflection is one everyone should experience, whether it is of a religious nature or not. Make no mistake, though, that neither of these journeys are easy; It is brutal, heart-wrenching, and, yet, uplifting.
Sinning with Sean Bell is exactly what I thought it would be, hot and dirty. The scenes between him and Zenny melted my Kindle. Sierra wrote his character so vividly that I could her the timbre of his voice as he spouted his delicious, sexy filth and giving his orders, making me weak in the knees. Like her other stories, Sinner discuss societal issues, in this particular case religion and faith, showcasing issues plaguing theology, areas of reformation and change, and most importantly, the belief and anger most people struggle with in relation to their relationship with God. Sierra does not get on her soapbox telling people how to live, but through her characters she offers up questions & asks readers to consider alternatives, to become more reflective. I found myself as equally enamored with this aspect of the story as I did with the romance of Zenny and Sean. She intertwines romance and religion so flawlessly that there cannot be one without the other, and even in their dirtiest moments and scandalous conversations, we see religion take a part. Her ability to make sex not shameful but holy will never fail to astound me.
When I pick up a Sierra Simone novel, I know that I'm getting a story that will not only be hot and dirty but will also be a story that forces me to examine the world, my beliefs, and my established perceptions. Through her characters she present ideas for readers to grapple with and we come out changed as a result. For better or worse? Well, that is up to the reader, but no matter the characters or the journey, Sierra Simone effects change with her words, making her a truly inspirational writer not just in romance but literature as well.
ARC received in exchange for an honest review
---
Blurb:
I'm not a good man, and I've never pretended to be. I don't believe in goodness or God or any happy ending that isn't paid for in advance.
What do I believe in? Money. Sex. Macallan 18.
They have words for men like me—playboy. Womanizer. Skirt chaser.
My brother used to be a priest, and he only has one word for me.
Sinner.
Get your copy of Sinner today!
---
EXCERPT
"Zenny," I mumble against her lips, some valiant part of me recognizing that this is far, far beyond the kiss she asked for, and also recognizing that I'm going to come all over the inside of my Hugo Boss suit pants if she keeps it up. Even through the clothes, I can feel her heat, her shameless rolls hinting at where she goes soft and wet between her legs.
Fuck, I want to see it. I want to see her pussy. It's suddenly all I can think about, all I can want or crave, just one glimpse, just a peek.
"I want to see your cunt," I say hoarsely, lifting my head.
"My…cunt?" She says the word like she's never said it out loud before.
"Yeah." My voice is so ragged right now, so desperate, and fuck, I've never felt this frantic before. Like I'll actually combust if I don't get this one thing, this one small sight of her secret place.
She lets out a shaky breath, her hand dropping from my lapel to her skirt, which she slowly rucks up to her waist as I devour her lips once more, as I bury my face in her neck and kiss every sliver of skin exposed above her collar. I bite at her ear, at her jaw, my hand finding hers as it pulls her skirt up, so that I'm helping her do it, that we're doing it together, this forbidden act, this forbidden revelation.
Her forbidden body.
That word, forbidden, spikes through my mind, bringing with it equal spikes of lust and fear. Because yes, it's fucking hot that I shouldn't be kissing her, I shouldn't be begging to see her most secret place, my hand shouldn't be covering hers as it slides up her thigh—but it's also bad. Bad even for Sean Bell.
Bad, bad, bad.
---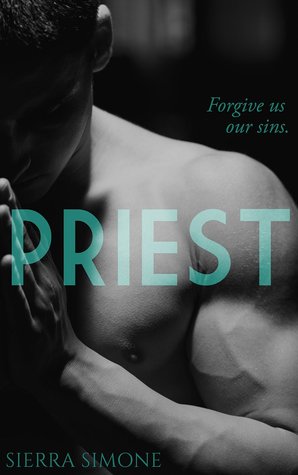 Synopsis:
There are many rules a priest can't break.
A priest cannot marry. A priest cannot abandon his flock. A priest cannot forsake his God.
I've always been good at following rules.
Until she came.
My name is Tyler Anselm Bell. I'm twenty-nine years old. Six months ago, I broke my vow of celibacy on the altar of my own church, and God help me, I would do it again.
I am a priest and this is my confession.

***Priest is a standalone, full-length novel with an HEA.  For mature audiences only.***
Get your copy of Priest today!
---
 Synopsis:
We are told that God will punish the wicked. That sinful men will reap what they sow. We are told to scourge our souls with prayer and pain to become clean once again.
Well, here I am. Wicked and sinful. Desperate to become clean…even though it feels so good to be dirty.
But even I never expected what came next.
Even I never expected my punishment to come so soon.
***Midnight Mass is a novella and a sequel to Priest. It's intended for mature audiences only.***
Get your copy of Midnight Mass today!
---
About the Author:
Sierra Simone is a USA Today Bestselling former librarian (who spent too much time reading romance novels at the information desk.) She lives with her husband and family in Kansas City.
Connect with Sierra Simone:
Facebook ♦  Twitter ♦   Amazon ♦ Goodreads ♦ Instagram ♦  Website
Subscribe to Sierra's newsletter:
https://www.subscribepage.com/sinner-sneakpeek
---
Happy reading,