Sleighed It: A Billionaire Bad Boys Holiday Novella
Series: Billionaire Bad Boys #3.7
Author: Max Monroe
---

My musings…
5 NEUROTIC CROWNS
Sleighed It is exactly what a Christmas novella should be with the signature Max Monroe humor. It had me laughing at Georgia's craziness and swooning over the perfection that is Kline while also leaving me with that warm holiday feeling. It is Christmas perfection.
Who doesn't want to have the perfect Christmas? As parents, we want to get the best presents, to create memories that will turn into traditions, and to share it with the people we love. So while, Georgie's quest to achieve the picturesque Christmas is insane at times, as a mom, I got it. What I love, though, and what the authors remind readers of through this character is what really matters when it comes to the holidays, and that the craziness and insanity of the holidays, perfect or imperfect, is what makes the memories and traditions that the kids will recall for years to come, and I absolutely relish the theme.
Kline is still freaking perfect. Max Monroe broke the mold with this man. Everything from the way he loves his daughters and his wife to the way he supports her is everything women want in a husband. His role in this novel, as a voice of reason, will absolutely make readers love him more. He is the clarity Georgia needs with a large dose of sexy. After this book, I may be revising my list to have Kline under my tree (sorry Thatch!).
This novella is like the perfect Christmas drink (white peppermint hot chocolate for me). It filled me with cheer, warmed my heart, and reminded me what really matters when it comes to Christmas, all the crazy people who drive you crazy but you love anyway. This is what matters!
ARC received in exchange for an honest review.
---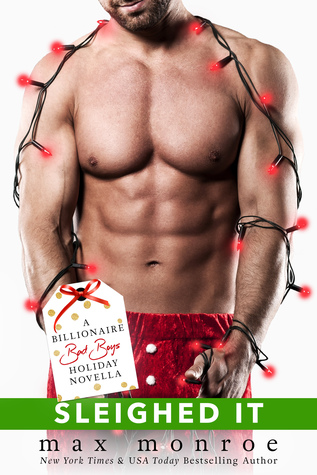 Synopsis:
From the New York Times & USA Today bestselling author of TAPPING THE BILLIONAIRE comes a Billionaire Bad Boys Holiday Novella.
Question: What would you do if every holiday you ever spent with your family ended in disaster?
I'll tell you: you'd cry.
I know, because each and every celebration with my family ends in chaos—and I've had more than my share of mental breakdowns because of it.
But I'm done with the tears, the insanity—I refuse to take it anymore.
This Christmas is going to be perfect.
I'll put Thatch in a fluffing Santa Claus suit and have him tap dance to Jingle Bells, if I have to. I deserve Christmas smiles and that feel-good Christmas high I've been missing.
My name is Georgia Brooks, and by Christmas night, my husband, my kids, and my closest friends will be thinking only one fluffing thing…
She Sleighed It.
Get your copy of Sleighed It today!
---
Haven't met the Billionaire Bad Boys yet?
One-click the boxed set today for only $4.99!!
Synopsis:
From the New York Times & USA Today bestselling author of TAPPING THE BILLIONAIRE comes an insane deal that you won't want to miss!
The Complete [hilarious, swoony, sexy] Billionaire Bad Boys Series (retail $23.99)
This Ebook contains the following six books:
• Tapping the Billionaire (#1)
• Tapping Her (#1.5)
• Banking the Billionaire (#2)
• Banking Her (#2.5)
• Scoring the Billionaire (#3)
• Scoring Her (#3.5)
Tapping the Billionaire: After one too many bad experiences, Georgia has sworn off dating—but life has other plans. While the prospect of love with her sexy, handsome, billionaire boss, Kline Brooks, pushes her boundaries to the limit, another suitor makes them stretch even further. What will she do with more than one love on the line?
Banking the Billionaire: With a thriving photography career that allows her to travel all over the world and capture the hottest of men behind her camera lens, Cassie Phillips is the woman who can't be tamed. But what happens when wild meets its match in Thatcher Kelly and the two go head to head in an all out prank war?
Scoring the Billionaire: Wes Lancaster is determined not to get sucked into some siren's web. As owner of the professional football team the New York Mavericks and wildly successful BAD restaurant, his lifestyle is full as it is. Well, it was, until Winnie Winslow, the new, sexy, stiletto-wearing Team Physician trash-talks him in the locker room without batting an eye. Will he be able to stop himself from wanting her?
Get your copy today!
---
About the Authors:
A secret duo of romance authors team up under the New York Times and USA Today Bestselling pseudonym Max Monroe to bring you sexy, laugh-out-loud reads.
Look for our next release, Scoring the Billionaire (Billionaire Bad Boys, #3), on October 25th! Seriously. Mark your calendar.
www.authormaxmonroe.com
---
Happy reading,