Misadventures In Blue 
by USA Today bestselling author Sierra Simone
Genre: Contemporary Romance
---
Aundi's Musings…
5 Young Man Stars
I'm going to preface this by saying that I would read anything by Sierra that includes her shopping list if that were a thing. So, it's no surprise that I thoroughly enjoyed this book. While this story is quicker than some of her other's and most definitely has a different feel to it than perhaps Thornchapel Series or her Camelot Series it doesn't diminish from the overall quality of the book. Her words are magical pulling you into the story and holding you captive tell the end. 
I don't know about the ice part, but the queen? Yes, I can sense it from here.
Cat is closed off from her emotions due to a tragic past. Those around her call her the Ice Queen for this reason. She is headstrong, smart and determined. She lives and breathes her job with not much room for anything else. This includes friendships and relationships. But then she meets Jace and their chemistry is instantaneous and off the charts HOT! She also happens to be 13 years older than Jace. Hello cougar status. I wasn't sure if I'd like that aspect to be honest. But I shouldn't have even questioned this as Sierra once again showed me what I didn't even know I wanted. 
The flare of ownership I began to feel was so powerful, so urgent, that I could barely breathe. 
Jace may be young be he is 100% Alpha. He is strong-willed and decisive. He meets Cat and is determined to show her what she needs. I loved how he was with her. He could read her from the start and knew what she needed without having to ask. He becomes possessive of her from the first meeting and his need for her only continues to grow as the story progresses (insert all the swooning). Cat tries to stay away due to their differences in age and him being a cop as well. But their connection is undeniable and could not be stopped. 
She looks expensive. Cultured. And I'm the man who gets to bite and bind and dishevel it all. I'm the man who gets to make her mine. 
Sierra has created a wonderfully quick, dirty read that hit's all the marks. This book will have you swooning while also needing a change of panties. With Sierra's signature erotica in throughout marking her as Queen. I blew through this book in one sitting and within a couple hours. I liked this story so much I wish there was more. I highly recommend this you will not be disappointed. 
ARC received in exchange for an honest review.
Sarah's Musings…
4 CROWNS
It's a Sierra Simone novel, so, of course, I enjoyed it. Super steamy, romantic. Just quick and dirty fun.
The characters are enjoyable. They have good chemistry, and I appreciated the back story and mystery that enough them together.
What often happens, for me, with novellas, is that there is a lack of depth that allows me to truly connect or invest in characters. This happened here. I didn't dislike anything, but I wasn't consumed by it either.
This quick paced, insta-love/lust was entertaining and erotic. Perfect for a quick and steamy read.
ARC received in exchange for an honest review.
---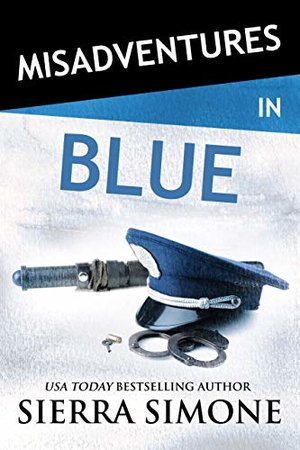 Synopsis:
Senior Detective Cat Day has one hard and fast rule about dating: no cops. They live hard and die young—a truth she's faced every day since her fiancé's tragic death several years ago.
But when rookie Jace Sutton shows up to work the same robbery investigation, she feels desire she hasn't felt in years.
—
Jace knows what he wants the minute Detective Day strolls onto his crime scene in heels and a pencil skirt tailored by God himself. He wants to thaw the legendary Ice Queen, and it only takes one hot, dirty night for Jace to realize he wants more. Much, much more.
But more is the last thing Cat wants from any cop—especially a playboy rookie like Jace. As the robbery investigation heats up and he repeatedly puts himself in danger, Cat must ask herself if Jace will be as reckless with her heart as he is with his life.
Download your copy today!
---
Teaser:
---
Meet the Author
Sierra is a voracious reader of all things including the smuttiest smut, young adult, piles of non-fiction for research, and everything Bill Bryson (especially on audio).
She loves writing the dirtiest things that she can think of, King Arthur, sparkling water, Tarot, coffee, leggings, and learning new words daily.
Her previous jobs have included firing ceramics, teaching living history lessons in a one-room schoolhouse in full, 1908-approved school marm attire, and working as a librarian for several years—not in that order
She lives in the Kansas City area with her hot cop husband, two children, and two giant dogs. (And two cats, but they're so naughty we don't talk about them.)
The social media she cares about the most are
Spotify
and (her very very NSFW) 
Tumblr
. Following her in those places is a true love language, indeed.
Facebook: https://www.facebook.com/TheSierraSimone/

---