RIVER WILD by SAMANTHA TOWLE
FREE in KINDLE UNLIMITED
Photo Credit: Wander Aguiar Photography ♦ Model: Andrew Biernat ♦ Cover Designer: Najla Qamber Designs
---
Tricia's Musings…
3 CROWNS
This is a hard review to write. I really wanted to love this book, the synopsis drew me in and seemed to tick all the boxes. However, for me personally the story fell flat and left me rather unsatisfied. I felt a huge disconnect with the characters and although they'd each been through some horrific events in their lives, I'm afraid I wasn't really moved by their plight in the way I wanted to be, the way I should have been.
There were parts of the story I did really enjoy, the interaction between Carrie and River was sweet and fun but even their growing friendship was inconsistent and I felt it difficult to become invested in their relationship. I liked Carrie as a character, a brave woman, she grew stronger and more resilient as the story progressed and I enjoyed her journey, although I would've been happier without her silly use of alternative words instead of actually swearing. River, however, was a bit of an enigma. We were told about his past but I needed him to be more fleshed out. I didn't feel I knew him as much as I would have liked, possibly because the author wanted him to be a more mysterious character, or because the majority of the story is told from Carrie's point of view. Overall, I just needed more. I needed to feel pulled into the story, rather than being an observer. I needed their relationship to be more than a friendship sooner, for there to be more of an emotional love connection between them and I needed more romance.
Sadly, this book was not for me. Ms. Towle is certainly a talented author and I do, however, look forward to reading more from her in the future.
ARC received in exchange for an honest review.
---
SYNOPSIS:
A new town. A new identity. Pregnant and alone.
And far away from a past that can never find me.
River Wild.
Moody. Sullen. Asshole.
And my new neighbor.
I have no interest in befriending River. And he definitely doesn't want to be befriended by me.
Then, he helps me rescue an abandoned dog. And, that day, I see something in his eyes that reflects back in my own. Sadness. Pain. Loneliness.
I know all of those things well.
An unwanted and unexpected friendship that somehow works. Then, without warning, it turns into something more.
River and I both have our secrets, and that's okay. Because I understand him. And he understands me.
For the first time in my life, I have something I never thought I would have—happiness.
But happiness isn't forever. Not for people like me.
Especially not when my past is waiting just around the corner, ready to come and take it all away.
Grab your copy today or read for FREE in KU!
---
Teaser: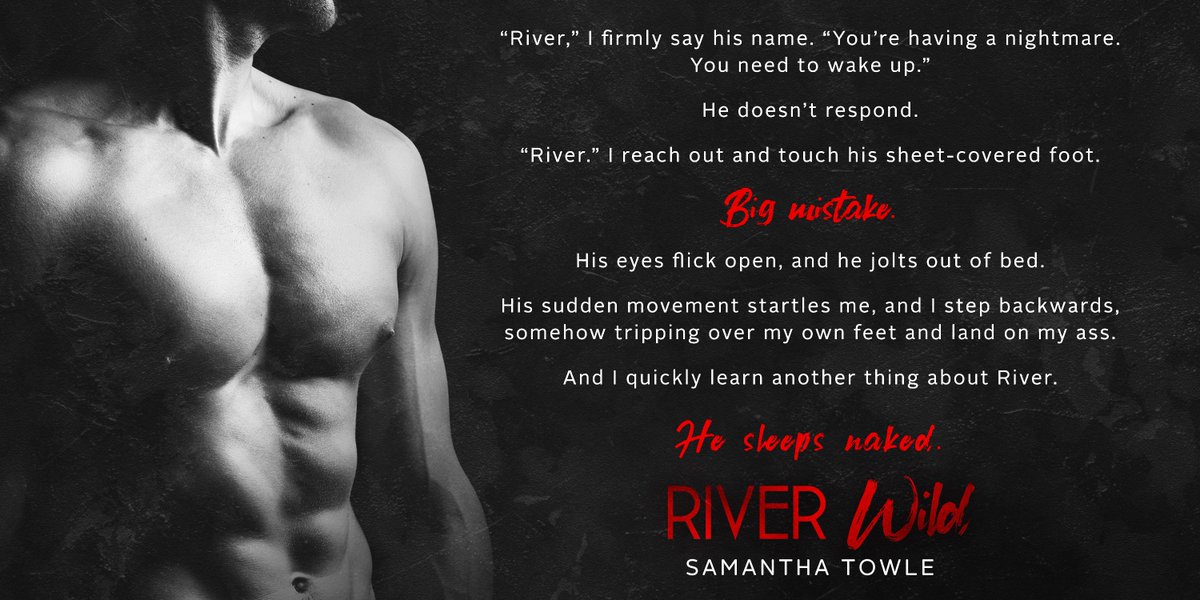 ---
ABOUT THE AUTHOR
SAMANTHA TOWLE is a New York Times, USA Today, and Wall Street Journal bestselling author. She began her first novel in 2008 while on maternity leave. She completed the manuscript five months later and hasn't stopped writing since.
She is the author of contemporary romances, The Storm Series and The Revved Series, and stand-alones, Trouble, When I Was Yours, The Ending I Want, Unsuitable, Wardrobe Malfunction, Breaking Hollywood, Under Her, Ruin and Sacking the Quarterback, which was written with James Patterson. She has also written paranormal romances, The Bringer and The Alexandra Jones Series. All of her books are penned to the tunes of The Killers, Kings of Leon, Adele, The Doors, Oasis, Fleetwood Mac, Lana Del Rey, and more of her favorite musicians.
A native of Hull and a graduate of Salford University, she lives with her husband, Craig, in East Yorkshire with their son and daughter.
---
Happy reading,