Downed (Gridiron #3)
by Jen Frederick
Release Date: December 1, 2016
Sports Romance
---
My musings…
5 CHAMPIONSHIP CROWNS
I love this book!!!  From the very first word on the very first page I was captivated by Bryant and Ace's journey.  Their story of redemption will captivate your heart, and make you yearn for their happy ending.
Ace and Bryant are the heart of this story, and the reader's love of them together and as individuals makes Downed absolute perfection! Bryant is kind, outgoing, and looking to fix the world.  She takes on projects and looks to fix them as type of atonement for past tragedies.  Her need to fix and make everyone happy leads her to Ace, and what I loved most about this story is that it became about her redemption just as much as Ace's.  Because even though one the surface, she is sure and kind and assertive, underneath lurks fear as a result of her loss.  Bryant, however, is a heroine that won't stay down, creating complete adoration for her.  Just like Bryant, Ace is looking for redemption, a way to fit into a new team after a tumultuous year with Warriors, and, to be honest, he had a hard hill to climb to get back into the good graces of Gridiron fans after his despicable behavior in Jockblocked.  Jen Frederick pulls it off, though, and this is in large part due to the vulnerability the reader gets to see from him when we are reading from his point-of-view.  Readers get to see what motivates him, why he shuts others down, why he is a grump half the time, and with each layer Jen Frederick exposes, the more Ace burrows into readers' hearts.  More than this, his dedication, protection, and loyalty are unparalleled and only further serve to make the reader fall in love with Ace.  By the end of the book, readers are completely championing him, wanting him to win the title and the girl.
What ultimately makes Ace and Bryant a powerhouse couple is that they better each other.  They a
re both a little broken, a little beat up from the world, but with each other, they learn to heal, to let go of the past that is weighing them down, and to embrace the future and live without fear.  The two of them as a couple embody what real love should be, and with each passing page, they moved up the ranks as one of my top favorite couples ever!
The plot of this story is perfectly paced.  You will laugh with Ace's resistance, fan yourself when things got hot and steamy in the bedroom, clutch your heart as it breaks with the inevitable conflict, and smile from ear to ear with the resolution of the story.  Along with the relationship of Ace and Bryant, Jen Frederick shows readers the brotherhood of football, which is just as interesting and captivating.  The loyalty and brotherhood among these men is astonishing, and I love reading about it and the other team members just as much as the main couples in each book.
Jen Frederick has scored again with Downed!  With the perfect blend of sports and romance, she delivers heat and heart that will leave the reader completely in enamored.  And, while I am sad this book was over, yes, it is one of those types of books, I am so excited for more in this series.  More Renegades or Warriors, I don't really care! I am just not ready to leave this world, and I hope Jen Frederick isn't either!
ARC received in exchange for an honest review.
---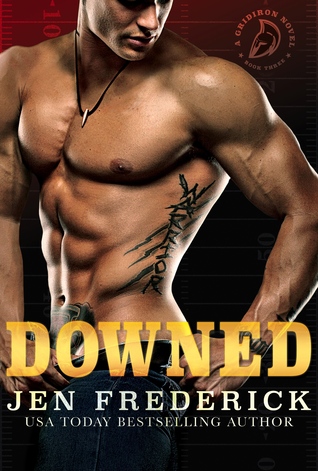 Synopsis:
He's the guy no one likes…
Despite winning two national championships, JR "Ace" Anderson was sent packing from his old school after losing the trust of his coach. At Southern U, he has a second chance to prove that his college legacy isn't endless debauchery and selfishness. But his reputation precedes him, and his teammates offer a chilly welcome in the locker room. The one person who is willing to accept him is the very woman he should stay away from—his new coach's daughter.
She's the girl everyone loves…
Bryant Johnson's only goal in life is to make others happy, even at her own expense. One look at her father's new star quarterback, and she knows that Ace is her next project. With a reputation for being a "jerk whisperer", Bryant has spent her last three years at college reforming sorry behavior and turning bad boys into the best boyfriends ever. In Ace, though, she's met with surly resistance and a sizzling attraction she doesn't expect. Fixing this wounded warrior will be her biggest challenge yet. Not falling for him will be even harder.
Between her big heart and his damaged one, a battle is ensuing. In this game of love, every defense will crumble.
Add Downed to your TBR on Goodreads!
Get your copy of Downed today!
---
Teasers:
---
About the Author:
Jen Frederick is the USA Today bestselling author of Unspoken, part of the Woodlands series, and Sacked, part of the Gridiron series. She is also the author of the Charlotte Chronicles and has had several books on the Kindle Top 100 list. She lives in the Midwest with a husband who keeps track of life's details while she's writing, a daughter who understands when Mom disappears into her office for hours at a time, and a rambunctious dog who does neither. Email her at jensfrederick@gmail.com.
---
Happy reading,