Played (A Gridiron Novel – Book 4)
by Jen Frederick
Expected Release Date: October 9, 2017
---
My musings…
4 Friends to Lovers CROWNS
I have been dying for Ty's story since book one in the Gridiron series, featuring his twin brother, Knox. I was so enamored with his character and story that I absolutely NEEDED Ty's happy ending, and Jen Frederick didn't disappoint with this friends to lovers romance.
Ty! How I longed to get to know this more serious, yet just as devishly handsome man. Everything from his dedication to football to his aloofness with his girlfriends to his obvious affection for his best friend earns reader adoration. I particularly love the way in which he goes after Ara once he finally realizes his feelings for her. I think this is ultimately why I love sports romance heroes. They usually transfer their dedication on the field to their pursuit of their women, and Ty does it with gusto.
Ara is a more difficult heroine for me. Most of her unhappiness stems from her own choices, which are driven by her fears, fear of losing her friend, fear of being left behind, fear of not being enough, and fear of never making it on her own.  While her choices are frustrating at times, her fears are real and believable, and I would imagine many readers will be able to relate to them, therefore, making her a more sympathetic character.
The pacing of Played is absolutely perfect. Jen Frederick gives readers time to get to know these two as friends.  We see the platonic love on the surface, but we also get to see, with the use of a dual point of view, how they both pine for each other. The frustrating aspect of the story is that we know how the other feels, and we, obviously want them to act, but both are hesitant for different reasons. What readers are going to love is when Ty and Ara finally get it together and let down their guards. Jen Frederick doesn't make this instantaneous but a gradual process, which completely fits with the fears that have weighed down the heroine from the beginning. When these two come together, though, it is explosive.  Their intimate moments in the bedroom and other areas are HOT, and these times are worth the wait we endure. I also absolutely love the ending, not only because they find the right balance with each other but also because of the little nod to the ending of Sacked.
This series is one of my favorite sports romances because not only it is filled with lovable and three dimensional characters with angsty stories but also because it introduced me to the world of Jen Frederick. It is one of those series I never want to end, and I hope we get many more books for the different players we meet in each book. It is one of those series that I would be okay with going on forever. It is definitely one of those series you should pick up today.
ARC received in exchange for an honest review.
---
 Synopsis:
She's been playing it close…
Ara Martin and college football star Ty Masters have been best friends since the first day of school when Ty literally ran her over. She fell for him immediately, but having lived under the shadow of her famous father, she knows a relationship with irresistible Ty would only end in heartbreak. For four years, she's kept her feelings hidden. But one drunken encouter weeks before graduation is about to expose Ara's biggest secret and destroy her most treasured relationship.
He's been playing for keeps…
Ty is about to be drafted into the NFL, but his personal life is a mess. He's got an agent he doesn't like, a brother who can't stop offering his opinion, and a beautiful woman he craves but can't have. He can fire his agent and ignore his brother, but he's not sure what to do about Ara. Ty's been able to run down every quarterback he's faced, but his sexy, stubborn best friend keeps slipping through his fingers.
Luckily, he's not one for giving up, and once he gets his hands on her, he's never letting go.
Get your copy of Played for only $0.99!
---
The entire series of standlones is on sale for $0.99!!
Synopsis:
What he wants he gets…

Knox Masters is a quarterback's worst nightmare. Warrior. Champion. And…virgin. Knox knows what he wants–and he gets it. All American Football player? Check. NFL pros scouting him? Check. Now, he's set his sight on two things. The national title. And Ellie Campbell. Sure, she's the sister of his fellow teammate, but that's not going to stop him. Especially not when he's convinced Ellie is the one.

…but he's never met her before.
But Ellie isn't as sure. She's trying to start a new life and she's not interested in a relationship…with anyone. Beside it's not just her cardinal rule of never dating her brother's teammates that keeps her away, but Ellie has a dark secret that would jeopardize everything Knox is pursuing.
Knox has no intention of losing. Ellie has no intention of giving in.
Get your copy today!
---
 Synopsis:
She's always played it safe…
College junior Lucy Washington abides by one rule—avoid risk at all costs. She's cautious in every aspect of her life, from her health, to her mock trial team, to the boring guys she dates. When a brash, gorgeous jock walks into the campus coffeeshop and turns his flirt on, Lucy is stunned by the force of attraction. For the first time ever, she's willing to step out of her comfort zone, but can she really trust the guy who's determined to sweep her off her feet?
He's always played around…
Entering his last year of college eligibility, linebacker Matthew "Matty" Iverson has the team captaincy in his sights. And it's his for the taking, if he can convince his quarterback Ace Anderson to give up the starting position. Luckily, Matty already has an edge—the hottie he's lusting over just happens to be Ace's childhood best friend. Getting Lucy on his side and in his bed? Hell yeah. Matty is more than confident he can have both, but when he falls hard for Lucy, it's time for a new game plan: convince the woman of his dreams that she's not sleeping with the enemy.
Get your copy today!
---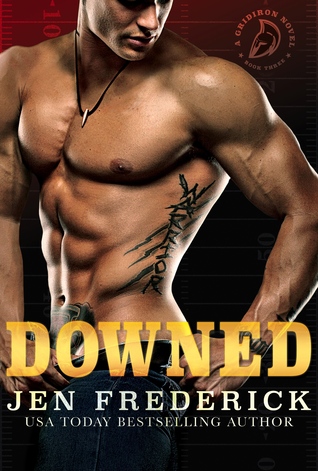 Synopsis:
He's the guy no one likes…
Despite winning two national championships, JR "Ace" Anderson was sent packing from his old school after losing the trust of his coach. At Southern U, he has a second chance to prove that his college legacy isn't endless debauchery and selfishness. But his reputation precedes him, and his teammates offer a chilly welcome in the locker room. The one person who is willing to accept him is the very woman he should stay away from—his new coach's daughter.
She's the girl everyone loves…
Bryant Johnson's only goal in life is to make others happy, even at her own expense. One look at her father's new star quarterback, and she knows that Ace is her next project. With a reputation for being a "jerk whisperer", Bryant has spent her last three years at college reforming sorry behavior and turning bad boys into the best boyfriends ever. In Ace, though, she's met with surly resistance and a sizzling attraction she doesn't expect. Fixing this wounded warrior will be her biggest challenge yet. Not falling for him will be even harder.
Between her big heart and his damaged one, a battle is ensuing. In this game of love, every defense will crumble.
Get your copy today!
---
About the Author:
Jen Frederick is the USA Today bestselling author of Unspoken, part of the Woodlands series, and Sacked, part of the Gridiron series. She is also the author of the Charlotte Chronicles and has had several books on the Kindle Top 100 list. She lives in the Midwest with a husband who keeps track of life's details while she's writing, a daughter who understands when Mom disappears into her office for hours at a time, and a rambunctious dog who does neither. Email her at jensfrederick@gmail.com.
---
Happy reading,