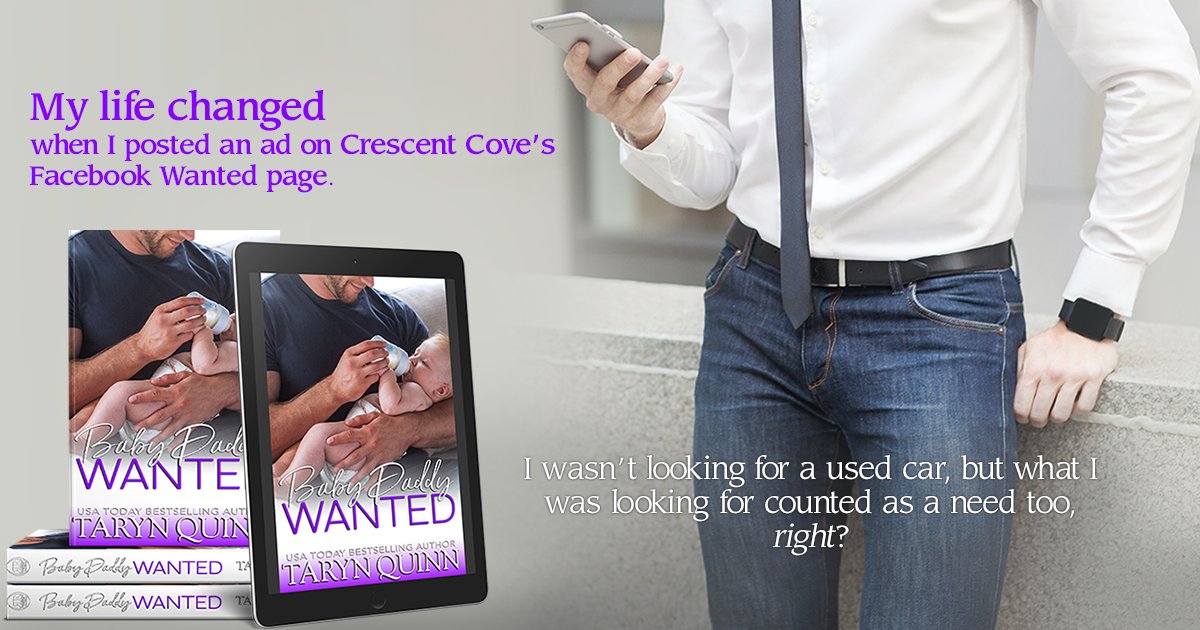 Baby Daddy Wanted (Dirty DILFs Book 5)
by 
---
Tricia's Musings…
4 CROWNS
It took me a little time to get into this story but once I did, I thoroughly enjoyed it. It's such a sweet, gentle comedy which had me laughing out loud and snorting in several places. I really love Murphy. He is a gorgeous, awkward, cuddly mountain of a man who has admired Veronica from afar for a long time. These authors do a terrific job of giving him just the right balance of confidence and charm, without the arrogance to go with it. Don't get me wrong, he's no wimp, just a decent guy who is a little more introverted than the friends and family he is surrounded with. He's taken top spot as my favourite book boyfriend in this series.
Too tongue tied to speak to her in person, Veronica's 'baby daddy wanted' online ad provides this shy man with the perfect opportunity to swap emails, and for them to get to know each other before his identity is revealed. These two are adorable and once they get over their respective clumsiness around each other, and let their chemistry take over, their relationship is a joy to read. From that point on, they waste no time and, oh boy do things heat up between them. I love the way that Murphy will do anything for Veronica and one look can turn the temperature from simmering to boiling. Although there's a little drama, there's no real angst, or terrible misunderstandings that make you want to scream at your kindle, just a delightful relationship building between them. A great cast of supporting characters, with their own quirky personalities, add a lovely family feel to the story and provide first rate entertainment of their own.
Overall, this is a cute, fun, witty read, gently romantic, yet deliciously steamy at the same time. Although this is part of an interconnected series, in my opinion Baby Daddy Wanted can absolutely be read as a stand-alone.
ARC received in exchange for an honest review.
---
 Synopsis:
My life changed when I posted an ad on Crescent Cove's Facebook Wanted page.
I wasn't looking for a used car, but what I was looking for counted as a need too, right?
BABY DADDY WANTED
Single, personable woman seeking a man for the purposes of procreation. I wouldn't mind if he looked like Chris Pratt, but that's not required. No further interaction with the child is required, unless desired by father-to-be. Child will be created the old-fashioned way, assuming both parties agree. Contact V at goodtothelastdrop.
I wasn't expecting much, to tell the truth.
For a week, I got no bites.
No licks—or clicks.
Nothing.
Then I got a reply.
We started to email. Text. Maybe almost…sext.
He was sweet. Funny. Suddenly, the idea of doing the naked make-a-baby rumba with him seemed like more fun than function.
Then I found out who he was.
He found out who I was.
And tomorrow, I'm going to see him at work.
Author's note: The hero doesn't start out as a single father, but he's on board with adding his cream to her coffee. Baby Daddy Wanted is a standalone romantic comedy with a HEA ending and no cliffhanger.
Download your copy today!
---
Teaser: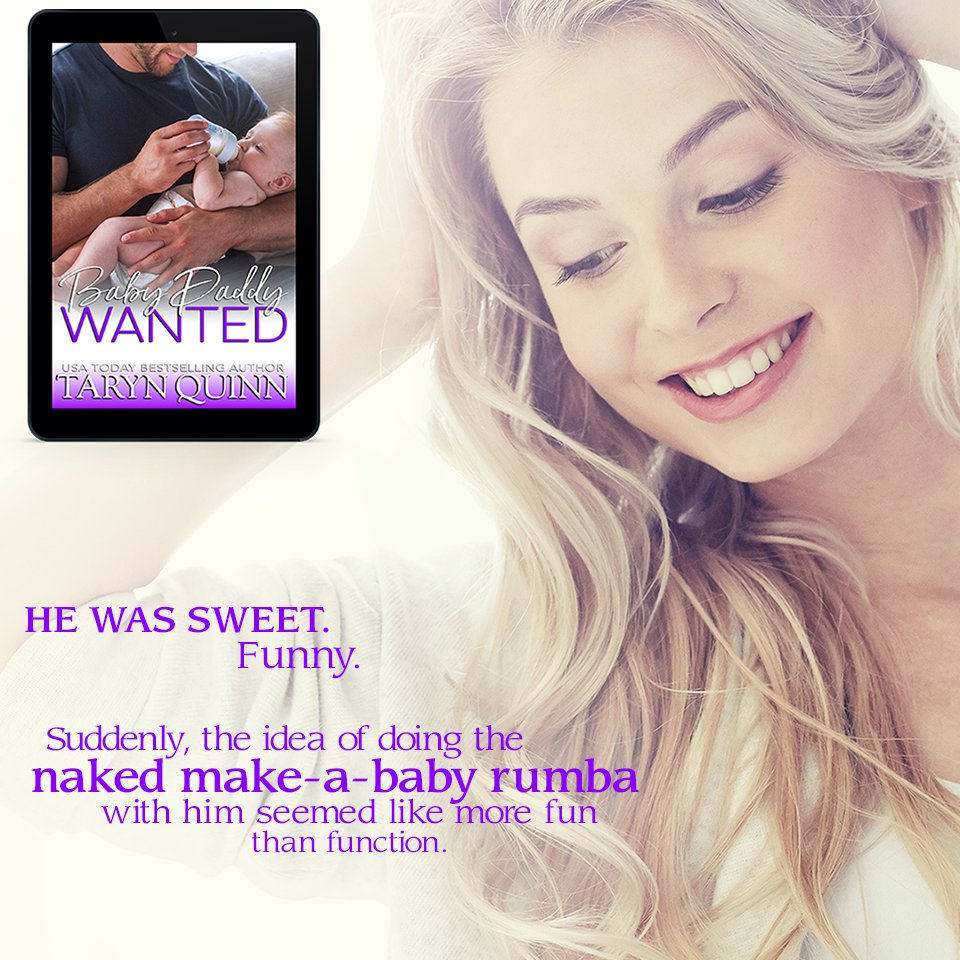 ---
About the Author:
USA Today Bestselling author, Taryn Quinn, is the redheaded stepchild of bestselling authors Taryn Elliott & Cari Quinn. We've been writing together for a lifetime—wait, no it's really been only a handful of years, but we have a lot of fun. Sometimes we write stories that don't quite fit into our regular catalog.
Do you like shorter and dirtier reads?
* Ultra sexy—check.
* Quirky characters—check.
* Sweet–usually mixed in with the sexy…so, yeah—check.
* RomCom—check.
* Dark and twisted—check.
A little something for everyone.
So, c'mon in. Light some candles, pour a glass of wine…maybe even put on some sexy music.
Join our Newsletter: Just cut and paste —> smarturl.it/TQnews
---