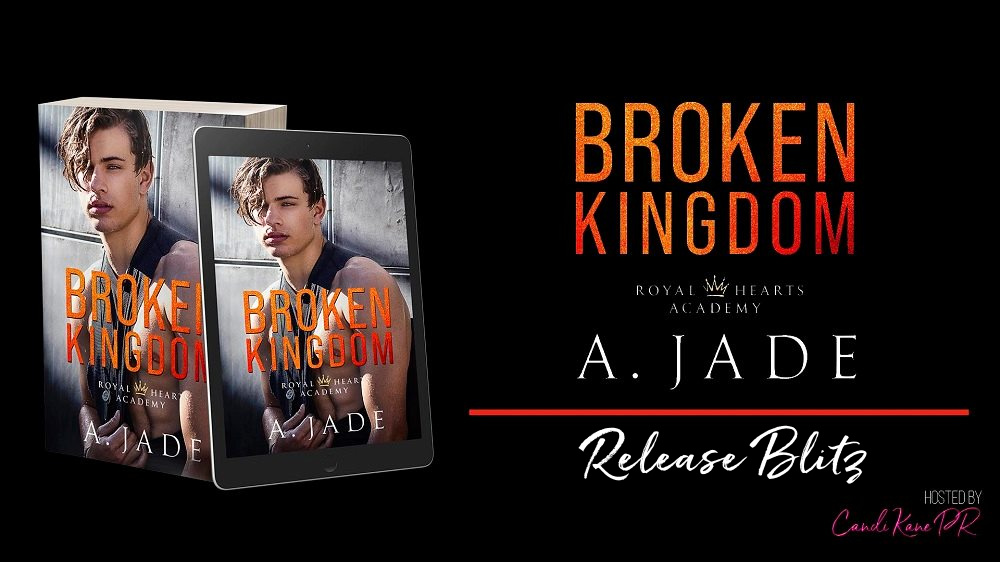 BROKEN KINGDOM by A. Jade
Royal Hearts Academy #4
---
Aundi's Musings…
5 Oakley's Baby girl Crowns
I have died. I am dead. I am a mess of quivering emotions. This book was so much more than I could EVER have hoped for. Ashley has taken us to a whole new level with Oakley and Bianca's story and the gut wrenching, heart shredding journey they are on. This is a book that you cannot prepare yourself for, the emotions that Ashley extracts from you will leave you beyond drained but also completely sated. This is the type of story that you wish you could read for the first time all over, just so you could feel these emotions for the first time again.
So, I thought Jace was my favorite and then Ruthless Knight came out and Cole took his place, but then this book happened and Oakley has blown them both out of the water. This man isn't perfect by any means, he's made many mistakes in his life. But, his unwavering loyalty and the love that he carries for the people around him will make your heart melt like butter on a hot day. He's raw and real and he doesn't pretend to be anything other than what he is. You can feel his emotions pouring from the pages quite literally, they flow over you like waves in the ocean completely submerging you in the intensity of them.
The boy that he was and the man that he becomes are so much the same but different at the same time. Watching as he grows and learns maturing into this person will cause a visceral reaction making your heart physically ache with his journey. Ashley had me feeling so many things for him and everything that he's gone through. So much so, that I just wanted to reach into this book and hold him, telling him that he deserves so much more then he's settled for.
Real talk I never thought I'd like Bianca, but I should have known that if anyone can make me like a character that I previously hated it would be Ashley. She brings this authenticity to her in this book and it has you looking at her in a whole new light. Seeing as the Bianca of the present tries to come to terms with who she was and who she is now was also exceptionally heartbreaking. Each new revelation and memory sends her back to the person she never wants to be again. The dichotomy between who she was and who she's now become was amazing to watch. As the story progresses you can see the change in her as she melds the two pieces of herself together to make a new version of her, one that's stronger than her past and her accident. She's the strongest heroine I think I've read in a long time. Her strength comes from accepting the wrongs that she's done and trying to learn and be better. She also made many mistakes in her life, she doesn't deny them she owns them and that in itself makes her stronger than so many others.
This story broke me, the characters and the journey was so real and intense that you could feel every, single, emotion, burning from the pages. The very honest and deep connection between her and Oakley is one that I craved. The moments of them in the past and the ones of them in the present will have you eating up the pages in the book. I flew through page after page just completely and utterly lost to their story and what was to come. I fell deep into this world that Ashley has created and I didn't want to come back out. If I could give this book more than 5 stars I would because it deserves all the stars and more. This is without a doubt a TOP read for me and I can't wait to dive back in and reread it over and over again.
Voluntarily Reviewed an Advanced Complimentary Copy
---
Blurb
Welcome to their broken kingdom.
They say you're happy now.
That you can't remember anything from your past and it's for the best.
They told me if I cared about you I'd stay far away and leave you alone for good.
Because you're getting married to a man you love.
Only problem is…
you loved me first.
Read FREE in Kindleunlimited!
---
---
About The Author
Ashley Jade loves to tackle different genres and tropes within romance. Her first loves are New Adult Romance and Romantic Suspense, but she also writes everything in between including: contemporary romance, erotica, and dark romance.
Her characters are flawed and complex, and chances are you will hate them before you fall head over heels in love with them.
She's a die-hard lover of oxford commas, em dashes, music, coffee, and anything thought provoking…except for math.
Books make her heart beat faster and writing makes her soul come alive. She's always read books growing up and scribbled stories in her journal, and after having a strange dream one night; she decided to just go for it and publish her first series.
It was the best decision she ever made.

If she's not paying off student loan debt, working, or writing a novel—you can usually find her listening to music, hanging out with her readers online, and pondering the meaning of life.
Check out her amazon page and Facebook page for future novels.
She recently became hip and joined Twitter, so you can find her there, too.
She loves connecting with her readers—they make her world go round'.
Connect w/Ashley:
Website: https://ashleyjadeauthor.com/
Facebook: https://www.facebook.com/Ashley-Jade-Author-788137781302982/
Twitter: https://twitter.com/ajadeauthor
Instagram: https://www.instagram.com/ashleyjadeauthor/
Goodreads: https://www.goodreads.com/author/show/14175946
Bookbub:https://www.bookbub.com/authors/ashley-jade
Amazon: https://amzn.to/2RGsIJ9
---