DO YOU DARE? (Truth and Dare Duet #1) by Lylah James
Release Date: October 24th
---
Aundi's Musings…
5 I Dare You Stars

This book is a deliciously slow burn/bully/friends to lover's romance that will leave you writhing and wanting for more. I could not get enough of Maddox and Lila, they are legit Perfection! Lylah has created a complex world filled with so many layers and contrasting emotions. My feelings were all over the place while reading this, and I ate up every minute of it. This book will take you on a ride starting from page one!

A shadow loomed over his face, his expression almost threatening. There was a predatory feel in his glare as he watched me closely.

Maddox is this complex Alpha jerk who runs the school as The King and gets any and everything that he wants. But underneath all of that bravado he's lost, lonely and keeps everyone at arm's length. He went through trauma as a child and it changed him irreparably. This just makes him that much more attractive and makes you want to try and fix him. He's parents but specifically his father are cold and distant. Maddox is left constantly feeling as if he isn't good enough no matter what he does. His upbringing and what happened to him, broke my heart into pieces. While watching him go through that I could feel my heart constrict to the point of pain, that's how much it hurt seeing it happen.

Maddox was on the top – the pack leader. He was the King, and he wore his crown with a cocky grin. He was untouchable to his rivals, and he was every girl's favorite dick to ride.

Lila is the project girl, she's only at this prestigious school due to scholarship. She is whip smart and sassy to boot. I loved her, she didn't take anyone's crap and put Maddox in his place from the get-go. She never let any of the girl's walk all over her and constantly stood up to them and their intentions. She too went through some terrible things that will bring tears to your eyes. Lila exudes strength she doesn't like to rely on people she stuffs her emotions so far down so that she doesn't appear vulnerable to anyone not even her grandparent's.

His lips tasted like… sin. And I hated myself for reacting the way I did to his kiss.

Maddox and Lila were broken but in differing ways. But each of their broken pieces found a connection within the other. It's as if their trauma brought them together in a way that other's would never understand. They had each other and anytime one would break the other was right there to support them. This was so heartwarming to see, watching them fall apart and then watching the other support them makes your soul sing. This couple will seriously tug at your heartstrings. The things that they had to go through and the places it brought them will bring you to your knees.

"Lila." My name on his lips sounded like poetry. So right, so perfect…. so filthy.

Lylah has crafted such an amazing story, her words, her creation was written so well you feel what the characters are feeling. I wasn't kidding when I said this was a slow burn romance, it's not an understatement. You will feel like throwing your Kindle with how long it takes them to get their shit together. The angst level in this story is next level. But the ride they take you on is so worth it. Watching them come together and go through every stage in their relationship it's like you are right there with them experiencing it. I loved everything about this story. But that ending though, that about killed me. I need the conclusion to this story desperately. So be prepared for an EPIC cliff hanger, I'm still reeling.
---
Blurb:
What happens when a dare goes too far?
Maddox Coulter. Reckless bad boy. Infamous playboy. My nemesis. And now my best friend.
I know he'll never leave me hanging. He knows I'll never refuse a dare. Everywhere we go we turn heads, but it's not like that.
Until it is.
For one of us, anyway.
I've always known he would be my downfall. But I trusted him to catch me.
He proved me wrong.
Maddox has gone too far, and I don't know if I want to rein him in or push us further into dangerous territory.
He tells me those three little words that I crave. Three little words I want from no one else.
I dare you.
Except this time, it's no simple dare. This could burn us to the ground.
"I dare you to fuck him."
NOW AVAILABLE! FREE IN KU!
---
Teaser: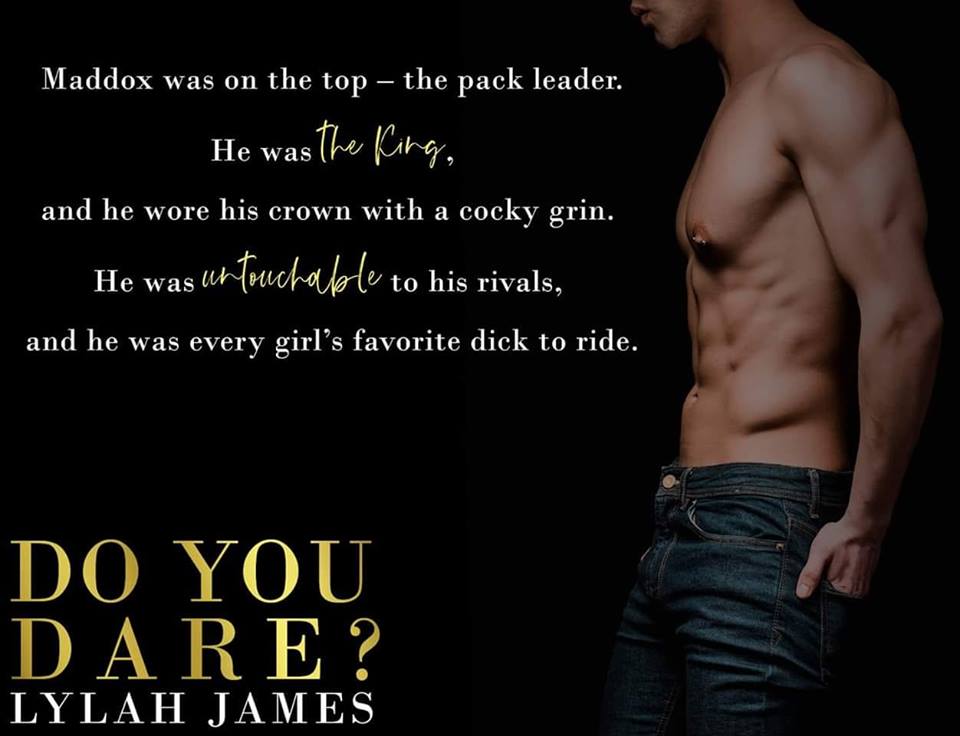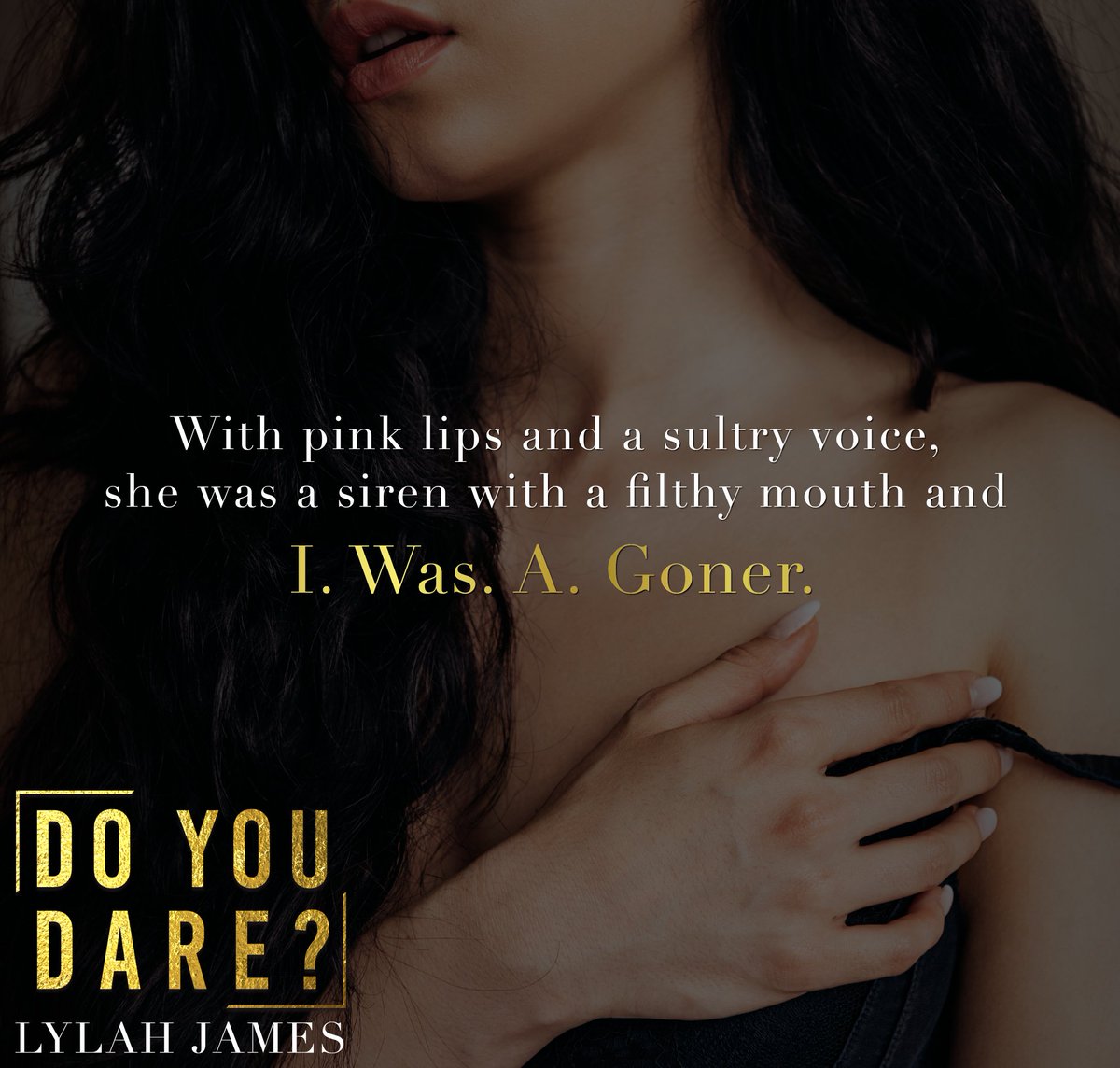 ---
About the Author:
Lylah James lives somewhere in Canada. She is usually pretty busy but she uses all her spare time to write. If she is not studying, sleeping, writing or working – she can be found with her nose buried in a good romance book, preferably with a hot alpha male.
Writing is her passion. The voices in her head won't stop and she believes they deserve to be heard and read. Lylah James writes about drool worthy and total alpha males, with strong and sweet heroines. She makes her readers cry – sob their eyes out, swoon, curse, rage and fall in love. Mostly known as the Queen of cliffhanger and the #evilauthorwithablacksoul, she likes to break her readers' hearts and then mend them again.
Connect w/Lylah:
Website: http://authorlylahjames.com/
Facebook: https://www.facebook.com/AuthorLy.James/
Facebook Group: https://www.facebook.com/groups/1738794629699569/
Twitter: https://twitter.com/authorly_james
Instagram: https://www.instagram.com/authorlylahjames/
Amazon: https://www.amazon.com/author/lylahjames
Goodreads: https://www.goodreads.com/author/show/16045951.Lylah_James
Bookbub: https://www.bookbub.com/authors/lylah-james
Newsletter Signup: http://bit.ly/32XJGFR
---
Happy reading,