Download your copy today or Read FREE in Kindle Unlimited!
---
Tricia's Musings…
5+ crowns
First and Forever was everything I was wishing for and more. I didn't think it could top Heartache and Hope, but oh boy was I wrong. I'm drowning in feelings that I don't know what to do with and I'm not sure how I'm going to review the conclusion to this epic duet. Whatever I say will only scratch the surface of this beautiful love story, so I'm going to keep this short and spoiler free. Simply said, this book broke my heart and then put it back together again, over and over again.
I love the complexity of these characters. They are survivors, all of them. No matter what life threw at them, how many times they got knocked down, how difficult things got, (and things got very difficult), they rose to the challenge and met it head on. Ava and her step-brother Trevor are truly amazing, completely selfless in their actions and I had such respect for them. They make a fantastic team and their strength and dedication blew me away. This young woman's struggles would see the strongest of us buckle under the strain. The fact that she coped as well as she did is testament to her resilience and devotion.
In the previous book I felt that, in typical teenage style, Connor expected too much from Ava under the circumstances. However, here we see him grow and mature (and not just in the hoping for a growth spurt way!) He has such an incredible spirit, a good man with a big heart and I loved him. Through all the ups and downs, the break ups and make ups, Connor tried his hardest to do the right thing. Yes mistakes are made, but with the best of intentions. Who can honestly say they've never made a mistake?
I adored this story, the laughter, the tears and everything in between. Wonderfully written, I didn't want it to end. My favourite quote, "When the world is at its darkest … that's when the magic appears." and that's what this book was … magic!
Sarah's Musings…
5 FIND YOUR MAGIC CROWNS
Just like Connor and Ava, Jay McLean's First and Forever fills the reader with hope, shows us that their is magic in the darkest of moments. And when I read the final page, I was filled with a bit of sadness because I didn't ever want to leave them.
Connor and Ava are very similar to the people we met in Heartache and Hope as it picks up where book one ended, Connor with his endless love and optimism and his sometime bad choices for good reasons and Ava with her penchant for carrying the world on her shoulders. There are more conflicts that arise from miscommunication, but what I love about them is that even in the darkest moments, in their times apart, they never waver in their love for one another. It is EPIC. Their love is the what we dream of as little kids and hope for as adult, and what real, true and honest love should be: selfless, limitless, and endless.
What always makes a book special for me is when it shows me something more beyond the romance, and the Heartache duet exemplifies in all the best ways how there is hope in the world. Jay McLean made me fall so I love with this couple and the extended secondary characters that I never wanted the story to end! I want to see far beyond the epilogue. I want to see them into adulthood with babies. I want to see them in old age. I just want to see this incredibly good and honest couple, filled with so much love continue to revel in their hard fought relationship. And it isn't just them, I want to see Trevor and Mama Jo and Connor's dad. I want to check on in this crew I've come to love, who have taught me to keep hope even when the world seems the darkest because the fireflies will appear and the magic will happen.
This duet is ALL THE THINGS. More than that it buoys you up. It gives you bit of happy in an often dark world. It makes you believe in that endless love, the kind that accepts all parts of you. It encompasses all the of things I love about this genre, and I know I will never forget this couple or duet.
---
 Synopsis: 
First and Forever is the second book in the Heartache Duet, and must be read after Heartache and Hope.
There are no more goodnight kisses.
No knocks on windows.
No lengthy text messages.
No late-night phone calls.
And no game day balloons.
There's just Connor.
And Ava.
Existing in a world filled with nothing but heartache.
While searching the darkness for glimmers of hope.
Because with hope, comes magic.
And magic is forever.
Download your copy today (Kindleunlimited)
---
 GRAB BOOK ON OF THE HEARTACHE DUET TODAY!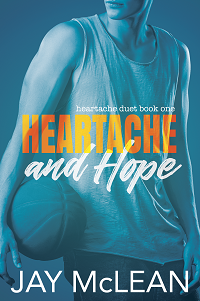 Synopsis:
Ava Diaz needs saving.
She just doesn't know it yet.
Just like she doesn't know a thing about the boy
she sits next to on the first day of senior year.
He thinks she's a brat.
She thinks he's entitled.
Maybe first impressions don't always last…
Because Connor Ledger's about to save her.
He just doesn't know why.
Download your copy today!
---
About the Author:
Jay McLean is an international best-selling author and full-time reader, writer of New Adult and Young Adult romance, and skilled procrastinator. When she's not doing any of those things, she can be found running after her three little boys, investing way too much time on True Crime Documentaries and binge-watching reality TV.
She writes what she loves to read, which are books that can make her laugh, make her hurt and make her feel.
Jay lives in the suburbs of Melbourne, Australia, in her dream home where music is loud and laughter is louder.
For publishing rights (Foreign & Domestic) Film or television, please contact her agent Erica Spellman-Silverman, at Trident Media Group.
FACEBOOK | FB FAN GROUP | TWITTER | INSTAGRAM |  WEBSITE
---
Happy reading,