Heartache and Hope (Heartache Duet, #1) by Jay McLean
---
Tricia's Musings…
5+ crowns
I don't read YA novels very often, but having now read Heartache and Hope by Jay McLean, a new author for me, I have a feeling that's going to change. This story is incredible and not at all what I was expecting.
I wasn't prepared for the emotional depth I found here and I'm a bit lost for words. It's so much more gritty and raw than I anticipated and I was blown away. Heartache and hope is an excellent title and these are exactly the extreme feelings this book gave me. Beautifully written, I felt every desire, every wish for change Ava and Connor longed for and their despair when the stark reality of life would rear its head, threatening to derail their plans and ambitions and take with it all their optimism for the future.
Ava and Connor are amazing characters, somewhat hurt and broken, she by her present and he by his past, but both fighting for a different future. Their thoughts and actions are the perfect balance of teenager, together with emerging young adult. Ava especially carries the weight of the world on her shoulders and both her and Connor have other priorities in their lives which makes maintaining a relationship a real struggle. I loved Ava's strength and her courage. I admired her loyalty, the fight in her and the way she didn't give up when it came to her responsibilities, even when the going got really tough. I have to give a shout out to her step-brother Trevor, who deserves huge credit for stepping up when needed instead of walking away. Connor has his own goals in life, a path to a better future in his sights. When at times his actions disappointed me, I reminded myself that he was after all a teenager at the end of the day, and therefore still slightly immature. This author's wonderful writing ensured that these characters were anything but one dimensional.
Wowee, this book gave me all the feels. Yes it's intense, but I absolutely loved it. I feel there is still so much to Ava and Connor's story that we have yet to uncover and I can't wait to see where their journey takes us in First and Forever.
Sarah's Musings…
5 Magical CROWNS
Sometimes you pick up a romance that is more than a love story, that is more than two people falling in love, letting their flaws muck it all up, and then coming back together for their HEA. Sometimes you get real and authentic. You get two people who are so perfect and so in love, but life just doesn't work for them. Sometimes you get a raw, real, and brutal depiction of how hard love can be, and within the story you get the glimpse of what love, real and true love can do.
Connor is the boy with a heart of gold. This boy, with the world on his shoulders and past banging on his back, loves with his heart and soul. I cannot recall a character recently who has had such a pure heart. Seeing him struggle hurt me, my soul literally ached for him, and not just because of his character but also because as a reader you understand his pain, his emotional strife. We have all been there, when what you want and have worked so hard for seems just right within your reach. We have had life deal us blows that we cannot avoid, and so we empathize with this boy who we want all the best for.
Ava has more strength in her tiny pinky than most heroines, to be honest. I can't imagine enduring what she does and making the sacrifices she makes. Like Connor she is weighed down but hers comes from the present she can't escape. The moments where she is truly happy with Connor is so uplifting and readers truly think these two can overcome the many hardships life has given them, just for it all to come crashing down, and the juxtaposition of those moments showcases the cruelty of their present. Like Connor, there is no one to blame. Ava is simply a girl trying to do her best with the life she has been given and love a boy who has consumed her heart and soul.
YA is generally a hard sell for me. There has to be enough meat to the plot to keep me engaged, as there is little to no physical intimacy. Heartache and Hope had me engaged from page one. Ava and Connor are so complex and real. Readers will all connect with the idea of being held back due to obligations, even those self-imposed. They will connect to being haunted by demons. They will understand wanting a future and a person but having circumstances beyond their control that prevent them from reaching their goals because we UNDERSTAND LIFE. Even though I knew how book one of two was going to end, it didn't lessen my love of this story or of this couple, because this couple is magic in the darkness. They are going to be the epitome of real love, one that has setbacks from the hard lessons life deals but falls together in the end, and while I haven't finished book two yet, I know this two are going to be down for EPIC.
It is safe to say that Jay McLean has found herself a new fan. This story is so honest and real, brutal and beautiful that my heart was left broken in my hands at the end of book one. I have become so invested in their story and their HEA because my romantic heart needs to believe that real, true love can handle the hardships of life, ones that we all endure. Ava and Connor have to prove to me that their is magic in the world, and I think Jay McLean is going to do that with book 2.
---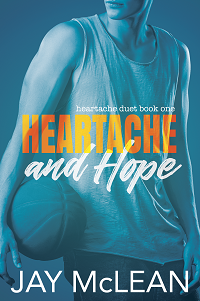 Synopsis:
Ava Diaz needs saving.
She just doesn't know it yet.
Just like she doesn't know a thing about the boy
she sits next to on the first day of senior year.
He thinks she's a brat.
She thinks he's entitled.
Maybe first impressions don't always last…
Because Connor Ledger's about to save her.
He just doesn't know why.
Download your copy today!
---
Teasers:
---
About the Author:
Jay McLean is an international best-selling author and full-time reader, writer of New Adult and Young Adult romance, and skilled procrastinator. When she's not doing any of those things, she can be found running after her three little boys, investing way too much time on True Crime Documentaries and binge-watching reality TV.
She writes what she loves to read, which are books that can make her laugh, make her hurt and make her feel.
Jay lives in the suburbs of Melbourne, Australia, in her dream home where music is loud and laughter is louder.
For publishing rights (Foreign & Domestic) Film or television, please contact her agent Erica Spellman-Silverman, at Trident Media Group.
FACEBOOK | FB FAN GROUP | TWITTER | INSTAGRAM |  WEBSITE