His: A Bratva Secret Baby Romance
Series: Ties That Bind #2
Authors: Natasha Knight & A. Zavarelli
Genre: Dark Mafia Romance
---
Tricia's Musings…
4 Meant to be mine CROWNS
His picks up exactly where the nail biting cliffhanger at the end of Mine left us and takes off running. There's a lot going on in this action packed conclusion to Lev and Kat's story and I really enjoyed the darker turn the story took and the tone of the story overall. We know going in that there are many secrets and lies, all of which unfold over the course of the book to complete the puzzle, but despite certain revelations, this couple struggle to stay ahead of the threat, and the danger just keeps on coming.
Amongst all the mayhem, the mystery and deceit, it was great to see their feelings develop and grow and I particularly loved Lev's blossoming relationship with his son. I found Kat quite a contrary character at times. Happy to go along with Lev one minute, then disregarding him the next, her actions putting them all in peril. I could quite happily have shaken her for certain decisions she made, her total naïveté and lack of judgment under the circumstances.
The introduction of new characters along the way, individuals who have their own clever parts to play in this twisty tale, really shook things up. I began to realise that all their lives were more intertwined than I could've imagined. There were some quite vile, morally corrupt people in this book, some real villains, and I couldn't wait to see if they would ultimately get what was coming to them. However, with the threat of losing everything becoming a real possibility, we see another side to Lev. A savage and brutal side, born from his almost uncontrollable need to protect his family in whichever way he could, gave me confidence that they would. For me, these dark, action filled chapters were my favorite parts.
His is a fast paced, suspenseful story. A thriller filled with danger, drama, violence and retribution. The road they travelled was far from an easy one but despite everything they endured I was pleased to see this couple stayed true to themselves right to the very end.
---
Synopsis:
I've been in hiding for four years. On the run from the man in whose bed I once slept.

I saw something I shouldn't have seen.
Took something I shouldn't have taken.

And he's just found me.

But it's not just my safety I have to worry about. I have a little boy. His little boy. The secret baby of a Russian mobster.

He told me in no uncertain terms that I'm his. That we would be a family.

But his uncle still wants me dead and I know the man who's been hunting me is the only one who can keep us safe.
Download your copy today
---
Synopsis:
She was never supposed to walk into my club.
But she did. I shouldn't have looked twice at her.
But I did.
The criminal underworld is no place for a girl like her. One night with Katerina isn't enough, but men like me can't afford to be weak.
So, I tell her to leave me behind. She does, but not before she sees something she shouldn't.
When she goes into hiding, it's my duty to hunt her down. I have a job to do, and she needs to disappear for good.
But four years later, Kat isn't alone anymore. And the little boy right beside her looks just like me.
Download your copy today!
---
Teaser: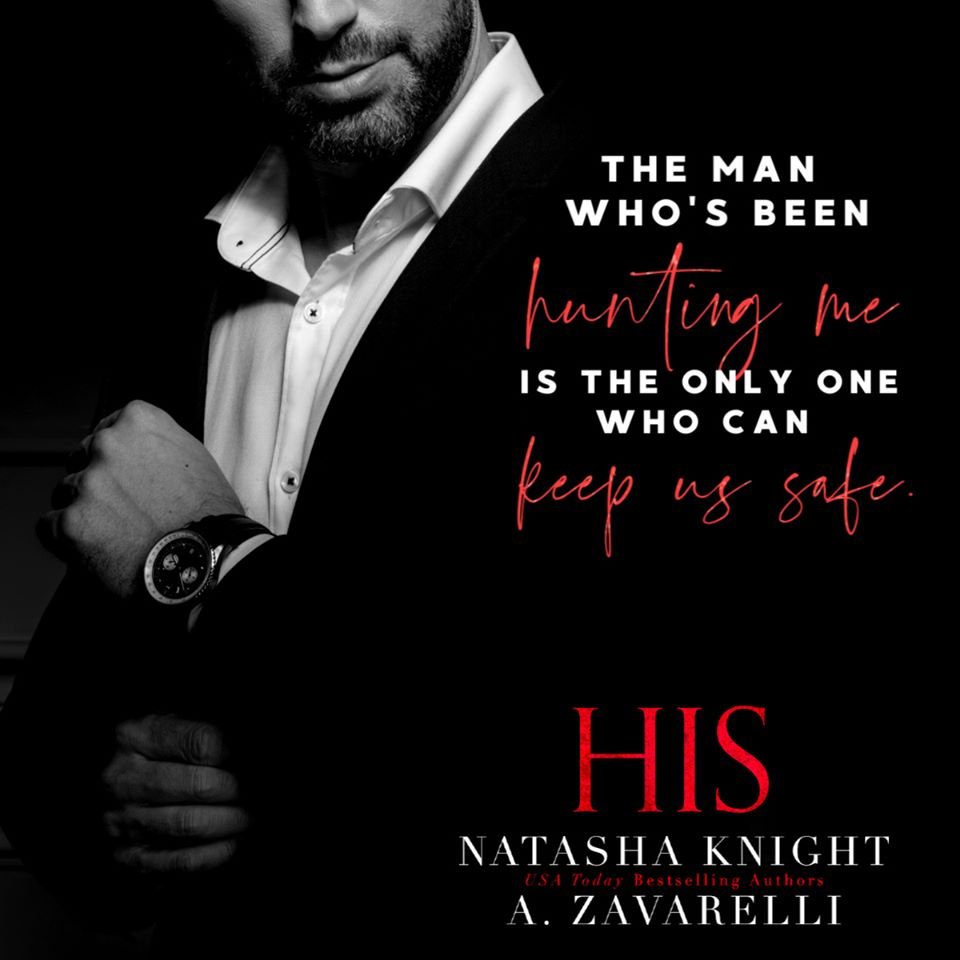 ---
About the Authors:
Natasha Knight
USA Today bestselling author of contemporary romance, Natasha Knight specializes in dark, tortured heroes. Happily-Ever-Afters are almost always guaranteed, but she
likes to put her characters through hell to get them there. She's evil like that.
WEBSITEBOOKBUB | AMAZON | FACEBOOK |FACEBOOK GROUP | NEWSLETTER |INSTAGRAM
A. Zavarelli
A. Zavarelli is a USA Today and Amazon bestselling author. She likes all things chocolate, books that come with warnings, and putting her characters through hell.
Her tales have been known to flirt with darkness and
sometimes court it unabashedly altogether. Revenge themes and tortured souls are her favorites to write and this gives her an excuse to watch bizarre and twisted documentaries in her spare time.
She currently lives in the Northwest with her lumberjack and an entire brood of fur babies.
FACEBOOK | FACEBOOK GROUP | INSTAGRAM | TWITTER | NEWSLETTER |WEBSITE |GOODREADS |AMAZON |BOOKBUB
---
Happy reading,