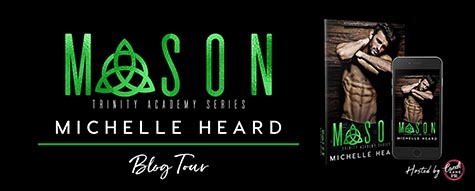 ---
Aundi's Musings…
5 You're My Heartbeat Stars
This is book 2 in the Trinity series and it picks up right where the cliffhanger left us in book 1. I was so anxious to get to this story because I needed to know what was going to happen. This series flows so nicely and the transitions are seamless, it's as if it could be one long book instead of separate stories. But I love that Michelle separated them out so that each character got their own moments and allowed us to fall in love with each of them. Michelle did an amazing job of developing each one of the characters into their own persona, and creating these stories that feel real and authentic.
Sigh. The beauty of a fallen angel… with the soul as dark as night.
If I thought Falcon was closed off he has nothing on Mason. This man has a huge wall erected around him so that he doesn't have to feel anymore. But then you find out that he actually feels it all and it just breaks your heart. When he has his moments were he's lost to his memories you just want to reach into this story and hold him tell him it's going to be okay. And then watching him come to terms with his past and start truly letting Kingsley in is utterly satisfying.
He was literally my heartbeat.
Kingsley is the exact opposite of Mason, she is light where he is dark. She is perpetually happy and see's joy in all things. But at the same time she doesn't let Mason's surliness get in her way. She tries really hard not to let him affect her and the banter between them is tense and delicious. I loved watching the progression of their relationship. She helped Mason more than she even realized she was doing, and it makes your heart so happy to see him start to piece himself back together.
I've never felt greed before today, not until I realized I don't want to share her smiles with anyone. I don't want to share her.
This series just continues to get better as it goes on. Each of these characters is unlike the rest and weaves together a magical story that you won't want to end. Mason and Kingsley are completely perfect opposites that are exact what the other needed. Mason is so beautifully broken your heart will ache for him, and Kingsley's infectious laugh and personality will show you why he fell so hard and fast. And again Michelle has decided to leave a Cliffhanger that will make your jaw drop.

---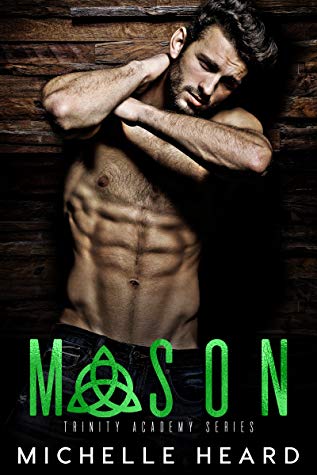 Synopsis:
"You're my assistant."
The magic words every girl at Trinity Academy is dying to hear.
But I'm the one who gets stuck with Mason Chargill, the star of most women's fantasies but my nightmare. One of the heirs to CRC Holdings, he might be dangerously gorgeous, but his cold and callous demeanor makes him an ice prince.
He expects me to abide by the Academy's hierarchy, to be at his constant beck and call.
Yeah, right… hell will freeze over before that ever happens.
Unfortunately for him, I'm no pushover.
Unfortunately for me, he's determined to break me.
If only there were a way to melt the shard of ice he calls a heart.
Please note:
This is Book 2 in The Trinity Academy Series.
All 3 books are interconnected, and some plots have been carried over from the 1st book and will be carried over to the final book in this series.
Download your copy today!
---
About Michelle:
Michelle Heard is a Bestselling Romance Author who loves creating stories her readers can get lost in. She loves an alpha hero who is not afraid to fight for his woman.
Connect with Michelle:
Facebook: https://www.facebook.com/MHeardAuthor/
Amazon: https://amzn.to/2qm6Of5
Instagram: https://www.instagram.com/authormichelleheard/
BookBub: https://www.bookbub.com/authors/michelle-heard
Twitter: https://twitter.com/MichelleAHorst
Stay up to date with Michelle by joining her mailing list today: http://bit.ly/2Py424r
---
Happy reading,