Contemporary Romance
Stand Alone
Cover Designer: QDesign
---
Tricia's Musings…
5 Hollywood and his Dame CROWNS
The heart rending prologue to Method drew me in and from there I was completely absorbed in, and captivated by, this angsty, unique, hugely emotional story. So well written, I would say it's this author's best work to date. The storyline is not a superficial one, it delves deep into its subject matter and the feelings it evoked in me were so intense at times, I was left speechless. This is the tale of a Hollywood marriage unlike any I have read before. It's so clever and the effect so powerful and intriguing, it's clear that Ms Stewart invested a lot of time and effort into researching the technique and skill of method acting.
Method is a difficult read at times as the excellent descriptive writing ensured I felt everything Mila in particular, was experiencing. What makes Lucas an accomplished actor, can also make him an inept husband at times and I was not entirely sure how I felt about him initially. A fascinating character, everything he does is with passion, whether it be loving his wife or immersing himself in a role, becoming completely consumed by and focused on the task at hand. After many years together, Mila feels secure in the life they've built and the routines they've established. However, as she learns, when life throws you a curveball, you can have as many rules and boundaries as you want but they're not necessarily going to help when communication breaks down. This author did an exceptional job of conveying Mila's feelings, her confusion and her helplessness when a new role begins to monopolize Lucas's time and personality. The portrayal of Lucas's character and how he interpreted his role was so vividly explained it just blew me away. It's all encompassing and he becomes not just physically but emotionally isolated from her. I certainly felt more compassion for him by the end of the book, whilst at the same time wanting to wrap Mila up in my arms and give her a big hug.
"There's a fine line between the Method actor and the schizophrenic."—Nicolas Cage
I'm not going to talk about the intricacies of the plot, you really need to experience those for yourself. Several days after finishing this book, I'm still trying to process it. A very clever storyline, I loved its unique complexity.  It's frustrating and gritty and heartbreaking at times but it's certainly no ordinary story and not everything is as it seems. It's a story of love, friendship, sacrifice, dedication and sheer determination. Without a doubt, Ms Stewart put her all into this book and it shows. Method is now on my list of favourite reads ever.
Hollywood is a temptress, a trickster, a soul-stealing devil. I married an A-list player, knowing I come second place to his craft. But Lucas and I are a golden couple, a modern-day fairy tale.
I've never doubted what we built…until the sudden death of Lucas's best friend has scandal rocking the Hills and shaking the foundation of our relationship.
I chose Lucas as my safe haven…he chose the role of a lifetime.
For the next three months, I'll share my nights with a stranger, watching as he buries his pain, immersed in his role and living as someone else.
We've done this before. I tell myself it's just another movie, and he'll return to me.
I should've known this time would be different.
To get my husband back, I'll need the strength of ten men.
As it turns out, I'll have to go through two.
DOWNLOAD YOUR COPY TODAY!
---
Teaser: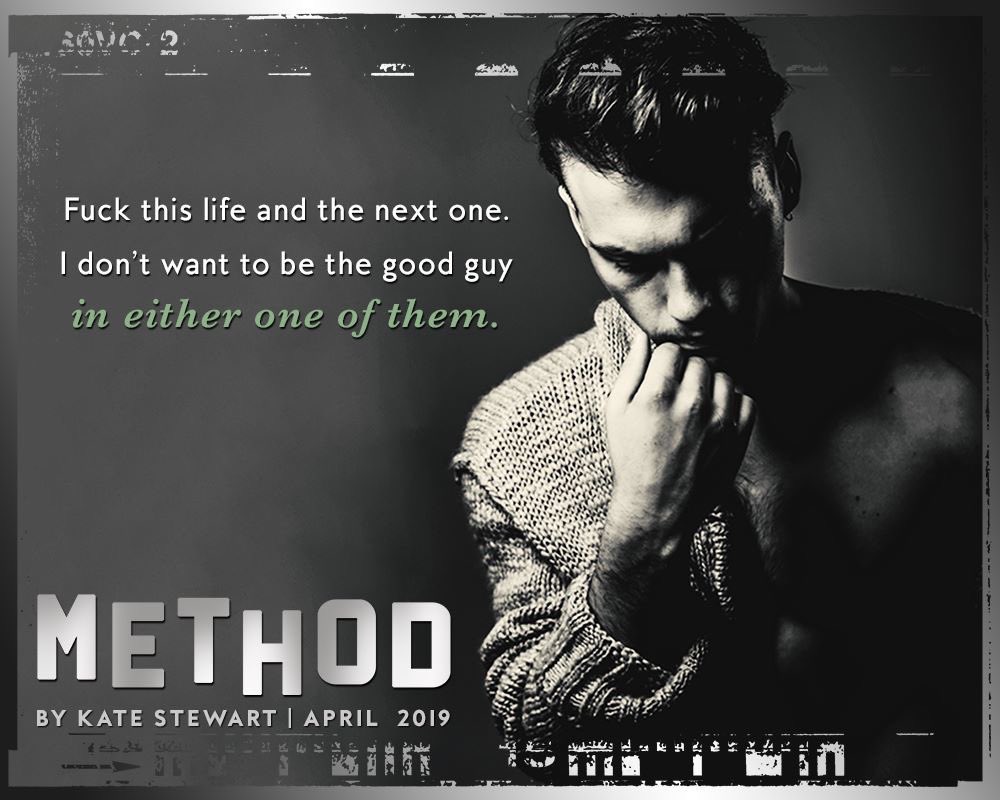 ---
About the Author:
A Texas native, Kate Stewart lives in North Carolina with her husband, Nick, and her naughty beagle, Sadie. She pens messy, sexy, angst-filled contemporary romance as well as romantic comedy and erotic suspense because it's what she loves as a reader. Kate is a lover of all things '80s and '90s, especially John Hughes films and rap. She dabbles a little in photography, can knit a simple stitch scarf for necessity, and on occasion, does very well at whiskey.Contact Kate- Email-authorkatestewart@gmail.com
Website Facebook Group Facebook Author Page Newsletter signup Twitter Instagram
---
Happy reading,