Misadventures of a Curvy Girl by Sierra Simone
Release Date: 19th February 2019
---
Sarah's Musings…
4.5 Peachy CROWNS
Sierra Simone is a writer I can always count on to give me the down and dirty, and does she ever deliver with Misadventures of a Curvy Girl.
Caleb and Ben are HOT! Together, they become the perfect combination of lovers in the bedroom and in life. Ben is the stoic and damaged veteran who runs the local bar, and Caleb is the more caring, outwardly, farmer. Together, in and out of the bedroom, these two work to give Ireland what she needs to be happy and to feel loved.  Unlike most books with threesomes, there is a relationship that is alive and flourishing between Caleb and Ben in its own right, and of the aspects I love both is that they don't try to define it. They simply know that they love each other, but they also know that they don't work as a two but they need a three. Overall, though, I do wish that there would have been more complexity to their characters. While I love them, I do truly feel like there was so much depth, especially with Ben, that was left unexplored.
Ireland makes the whole book because she is the relatable character. Her insecurities will be the insecurities of most of the female population. Seeing her thoughts as these men pleasure her, as she has to show them her body in the light of day, as we see her struggle with her confidence and the judgment of others. It is enlightening to see how the comments of others break her down, to the point that she can't her the comments of those who love her, particularly Ben and Caleb. Through her character, readers see the stigma we have attached to being fat, and even goes as far as to address the fact that the word fat has become dirty, an insult that we hurl at others, but what I ultimately love is that readers see all the negativity that is hurled at people who are overweight through the Ireland. We see how it breaks her down, tears her apart, and how the affects are long-lasting, because Ireland is a phenomenal heroine, which drives home the destructive nature of this stigma.
Like any Sierra Simone book, the heroes are incredibly attractive, with dirty mouths and skills between the sheets. The heroine is unique and lovable. The couple, together, steam up Kindles. On top of all of that, we get a real, authentic relationship that builds between them. There is inst-lust and a but of insta-love, but this Misadventures book is incredibly fast paced. The conflict and resolution are a tad predictable, but for the theme she creates and develops, they are perfect.
Like any Sierra Simone book, the Misadventures of the Curvy Girl is steamy and filled with new ideas to ruminate over, hopefully changing reader perspective on the use of the word fat and to ask woman with insecurities about their weight to look at themselves in a new way and to love themselves for who they are, which is absolutely something I can get behind.
ARC received in exchange for an honest review.
---
Synopsis:
For the first time in her life, Ireland Mills is happy with her body. No more fad diets, no more hiding from every camera in the room, no more low self-esteem. She'd rather be alone than with someone who'll only love her if she's skinny.
Caleb Carpenter and Ben Weber are everything Ireland and the Kansas Chamber of Commerce dreamed of when conceptualizing the "Real Kansas" promotional campaign. They're handsome, young, educated, and totally dedicated to their small prairie town.
When Ireland's Prius gets stuck on a Kansas dirt road and a massive storm rips through town, she's left stranded with nowhere to turn but to Caleb and Ben. These two hunky country boys are impossible to ignore, but could they ever be interested in her as well?
Caleb and Ben are more than interested…and they're willing to share. After their first night together, they know this has to be more than a one-time thing. They need to make her theirs forever. But can they convince Ireland they love her, curves and all?
****
Misadventures is a romantic series of spicy standalone novels, each written or co-written by some of the best names in romance. The stories are scandalous, refreshing, and, of course, incredibly sexy. They're the perfect bedside read, a 'quick blush' for the reader who loves a page-turning romance.
Download your copy today!
---
Teaser: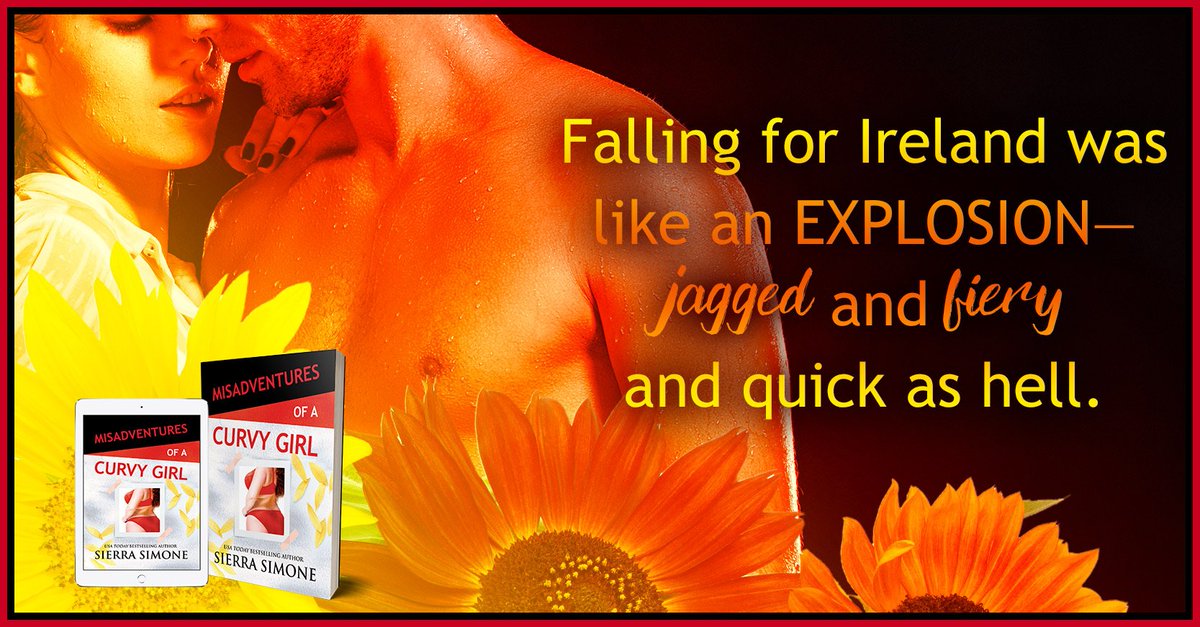 ---
Meet the Author
Sierra is a voracious reader of all things including the smuttiest smut, young adult, piles of non-fiction for research, and everything Bill Bryson (especially on audio).
She loves writing the dirtiest things that she can think of, King Arthur, sparkling water, Tarot, coffee, leggings, and learning new words daily.
Her previous jobs have included firing ceramics, teaching living history lessons in a one-room schoolhouse in full, 1908-approved school marm attire, and working as a librarian for several years—not in that order
She lives in the Kansas City area with her hot cop husband, two children, and two giant dogs. (And two cats, but they're so naughty we don't talk about them.)