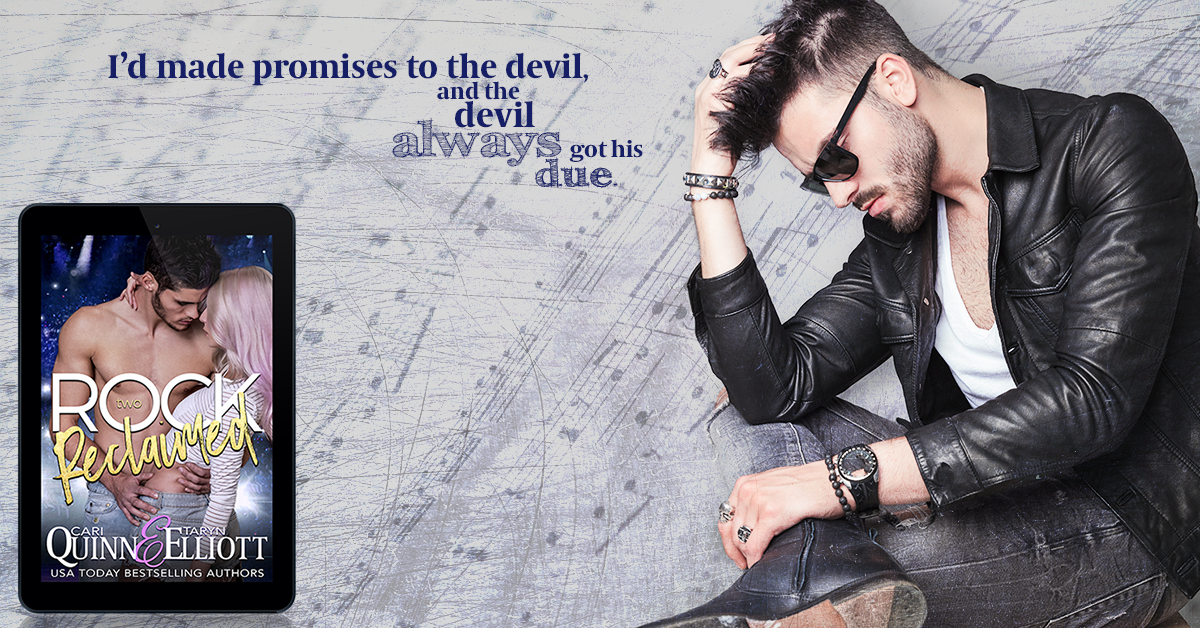 Rock Reclaimed 
Cari Quinn & Taryn Elliott
AVAILABLE NOW
---
Tricia's Musings…
5 CROWNS
Ian's journey continues in this second book of the rock trilogy. We get to see the real man behind all the bravado and posturing, the slightly broken pieces of him and the fight and fire he has within him. He's raw and I love him. I like his cockiness, his vulnerability and his loyalty. These authors did a great job with his British-ness without falling into the typical pit of clichés and stereotyping. I am impressed. His antics with a Polaroid camera were silly and made me laugh. Aspiring artist Zoe is the ideal partner for him. She gets him and doesn't judge. I love how different she is, her passion for her craft and the way her artwork and her photographs are described. It conjured up some wonderful imagery in my mind and I was excited to see what she was going to create next.
There's lots of the fun and humour and musical references I enjoy from this writing duo but I have to tell you, this book is hot, like melt your kindle hot! The sexy times are wonderfully written, not excessive or over the top but just perfect in my opinion. Seems like Ian is a true Kagan after all!
Ian's life is complicated and, unbeknownst to those around him, those complications will have an impact on their lives too. There's a dark undertone to this story amongst all the fun and frolics and as it progresses we see more of the mess Ian's got himself into. What's not yet clear is just how he got there. By the end, he's made a big decision. Let's hope it's not too late.
---
 Synopsis:
I'm the black sheep son.
The one no one ever knew about.
The one your mum wouldn't want you to bring home.
I have the Kagan face and the Kagan voice and let's be real—the legendary Kagan d!ck.
And now I was a rockstar too, on my way up. Soaring so high no one could rip me back down to earth.
Finally, I had it all…and then there was Zoe. Sweet, trusting Zoe, who was so much stronger than she looked.
The only woman who could bring me to my knees.
I would do anything to protect her. To keep her mine. And to protect my new family, the one I was sure I never wanted.
They didn't understand how far I'd go to get the pot of gold. And then it was too late. There was no turning back.
No keeping them safe.
I'd made promises to the devil, and the devil always got his due.
One way or another.
Author's Note: Fall in love with Ian Kagan, our new rockstar anti-hero in the continuation of our super hot, romantic suspense trilogy, Rock Revenge. The trilogy occurs in the Oblivion world though it can be read on its own. Rock Reclaimed 2 is a full-length novel with a cliffhanger. The story concludes with a HEA in Rock Redemption 3.
---
Tricia's Musings…
5 CROWS
I loved everything about Rock Revenge, the start of a new trilogy and spin off from the Lost in Oblivion series. I was in heaven once I started reading and was so excited to get more of the gorgeous Simon Kagan. When it comes to Simon and his Violin Girl you know there's going to be sexy times ahead and these authors sure do know how to steam up a story. However, it looks like he's got competition on the singing front from a possible brother he never knew about. He's a troubled young man who's keeping lots of secrets and I'm hugely intrigued. There's a definite edge to him and I can't wait to find out more about the mysterious Ian. Although this is a novella, it's action packed and full of surprises.
An intriguing and suspenseful start to a new series. Whilst, in my opinion, it absolutely can be read without reading the Lost in Oblivion series, I believe I am more invested in the story and some of these characters by having done so. I am looking forward to the story unfolding over the next couple of books and for those skeletons to come tumbling out of the closet. I have a feeling it's going to be a thrilling ride.
---
 Synopsis:
A stranger with my face. My voice. My name.
Simon Kagan is on tour overseas with his band Oblivion when he sees his mirror image singing on a TV talent competition.
A man who's trying to capitalize on his fame and everything he's built.
Not if Simon has anything to say about it. But first, he has to find the bastard…
Too many secrets.
Margo Kagan is hiding one of her own. And the timing couldn't be worse, since no one knows why Simon's supposed brother picked now to show up.
Family reunion? Or something far more sinister…
A debt repaid.
Ian Kagan is sick of living in the shadows. The dirty secret. The time has come for him to take his place in the limelight, and he'll do whatever it takes to end up where he rightfully belongs. Stardom was never part of the unholy agreement he made, but he won't back down now.
No matter who gets hurt.
Author's Note: Meet Ian Kagan, our new rockstar anti-hero in the introduction to our super hot, romantic suspense trilogy, Rock Revenge. The trilogy occurs in the Oblivion world though it can be read on its own. Rock Revenge 1 is a 38K novella with a cliffhanger. The story continues in Rock Reclaimed 2 and concludes with a HEA in Rock Redemption 3.
---
About the Authors:
USA Today bestselling author Cari Quinn grew up wanting to be a singer more than anything else. When she realized she probably wouldn't be hired as the opening act for the Foo Fighters, she stopped singing and started writing. Now she happily writes about rock stars, MMA fighters, suited heroes, bodyguards and everything in between. And she blasts her music as loud as the neighbors can stand, because hey, she'll always be a rock star in her own head.
She's also the other half of the Rocker Reads duo, Cari Quinn & Taryn Elliott. And one half of Taryn Quinn, author of ultra sexy contemporary romance.
Visit Cari at www.cariquinn.com to sign up for her newsletter and visit the Word Wenches on Facebook, her fun, sexy reader group with Taryn Elliott! http://smarturl.it/WordWenches-Facebook
---
Happy reading,