Sweet Retribution, the stunning conclusion to the Rydeville High Elite Series from USA Today bestselling author Siobhan Davis, is available now!
---
Aundi's Musings…
5 Sweet Vengeance CROWNS

This is what the ending to a series should look like, Siobhan slayed it! This book has everything Hot. Intense. Twists. That will leave you on the edge of your seat until the last page! This book takes off running after the end of book two and legit does not slow down one iota the whole time. I felt like I couldn't catch my breath while reading and I wouldn't have it any other way. Kai and Abby are my new favorite couple of Siobhan's, they are pure liquid fire!!

His arms are like a comfort blanket. His scent is like the familiar scent of home. The way he affects me is something I thought only existed between the pages of a romance novel.

Kai is a freaking dream. This guy is the definition of Alpha possessive. And it is gloriously HOT!!! I have always enjoyed this side of him. But in this, hot damn do we see it a little more. Siobhan had my heart racing and my thighs clenching in anticipation…. And I was not disappointed!!! Pure Kindle FIRE.
Abby is unadulterated Strength. This girl has been through hell and back and yet she still stands with determination and tenacity. Siobhan wrote her with this inner vulnerability that you see but on the outside she is nothing but strong. I liked this about her so much. It shows how multi-faceted her character is. And I absolutely loved that Kai could see through her shields. He knew when she was hurting even when she had on her brave face. This just showed how far they've come as a couple and how unbreakable their bond is. Forged by tragedy and circumstance it has made them indestructible.

"You are every dream brought to life Abby," Kai whispers through my earpiece. "You are exquisite. I could live a thousand lifetimes and never be worthy of your heart."

Siobhan has created an intense, emotional ride, which is full of twists and turns that will leave you thoroughly and utterly on the Edge. Of. Your. Seat! I'm sad that this part of the series is over a little piece of me will stay with Kai and Abby but I cannot wait to see what happens with the boys! So buckle up and prepared for the unexpected! This is one wild ride that you do not want to miss.
Sarah's Musings…
5 WHAT JUST HAPPENED CROWNS
This is going to be the shortest review in the world because I DO NOT want to give anything away, but I loved this conclusion. Loved.
Seeing this crew come together to take in the older Elite generation was fantastic. There is more corruption, violence, criminal acts and violations against humanity, but if you have read book one and two, you know this.
It was great to see Kai and Abby come together, although there are moments when it got a bit too cheesy for me with some of the lines. But these two have had it rough, so it was okay at the end.
Sweet Retribution is for sure a page turner. There is enough suspense and drama to keep people enthralled from the beginning to the end.
ARCS RECEIVED IN EXCHANGE FOR AN HONEST REVIEW
---
Synopsis:
The good thing about hitting rock bottom is I've nothing left to lose, and the only way is up.
He thinks he's destroyed me. Broken me beyond repair.
But he always underestimates women.
All he's done is reinforced my resolve. I won't stop until justice prevails and he gets what's coming to him.
Kaiden is the only light in the darkness. He gives me the strength to continue fighting for the future we both crave—a world where we are free to love one another and make our own choices.
Until then, the charade must continue.
Game on.
This concludes Abby and Kai's romance. 106k words, full-length novel. This is a dark romance, and some scenes may be triggering. Only recommended to readers aged eighteen and older.
Download your copy today or read FREE in Kindle Unlimited!
---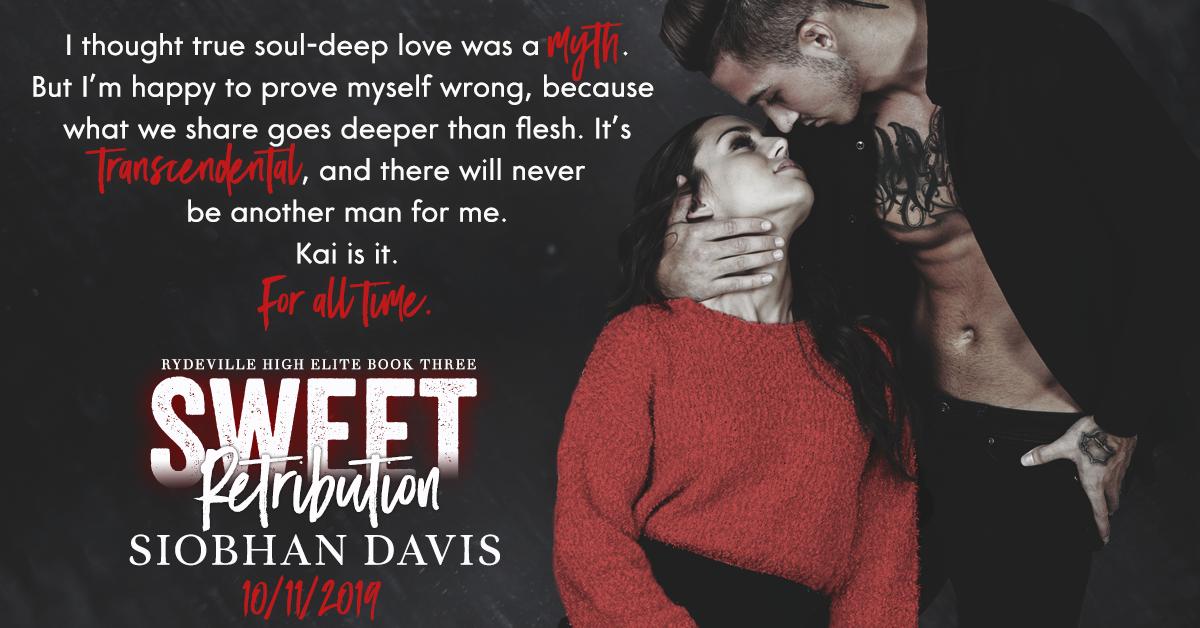 Join the Rydeville High Elite Spoiler Group
---
Start the series with Cruel Intentions!
Synopsis:
In the power struggle between two elite groups, one feisty girl will bring them to their knees…
Life is a cruel game where only the most ruthless survive. It's a truth my mother rebelled against, and she paid for it with her life. Now, I play their game. Publicly accepting the destiny that lies in wait for me when I turn eighteen.
But, behind closed doors, I plot my escape.
Trent, Charlie, and my twin, Drew, rule the hallways of Rydeville High with arrogance and an iron fist. I execute my role perfectly, hating every second, but they never let me forget my place in this world.
Everyone obeys the rules. They have for generations. Because our families have always been in control.
Until Cam, Sawyer, and Jackson show up. Throwing their new money around. Challenging the status quo. Setting hearts racing with their gorgeous faces, hot bodies, and bad boy attitudes.
Battle lines are drawn. Sides are taken. And I'm trapped in the middle, because I made a mistake one fateful night when I gave my V-card to a stranger in a blatant F you to my fiancé.
I thought it was the one thing I owned. A precious memory to carry me through each dark day.
I couldn't have been more wrong.
Because the stranger was Camden Marshall, leader of the new elite and my perpetual tormenter. He hates me with a passion unrivaled, and he won't be the only one. Fire will rain down if the truth is revealed, threatening alliances, and the power struggle will turn vicious.
My life will hang in the balance.
But I'll be ready, and I'm not going down without a fight.
Due to mature content and themes this book is recommended to readers aged eighteen and over. This is a full-length novel, 106k words, and it's book one in a planned trilogy. Cannot be read as a standalone and ends with a cliffhanger.
*CAUTION* Some of the reviews on this page contain massive spoilers which ruin the story and others are misleading with incorrect statements, so read them at your own peril.
Download your copy or read FREE in Kindle Unlimited today!
---
Synopsis:
He thinks he's broken me. That I'm finally under his complete control. But I'm biding my time, gathering intel, making plans, and waiting for the perfect opportunity to strike. So, when an unexpected savior appears—offering me a way out—I grasp it with both hands.
But the man I love refuses to let me go, and he's hell-bent on protecting me at all costs.
Except he's far too late.
Kaiden's betrayal fuels the anger flowing through my veins, and now our roles are reversed—I'm the hunter, and he's my prey. I enjoy torturing him, lying to him, and letting him believe in false truths that were never our reality.
Until the stakes are raised, and I'm forced into playing their game again. Only this time, it's not just my life hanging in the balance.
I thought he'd done his worst. That he didn't have the power to hurt me anymore.
But I was wrong.
His depravity knows no bounds, and now, he's taken everything from me.
This time, it means war, and I'm taking no prisoners.
Download your copy or read FREE in Kindle Unlimited today!
---
About Siobhan
USA Today bestselling author Siobhan Davis writes emotionally intense young adult and new adult romantic fiction with swoon-worthy romance, complex characters, and tons of unexpected plot twists and turns that will have you flipping the pages beyond bedtime! She is the author of the international bestselling Kennedy Boys, Saven, and True Calling series'.
Siobhan's family will tell you she's a little bit obsessive when it comes to reading and writing, and they aren't wrong. She can rarely be found without her trusty Kindle, a paperback book, or her laptop somewhere close at hand.
Prior to becoming a full-time writer, Siobhan forged a successful corporate career in human resource management.
She resides in the Garden County of Ireland with her husband and two sons.
Connect with Siobhan
Subscribe to romance newsletter: http://smarturl.it/KennedyBoysList
Amazon Author Page: http://smarturl.it/SiobhanDavisAmazon
Author website: http://smarturl.it/SiobhanDavisWebsite
Goodreads profile: http://smarturl.it/SiobhanGoodreads
Facebook page: http://smarturl.it/SiobhanDavisFacebook
Twitter profile: http://smarturl.it/SiobhanDavisTwitter
Author Blog: http://smarturl.it/SiobhanDavisBlog
BookBub Author Page: http://smarturl.it/SiobhanDavisBookbub
---
Happy reading,