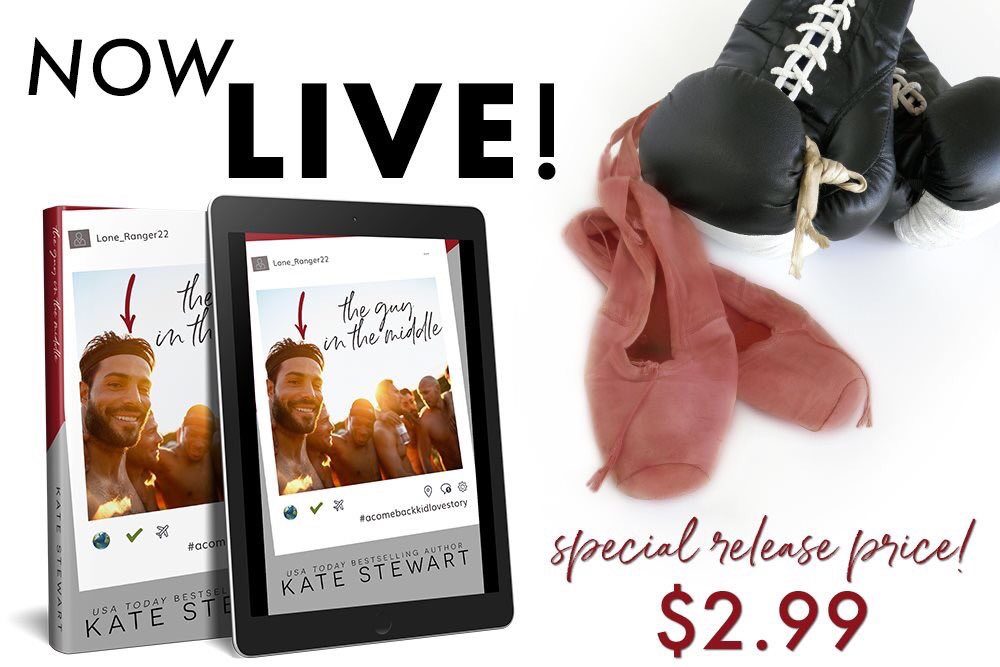 The Guy in the Middle is available now!
Contemporary Romance | Stand Alone | Designed by QDesign
---
Tricia's Musings…
5 beautifully broken CROWNS
Who knew there was so much more to Lance than meets the eye. As a side character in The Guy on the Right, I certainly didn't. I love the fact that the real nature of each of the male leads in this series was kept under wraps until they got to tell their own story, but the intensity of Lance and Harper's tale really caught me by surprise.
The first parts of the book are, overall, more lighthearted but my initial impressions were that Harper and Lance were like oil and water. She a talented dancer, he a ball player/fighter with a bad attitude and even worse temper. When walls started to be broken down, you could see their real personalities shine through and I fell in love with both of them. I particularly loved the way Ms Stewart described Harper's dancing and the effect *cough, cough* it had on Lance had me cracking up. Harper is wonderful. Strong, feisty and no nonsense, I took to her straight away.
In the beginning Lance was quiet and broody, a trait which was easy to ignore, unlike his jerkish behaviour and hot headedness, which took a little longer to understand. Nevertheless, understanding does come, once we get inside his head and his story unfolds. He was shouldering a lot of responsibility, which he successfully managed to hide most of the time behind that prickly façade and everything started to make sense. Once he let down his guard, I loved how he was with Harper, so patient and understanding. He broke all his rules for her and together they are on fire. However, not everything was as it seemed and a bad decision, made for the right reasons, had far reaching repercussions for this couple and their paths were suddenly not as fixed as they anticipated.
Although both these characters showed their strong side to the world, they were also vulnerable, dealing with things in the only way they knew how. There is so much push and pull between them but it was Harper's tenacity and perseverance that had me rooting for her to succeed. Lance may be the one wearing the gloves, but who would prove to be the fiercest contender, the most determined warrior, the best fighter?
I have adored each of the three books in this series but this one is by far the most emotional, the most angsty, powerful, moving and downright frustrating of them all. You can feel the agony in the decisions both Lance and Harper have to make, it bleeds from the pages at times. Lance's reactions often had me on the edge of my seat and I genuinely began to worry that there would be no happy ending for this pair. Once certain situations were revealed and feelings were laid bare, the realisation of what they had both been coping with nearly broke my heart.
Once again this story turned out to be nothing like I anticipated, this couple's journey truly unexpected. There were some amazing colorful supporting characters too along the way, each with their own personalities and important roles to play. However, despite their differences, each book in the series has a similarity which binds them together. I think the author, through one of her characters, says it best.
"Though our stories are vastly different, we all longed for the same thing—to belong—all the while figuring out who we were, trying to prove ourselves and win the affection of the women who would help us figure it all out."
The Guy in the Middle is another outstanding book in this wonderful series. Funny and emotional, filled with strength and hope, I have loved them all.
ARC review
Aundi's Musings…
5 Moments in Time Crowns
This story has the ability to render you utterly speechless. Kate has created such an all-encompassing story that you are immediately transported straight into this world from the very first chapter, becoming lost to the pages and moments that are created within. You feel an undeniable connection to Lance and Harper and the journey that this couple has to make. Kate will break your heart and then slowly piece it back together with every new word and chapter that you read. Her writing was utterly flawless pulling your mind body and soul into this book.
There's a lion inside that little lamb, and if that was an invitation—I'm all too ready to unleash her.
I'm in love with Lance, I don't say this lightly as I have read many a books and have had many a book boyfriends, but this man is different. He holds the weight of the world on his shoulders and is the most unselfish person you could meet. He lives and breathes for his family and what he can do to help them. He breaks your heart with what he has to do and everything that he is trying to accomplish. But what truly shatters your soul is the reasons he does what he does. He is just that caring and that selfless that the only thing that he wanted for himself was Harper. And their connection is without a doubt soul deep, they are both going through things but it's those things that makes their connection so visceral.
"What if this moment, right here, is the moment that changes your life?"
Harper is special I loved that Kate made her so much more real than any heroine I've read in some time. That realness is what drew me to her and had me connecting to her on a deeper level. This girl is amazing she has so much talent and grace but at the same time she has this sass that makes you smile every single time!! But what really stood out to me was what she goes through in this book. I think that her journey and the growth that she has while coming to terms with certain situations is one that almost every woman can understand, and relate to. Her strength but also her vulnerability are so real raw that it has the power to take you back to a time in your life when you felt the same way.
It's when her brown eyes lift to mine with complete trust that I realize that despite my best efforts, I will be one thing for the rest of my life, hers.
Lance and Harper are Perfection! Their journey isn't an easy one, but their undeniable connection and love for each other makes the progression that much better. And the chemistry that they have is like a 5 alarm fire just waiting to melt your Kindle. This story was so much more for me, the connection I felt with these characters was all the way down to my bones and I did not want it to end.
Voluntarily Reviewed and Advanced Complimentary Copy. 
---
Blurb:
I was born to play and bred to win.
My priorities were instilled in me early on—family and football. Those ideals led me to TGU and a coach whose ironclad principles mirrored my own.
With one last college season to play, my goal was singular—get drafted. By realizing my NFL dream, I could save my family, our ranch, and the only home I'd ever known.
Two birds, one ball.
Playing hard was my only option, but there's always a wild card.
For all of my planning and hard work, I never anticipated falling for the coach's daughter. Harper was a fair catch, but who knew loving her could be the one play to throw my career before it started or that the weight of our secret would change the game.
*The Guy in the Middle is a stand alone novel in the Underdog Series. This is Lance's story.
Read FREE in Kindleunlimited!
---
About the Author:
USA Today bestselling author and Texas native, Kate Stewart, lives in North Carolina with her husband, Nick, and her naughty beagle, Sadie. She pens messy, sexy, angst-filled contemporary romance, as well as romantic comedy and erotic suspense. Kate's title Drive was named one of the best romances of 2017 by The New York Daily News and Huffington Post. Drive was also a finalist in the Goodreads Choice awards for best contemporary romance of 2017. Her works have been featured in USA TODAY, BuzzFeed, and translated in five languages.Kate is a lover of all things '80s and '90s, especially John Hughes films and rap. She dabbles a little in photography, can knit a simple stitch scarf for necessity, and on occasion, does very well at whiskey.
Contact Kate:
Email-authorkatestewart@gmail.com
Website ♦ Facebook Group ♦ Facebook Author Page ♦ Newsletter signup ♦ Twitter ♦ Instagram
---
Happy reading,