The Team Player 2 Anthology is here! It's LIVE.
11 stories from 11 of our favorite authors!
---
Tricia's Musings…
5 sporting CROWNS
Who knew there was so much more to Lance than meets the eye. As a supporting character in The Guy on the Right, I certainly didn't. Don't worry, if you haven't read TGotR yet, (you really should though, cos it's amazing), you can still read this one with no difficulty. Although this is a novella, currently part of the Team Player 2 anthology, it's not short on content. It's a great enemies to lovers/forbidden romance with wonderful fully fleshed out characters and I loved it.
Initial impressions were that Harper and Lance were like oil and water. She a talented dancer, he a ball player/fighter with a bad attitude and even worse temper. When walls started to be broken down, you could see their real personalities shine through and I fell in love with both of them. I particularly loved the way Ms Stewart described Harper's dancing and the effect *cough, cough* it had on Lance had me cracking up. Harper is wonderful. Feisty and no nonsense, I took to her straight away.
Lance's behaviour took a little more getting used to. He's quiet and broody, a trait which which can be ignored most of the time, unlike his jerkish behaviour and hot headedness, which took a little more time to understand. Nevertheless, understanding does come, once we get inside his head and his story unfolds.
However, a bad decision, made for the right reasons, has far reaching repercussions for this couple and their paths are suddenly not as fixed as they anticipated. The story ends on what I would call a hopeful "to be continued " note, and I can't wait to find out where the next part of their journey will take them.
THIS REVIEW IS FOR ONE OF THE ELEVEN STORIES THAT APPEAR IN THE ANTHOLOGY.
---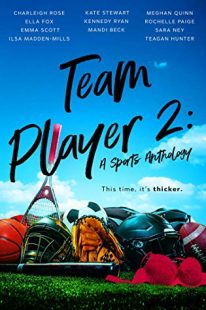 Synopsis:
Our love of hot jocks is never-ending.
Muscular football players. Passionate tennis pros. Sexy soccer stars. All sorts of alpha hotties, on the field and off.
Have no fear! The team is back again, and this time…it's thicker. You'll get your sports romance fix with brand-new stories from eleven bestselling authors.
Need one last summer fix? Dive into this anthology.
*This anthology contains original, never-before-seen stories by the following authors: Mandi Beck, Ella Fox, Teagan Hunter, Ilsa Madden-Mills, Sara Ney, Rochelle Paige, Meghan Quinn, Charleigh Rose, Kennedy Ryan, Emma Scott, and Kate Stewart. We still aren't responsible for melted devices.
---
Teasers:
---
About the Author:
A Texas native, Kate Stewart lives in North Carolina with her husband, Nick, and her naughty beagle, Sadie. She pens messy, sexy, angst-filled contemporary romance as well as romantic comedy and erotic suspense because it's what she loves as a reader. Kate is a lover of all things '80s and '90s, especially John Hughes films and rap. She dabbles a little in photography, can knit a simple stitch scarf for necessity, and on occasion, does very well at whiskey.
Contact Kate- Email-authorkatestewart@gmail.com
Website Facebook Group Facebook Author Page Newsletter signup Twitter Instagram
---
Happy reading,