"The queen of enemies-to-lovers strikes again. I devoured every page, hooked on the sizzling chemistry between Hunter and Sailor. A ten star read." –Parker S. Huntington, Wall Street Journal bestselling author
The Hunter, an all-new compelling and must-read contemporary romance from
USA Today
bestselling author L.J. Shen is available now!
---
Aundi's Musings…
5 Archer Crowns
LJ has once again left me speechless. Every single time I read one of her stories I immediately get lost in her words. She is a master at her craft and one of the most talented writers, with her imagery and prose no one writes a story quite like her. One of the easiest things to do is to become enraptured by one of LJ's books and this one is no different. I was immediately lost to Hunter and Sailor and I never wanted it to end. Not to mention the cameos laced throughout were the perfect touch, I loved every one and got so excited when they came through, like a kid in a candy store I was a goner.
The girl wondered what would happen if the sun kissed the moon. She had no idea she'd find an answer to that question one day. Or that the person to give it to her would be that very lonely boy.
I am without a single doubt in LOVE with Hunter. Don't get me wrong Vicious is still my bottom B, but Hunter is right there. I loved his Cameo in this BTW it was so very Vicious, and I loved every second, but I digress. Hunter is all the things you'd expect him to be but than so much more. My heart ached for this man and everything that has surrounded him. I just wanted to reach into the story and give him a hug and tell him that everything would be okay. But what I loved most about Hunter was his unexpected side, he was so good a playing a role that when he wasn't playing anymore you got to glimpse his true self, and that person is worth everything. Hunter with his wicked tongue and soft soul is what book boyfriends are made of.
"Taking your coffee with milk is like going down on a woman with a condom on your tongue. The Italians would exile you for less,"
Sailor was not at all what I was expecting, seeing as who her parents are. She was a breath of fresh air, with a firey side that would burn the City to the ground. But she was also single minded and determined, nothing and no one was getting in this girl's way, I had mad respect for her. She is fierce and I love that in my heroines. I loved the juxtaposition of her and how she fit with Hunter so perfectly. They legit felt like the other half to each other, even through their banter you could just see them together, it was so easy as if it was always supposed to be this way.
Hunter Fitzpatrick is a dangerous habit, I thought. I should be glad to quit him.
I lost count to how many times I legit laughed out loud. Hunter is too much, and he will have you rolling during this entire book. I've always loved LJ's brand of adolescent boy humor and she absolutely does not disappoint. This story was equal parts angst and humor, the perfect combination!!! I loved these characters so much, and I am so glad that this is only book 1 because I am so not ready to leave this addictive world that LJ has created. This is without a doubt a Top Read of 2020, you do not want to miss out on this. LJ continues to grow and soar to the top of lists everywhere and this book is proof as to why she is there!!
Voluntarily Reviewed an Advanced Complimentary Copy
Sarah's Musings…
5+ I'LL BE YOUR PREY CROWNS
HOLY F-*%#ING LORD IN HEAVEN! I'm so freaking in love with HUNTER and his heroine! I'm dying! I freaking laughed out loud so much at Hunter's antics. The story is phenomenal. The cameos! DEAD. This new world. Thank god it is book one! I don't want to leave it.
The Hunter is quintessential LJ Shen, and Hunter is the hero we have come to love. I am sucker for a playboy hero who is a bit broken on the inside. Shen wrote him in a way that made my heart break for him, his pain is palpable. I just wanted to reach into the pages and hug him, and it is really part of what makes him so charming. Don't worry, though, he he has all the other characteristics of a LJ Shen hero we have come to love – comedic, arrogant, charismatic, and skilled. He is MY FAVORITE SHEN HERO.
Sailor is fantastic. I love that she is goal oriented and is willing and able to put Hunter in his place. I felt like she was such a unique character, and I couldn't have loved her intelligence, her sass, and her banter with Hunter. I adore her as a heroine and all the ways she fixed Hunter.
This story. The world. It has that old LJ Shen feel. I loved every single page. Every single moment. Seeing Hunter grapple with his self worth, seeing Sailor come into her own more than she was with him, and seeing these two come together and fulfill each other was PERFECTION. I couldn't get enough of them, and this world. The cameos, the new characters, the series set up has me more excited than my words can express. This series is, I am sure, primed to take me top spot in my LJ Shen favorite list.
The Boston Belles world starts off with a bang. Hunter and Sailor captivated my heart, and LJ Shen has guaranteed that I will never want to leave this brand new world. It will be a top read of 2020 for me.
Beta read
---
Boston's debauched elite is going up in flames, and it's the Fitzpatrick family that set it on fire.
Hunter
I didn't mean to star in a sex tape, okay?
It was just one of those unexplainable things. Like Stonehenge, Police Academy 2, and morning glory clouds.
It just happened.
Now my ball-busting father is sentencing me to six months of celibacy, sobriety, and morbid boredom under the roof of Boston's nerdiest girl alive, Sailor Brennan.
The virginal archer is supposed to babysit my ass while I learn to take my place in Royal Pipelines, my family's oil company.
Little does she know, that's not the only pipe I'll be laying…
Sailor
I didn't want this gig, okay?
But the deal was too sweet to walk away from.
I needed the public endorsement; Hunter needed a nanny.
Besides, what's six months in the grand scheme of things?
It's not like I'm in danger of falling in love with the appallingly gorgeous, charismatic gazillionaire who happens to be one of Boston's most eligible bachelors.
No. I will remain immune to Hunter Fitzpatrick's charm.
Even at the cost of losing everything I have.
Even at the cost of burning down his kingdom.
Download your copy today or read FREE in Kindle Unlimited!
---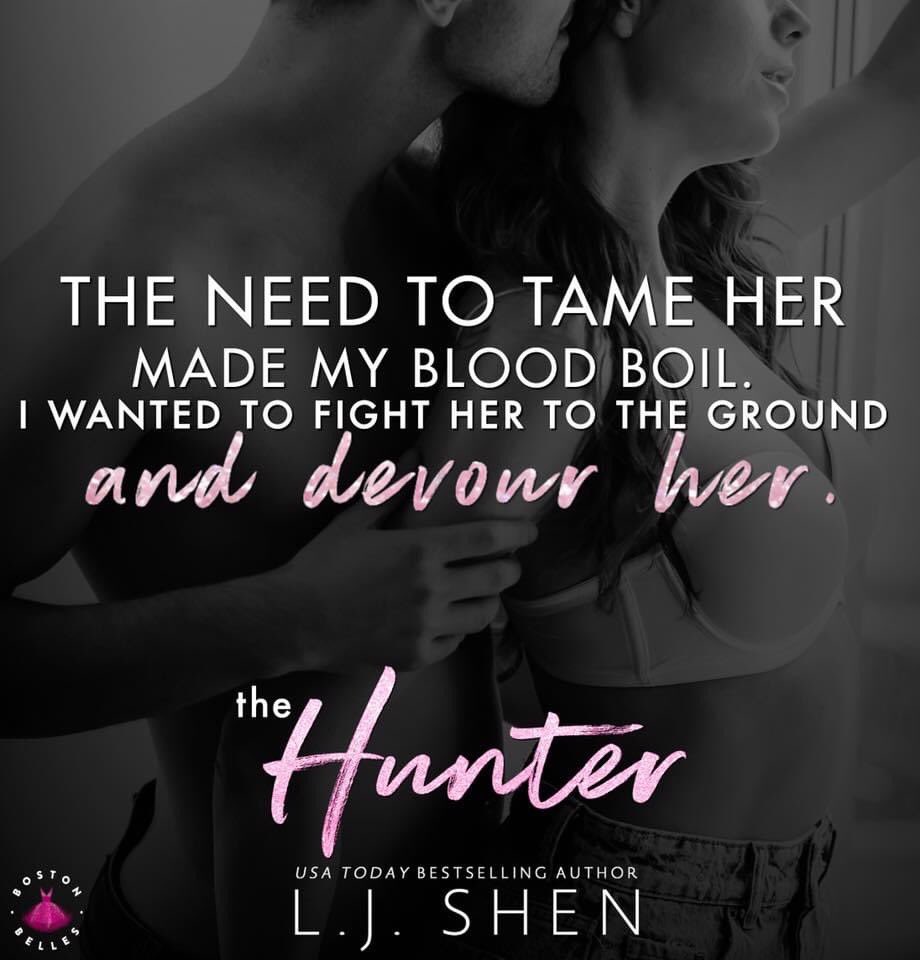 Excerpt
"Why?" I asked, blinking at him in confusion. I had two left legs and the coordination of roadkill. I couldn't dance if my life depended on it. I'd tried dancing at the only party I'd ever gone to—sophomore year—and was subjected to such thorough humiliation. People took videos of me dancing and forwarded it to half my school.
Saggy Sailor, they'd graffiti-ed on my locker. Apparently, my back looked hunched and droopy when I danced. "Because…" He tilted his chin down, his voice low, smoldering. "You're obviously bored, and my family is watching us, and I'm partial to fondling you.""It's the dress," I muttered."I'd actually prefer fondling you out of it."I sliced my gaze sideways, noticing that Aisling and Persy hadn't picked up on my exchange with him. They were now watching a video, probably of the reality show they were arguing about. Even though Hunter was just after a friendly dance to show his family we were getting along, I couldn't unglue my butt from my chair. "No fondling." I crossed my arms over my chest, buying time."No promises. Get up.""Did you tell anyone we live together?" I accused, my eyes narrowing into slits. He stared at me, wide-eyed, mouth parted. "Negatory.""Did you tell anyone we were dating?""This is the lamest twenty-questions game I've ever participated in. No.""Well, people are talking about us.""That's what people do. They fill the air with useless words to entertain each other. It's called gossip, and it sucks all the asses in the world. Doesn't mean it was me. Our building employs more than a hundred people. All of them work for my father. That means he's spreading whatever the hell he wants to spread."
---
About L.J. Shen:
L.J. Shen is an International #1 best-selling author of Contemporary Romance and New Adult novels. She lives in Northern California with her husband, young son and chubby cat.
Before she'd settled down, L.J. (who thinks referring to herself in the third person is really silly, by the way) traveled the world, and collected friends from all across the globe. Friends who'd be happy to report that she is a rubbish companion, always forgets people's birthdays and never s
ends Christmas cards.
She enjoys the simple things in life, like spending time with her family and friends, reading, HBO, Netflix and internet-stalking Stephen James. She reads between three to five books a week and firmly believes Crocs shoes and mullets should be outlawed.
Connect with LJ Shen:
Facebook: https://www.facebook.com/authorljshen/
Twitter: https://twitter.com/lj_shen
Pinterest: https://www.pinterest.com/authorljshen/
Instagram: https://www.instagram.com/authorljshen/
Stay up to date with LJ Shen by signing up for her mailing list:
---
Happy reading,