New e-book sales!!! Make sure you check out the list, and take advantage of the discounted prices before the sales end.
The books with a 
 indicate that I have read and would recommend to other readers.
---
A New York Times bestselling enemies to lovers STANDALONE
romance. 
When Mia Corelli returns to Alabama for a summer of fun with her childhood best friend, Tessa, there's only one thing keeping her on edge. One person that she'd do anything to avoid.
Benjamin Kelly. World's biggest dickhead.
Mia hates him with a fury and has no desire to ever see him again. When she decides to start her summer off with a bang and finally give away her v-card, she unknowingly hands it over to the one guy that excelled at making her life miserable, learning a valuable lesson in the process.
Always get the name of the guy you're going home with.
Ben can't get the girl he spent one night with out of his head. When she leaves him the next morning, he thinks he'll never see her again. Until he sees her lounging by the pool with his sister.
Mia is determined to hate Ben, even though she can't forget him.
Ben is determined to prove he's not the same guy he used to be.
What happens when the one person you wish never existed becomes the one person you can't imagine
Price: FREE
---
It's crazy how fast the buzz comes back after you've been sober for so long.
Whiskey stood there, on my doorstep, just like he had one year before. Except this time, there was no rain, no anger, no wedding invitation — it was just us.
It was just him — the old friend, the easy smile, the twisted solace wrapped in a glittering bottle.
It was just me — the alcoholic, pretending like I didn't want to taste him, realizing too quickly that months of being clean didn't make me crave him any less.
But we can't start here.
No, to tell this story right, we need to go back.
Back to the beginning.
Back to the very first drop.
This is my love letter to Whiskey. I only hope he reads it.
Price: $0.99
---
 Synopsis:
Once upon a time…
Remember the fairy tales your parents read to you when you were little?
These are NOT those fairy tales.
From modern day royalty to metaphorical dragons, contemporary castles tosexy heroes, these bestselling authors twist tales as old as time intosomething new.
Featuring stories by bestselling authors: ALJACKSON, SOPHIE JORDAN, ALEATHA ROMIG, SIERRA SIMONE, LILI ST.GERMAIN,SKYE WARREN, NORA FLITE, and NICOLA RENDELL
GLAMOUR contains eight exclusive never-before-seen novellas that each have an HEA… because they all lived happily ever after.
Price: $0.99
---
Paige Simon was the only girl Declan ever loved. The only one capable of silencing his voices, the only person to ever have faith in who he was, until the day her faith turned to doubt and destroyed everything they'd made together.
Declan O 'Connell was the only person Paige could be herself with. The only one she could rely on, until the day she was forced to make a choice that would condemn them both.
They've had years apart, and second chances don't belong to the damned. But when you come face to face with your savior, it's almost impossible to walk away. In order to move beyond the sins of their past, and forever silence the demons in his head, they'll have to risk it all.
But with love, there are real reasons to be afraid and, sometimes… your salvation is your damnation.
*Not a Cliff Hanger* *Adult Themes*
Price: $0.99
---
 Synopsis:
Kelly Kavanagh was Liam's happily ever after, his loyal princess. A lifeline to something better than any high school dropout could ever hope for…until the day she left to pursue a dream that didn't include him and slowly his kingdom crumbled to the ground.
Liam O'Connell was the sun to Kelly's everlasting moon, her painted prince. A strong and devoted soul to fight the war she was slowly losing against herself…until his promises had become lies and her dream was the only way she would ever survive.
They have more than just miles and time between them now. The twin fortresses they've built around their hearts are next to impossible to scale. But, when two parallel fates collide in life and in death, will the impact be powerful enough to break down their self-imposed walls?
Every love story starts with Once Upon a Time, but in real life there are no fairytale endings, and the prince who rescues you…will never wear a crown.
**Interconnected Stand Alone**
Price: $0.99
---
 Synopsis:
Melissa Trujillo knows suffering. She's tasted it, touched it, injected it. Sobriety is a gift, but it isn't enough to wash away her secrets.
Kieran O'Connell knows sacrifice. He's owned it, held it between his fingers, and felt it in his knees. Words are his freedom, and they've begun to fade.
Two different worlds, one moment and the Earth shifts—granting them a path.
His eyes meet hers. Her hand fits his.
Kieran finds his muse.
Melissa finds her new addiction.
But, when sin meets virtue, angels fall, and the truth, it becomes a blade. Together they'll walk the sharp edge, and if her lies cut too deep, not even his words could save her… save them.
Stand Alone Novel
**No Cliff Hanger**
Price: $0.99
---
 Synopsis:
Her biggest fantasy is about to become a reality. . .
Jed West is Mr. Hockey. The captain of the NHL's latest winning team, the Denver Hellions—and the hottest player on the ice—at least according to every magazine. .and Breezy Angel. Breezy has been drooling over Jed at games for years, and he plays a starring role in her most toe-curling fantasies. But dirty dreams don't come true, right?
Then Jed saunters through the doors of her library, a last minute special guest for a summer reading event, and not only is he drop dead gorgeous up close, his personality is straight up swoon-worthy. He even comes to the rescue when she has an R-rated "Super Book Worm" costume malfunction. But when he mistakenly assumes she's more into books than pucks, she's too flustered to correct his mistake. And then comes a big kiss, followed by a teensy-tiny problem. Jed's dating policy is simple: Never date a fan.
So what's a fangirl going to have to do to convince her ultimate crush that he's become less of a perfect fantasy, and more like the perfect man. . .for her?
Price: $0.99
---
She's been playing it close…
Ara Martin and college football star Ty Masters have been best friends since the first day of school when Ty literally ran her over. She fell for him immediately, but having lived under the shadow of her famous father, she knows a relationship with irresistible Ty would only end in heartbreak. For four years, she's kept her feelings hidden. But one drunken encouter weeks before graduation is about to expose Ara's biggest secret and destroy her most treasured relationship.
He's been playing for keeps…
Ty is about to be drafted into the NFL, but his personal life is a mess. He's got an agent he doesn't like, a brother who can't stop offering his opinion, and a beautiful woman he craves but can't have. He can fire his agent and ignore his brother, but he's not sure what to do about Ara. Ty's been able to run down every quarterback he's faced, but his sexy, stubborn best friend keeps slipping through his fingers.
Luckily, he's not one for giving up, and once he gets his hands on her, he's never letting go.
Price: $0.99
---
What he wants he gets…

Knox Masters is a quarterback's worst nightmare. Warrior. Champion. And…virgin. Knox knows what he wants–and he gets it. All American Football player? Check. NFL pros scouting him? Check. Now, he's set his sight on two things. The national title. And Ellie Campbell. Sure, she's the sister of his fellow teammate, but that's not going to stop him. Especially not when he's convinced Ellie is the one.

…but he's never met her before.
But Ellie isn't as sure. She's trying to start a new life and she's not interested in a relationship…with anyone. Beside it's not just her cardinal rule of never dating her brother's teammates that keeps her away, but Ellie has a dark secret that would jeopardize everything Knox is pursuing.
Knox has no intention of losing. Ellie has no intention of giving in.
Price: $0.99
---
She's always played it safe…
College junior Lucy Washington abides by one rule—avoid risk at all costs. She's cautious in every aspect of her life, from her health, to her mock trial team, to the boring guys she dates. When a brash, gorgeous jock walks into the campus coffeeshop and turns his flirt on, Lucy is stunned by the force of attraction. For the first time ever, she's willing to step out of her comfort zone, but can she really trust the guy who's determined to sweep her off her feet?
He's always played around…
Entering his last year of college eligibility, linebacker Matthew "Matty" Iverson has the team captaincy in his sights. And it's his for the taking, if he can convince his quarterback Ace Anderson to give up the starting position. Luckily, Matty already has an edge—the hottie he's lusting over just happens to be Ace's childhood best friend. Getting Lucy on his side and in his bed? Hell yeah. Matty is more than confident he can have both, but when he falls hard for Lucy, it's time for a new game plan: convince the woman of his dreams that she's not sleeping with the enemy.
Price: $0.99
---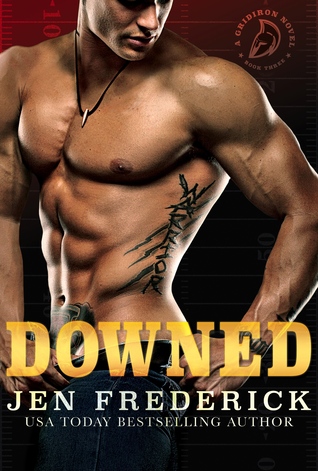 Synopsis:
He's the guy no one likes…
Despite winning two national championships, JR "Ace" Anderson was sent packing from his old school after losing the trust of his coach. At Southern U, he has a second chance to prove that his college legacy isn't endless debauchery and selfishness. But his reputation precedes him, and his teammates offer a chilly welcome in the locker room. The one person who is willing to accept him is the very woman he should stay away from—his new coach's daughter.
She's the girl everyone loves…
Bryant Johnson's only goal in life is to make others happy, even at her own expense. One look at her father's new star quarterback, and she knows that Ace is her next project. With a reputation for being a "jerk whisperer", Bryant has spent her last three years at college reforming sorry behavior and turning bad boys into the best boyfriends ever. In Ace, though, she's met with surly resistance and a sizzling attraction she doesn't expect. Fixing this wounded warrior will be her biggest challenge yet. Not falling for him will be even harder.
Between her big heart and his damaged one, a battle is ensuing. In this game of love, every defense will crumble.
Price: $0.99
---
 Synopsis:
Love is strange. It comes out of nowhere. There's no logic to it. It's not methodical. It's not scientific. It's pure emotion and passion. And emotion and passion can be dangerous because they fuel love…and hate.
I'm now a reluctant connoisseur of both—an expert through immersion. I know them intimately.
When I fell in love with Miranda, it was swift and blind. She was the person I'd elevated to mythical status in my head, in my dreams.
Here's the thing about dreams, they're smoke.
They're spun as thoughts until they become something we think we want. Something we think we need.
That was Miranda. She was smoke.
I thought I wanted her. I thought I needed her.
Over time reality crept in and slowly dissected and disemboweled my dreams like a predator, leaving behind a rotting carcass.
Reality can be a fierce bitch.
So can Miranda.
And I can be a fool…
who believes in dreams.
And people.
And love.
Note from the author: Due to strong language and sexual content, this book is recommended for mature audiences only.
Price: $0.99
---
 Synopsis:
Brotherhood. Club. Family.
They live and ride by their own rules.
These are the Raven Riders…
Raven Riders Motorcycle Club President Dare Kenyon rides hard and values loyalty above all else. He'll do anything to protect the brotherhood of bikers–the only family he's got–as well as those who can't defend themselves. So when mistrustful Haven Randall lands on the club's doorstep scared that she's being hunted, Dare takes her in, swears to keep her safe, and pushes to learn the secrets overshadowing her pretty smile.
Haven fled from years of abuse at the hands of her criminal father and is suspicious of any man's promises, including those of the darkly sexy and overwhelmingly intense Ravens' leader. But as the powerful attraction between them flares to life, Dare pushes her boundaries and tempts her to want things she never thought she could.
The past never dies without a fight, but Dare Kenyon's never backed down before…
Price: $0.99
---
 Synopsis:
Breakout sensation Monica Murphy takes the romance genre by storm with the deeply emotional, completely addicting story of Drew and Fable.
 
Temporary. That's the word I'd use to describe my life right now. I'm temporarily working double shifts—at least until I can break free. I'm temporarily raising my little brother—since apparently our actual mother doesn't give a crap about either of us. And I always end up as nothing but the temporary girlfriend—the flavor of the week for every guy who's heard the rumor that I give it up so easily.
At least Drew Callahan, college football legend and local golden boy, is upfront about it. He needs someone to play the part of his girlfriend for one week. In exchange for cash. As if that's not weird enough, ever since he brought me into his world, nothing really makes sense. Everyone hates me. Everyone wants something from him. And yet the only thing Drew seems to want is . . . me.
I don't know what to believe anymore. Drew is sweet, sexy, and hiding way more secrets than I am. All I know is, I want to be there for him—permanently.
Price: $0.99
---
 Synopsis:
Sex.
Alcohol.
More drama than a soap opera.
Welcome to senior year.
One Night, we all get together. We're about to start our final year in high school, our last chance to do everything we've ever wanted before we head out into the real world. Before we lose our chances to have closure–or to start the next chapter together.
Olivia and Dustin and Emily are all Just Friends, but between the parties and the what-ifs and the maybes, lines are getting blurry. Sometimes, they get crossed. Ryan's the new kid. He's off-limits to Liv after Em dibsed him. But after the worst betrayal, you know what they say about best friends making the worst enemies.
Amanda's a regular girl. Tuttle's the coolest guy in school. There's no way he wants to be More Than Friends with her. Except that for him, football games and college applications can't fill the void she's left in his life. He wants her Forever.
First loves.
Last chances.
What's a little backstabbing between friends?
All three books from the FRIENDS series is included in this box set, plus the bonus novella ONE NIGHT!
Price: $0.99
---
 Synopsis:
One hot architect. One naughty schoolteacher. One crazy night that changes everything.
If I had known I'd have a hot architect balls deep inside of me before the end of the weekend, I'd have made time for a pedicure. Also, a little chat about not losing my shit at all the wrong moments.
Hindsight was a bitch, and karma…well, I didn't know her story yet.
Meet Lauren Halsted.
It's all the little things—the action plans, the long-kept promises—that started falling apart when my life slipped into controlled chaos.
After I fell ass-over-elbow into Matthew Walsh's arms.
I couldn't decide whether I wanted to run screaming or rip his pants off, and most days I wanted a little of both. If I was being honest with myself, it was rip his pants off, ride him like a workhorse, and then run screaming.
Meet Matthew Walsh.
A rebellious streak ran through Lauren Halsted. It was fierce and unrelentingly beautiful, and woven through too many good girl layers to count, and she wasn't letting anyone tell her what to do.
Unless, of course, she was naked.
She wasn't looking for me and I sure as shit wasn't looking for her, but we found each other anyway and now we were locked in a battle of wills, waiting for the other to blink.
Sometimes the universe conspires to bring people together. Other times, it throws them down a flight of stairs and leaves them in a bruised and bloodied heap.
Price: FREE
---
 Synopsis:
Having grown up in a dysfunctional family, Vanessa Pryce knows the futility of relying on a man for happiness. But there is one man who makes her want to ignore the truth: the irresistible Justin Sterling, her no-strings boyfriend since their college days together. Even after they break up, she continues to meet him for passionate encounters while keeping the relationship secret. No need to make public something that's doomed.
Billionaire tycoon Justin Sterling understands Vanessa's fears. But he's about to change the game they've been playing… Because when one drunken night of sex leads to pregnancy, he's going to move heaven and earth to rewrite their rules.
Price: FREE
---
Please make sure to check out the previous #sales post as some of those ebooks are still on sale!
Happy reading,
***Prices and products are accurate at the time of posting, but are subject to change.  Please verify all prices and products before purchasing.