After a full week of talking about my favorites heroes, heroines, new-to-me authors, steamy reads, and smartest books, it is time to highlight my favorite books of 2017.  This was no easy feat as I have read 300+ books this year, but these books stood the test of time encompass everything I love in a good book.  There are great, sexy as hell heroes, heroines with gumption, chemistry that sizzles in and out of the bedroom, plots that are engaging and fun, and writing that is superb.  These are truly must reads!
---
 My musings…
Sinful Empire by Meghan March is a stunning conclusion to the Mount trilogy that will have readers questioning everything they thought they knew, and will have them in awe of the evolution of Lachlan and Keira from enemies to power couple reigning over the city of New Orleans.
The one aspect that I love about a trilogy is the ability for an author to really delve deeply into the characters and their transformation, resulting into rich and complex people, and there are few characters out there who are as complex as Lachlan Mount.  Throughout Ruthless King and Defiant Queen, readers get a glimpse into the man everyone fears. Readers are shown the violent and cold-hearted crime boss and the domineering and possessive alpha, but over the course of the series they also get see the heart he hides from the world in his more private moments with Keira. With Sinful Empire, Lachlan's character completes this evolution, and readers get the side of Meghan March's heroes that always captivates them. They finally get to witness what motivates him, what leads to the rise of Mount in the seedy underground crime world, and what matters to him. It is these moments that makes us, as well as the heroine, forgive his past transgressions and the crimes he continues to perpetrate over the course of the novel. It is is his heart and his motivations that gives him that signature Meghan March hero quality, and, to be honest, what makes readers swoon where they stand…Full Review
Get your copy of the Mount Trilogy today!
---
My musings…
I enjoyed this story line from cover to cover.  The opening, although not really hilarious for our beloved heroine, offers enough laugh-out-loud moments with heart-wrenching incidents to have readers invested.  Ms. Hunting takes this series of unfortunate events to place the hero and heroine back in each other paths, and although it is this crazy and ridiculous scene, she leaves the two of them with one the sweetest moments in the whole book.  From these, the author only creates more beautiful and sexy moments with these two. Each day that they are together, readers get to see Amie become a bit stronger, to see these two fall in love thanks to the dual point-of-view, and to witness what what real love should be like, and I adore every single minute of their romance. If you read my reviews often, you know then that conflict is usually  a big sticking point for me, and the conflict of Hooking Up is not unexpected and neither is the fallout.  The characters, however, overshadow the entire event because I love them an their romance so much that I was just wanted more time with them.  I didn't want to see them apart and hurting, so I was completely okay with the conflict and rather quick resolution.
I am completely in love with this new world and new characters Helena Hunting has created.  This series of standalones provides romance readers with fun and sexy story-lines that are reminiscent of everything romantic comedies should be.  Lovers of Helena Hunting still get the signature humor they have come to expect from her while still providing with a story that has a different tone from her most notable Pucked series, and they still get insane chemistry between the hero and heroine that has elements of sweet and heat. It is, without a doubt, another must read romance…Full Review
Get your copy Hooking Up today!
---
My musings…
American King had me so scared to read it. I know the legend. I know how it ends, and I didn't know how Sierra Simone was going to take this story. Was she going to stay true to the legend? Was she going to give an HEA to the characters by deviating? This uncertainty had my anxiety at an all time high, and while I won't tell you which way she goes, I will tell you that she does this series and these characters justice. As a HUGE FAN of both the legend and this retelling, I couldn't have been more satisfied. Now, this is not to say that it doesn't hurt. It does. I cried, I laughed, I yearned, and I was shocked as I read the conclusion of this trilogy. Every single emotion possible passed through me, and although it is was painful, it was worth the ride. Aren't all great loves, though? Sierra Simone beautifully articulated how love is pain and hope and happiness and sacrifice all rolled into one beautiful and emotional ride, one that we all crave.
I don't even know what to do with myself now that this book is over. I know I need to pick up another book from me never ending TBR list, but I can't. The emotional hole inside my heart isn't ready to move on. I want to crawl back inside this world, read the whole series again, and bask in the heartbreaking and inspiring love story that is American Queen, American Prince, and American King. This ride is epic. It is beautiful. It is painful. It is not like anything I have ever read or imagine will ever read again. It is a trilogy I will return to time and time again, because this story, these characters, and their love is worthy of becoming a legend in its own right. Sierra Simone has created a masterpiece…Full Review
Get your copy of The Camelot trilogy today!
---
 My musings…
Be prepared for the emotional ride that is Drive. This plot line is not one that generally works for me (personal taste), but Kate Stewart did  it so well that I was enthralled with these characters from the very beginning. She authentically exhibits how someone can love two people, how someone could be happy with two very different people, and how there aren't always clear cut choices when it comes to the heart. In the romance world, readers often reject this idea and yearn for the soulmate, the clear-cut, no choice who the heroine she be with, but Kate Stewart has spoken to my heart and reached into my mind with this idea of loving two people. She does all of the characters justice, making the decision and the resulting falling action truly  heart-breaking. It is painful and it hurts, but the resolution couldn't have been more perfect, and it couldn't have made me love the characters any more than I already did.
Is there a genre of romance that Kate Stewart can't write? I don't think so, because I have yet to be find a book that hasn't wowed me. The comedies, the drama, the angst – she delivers with every single story, and Drive perfectly exemplifies everything I love about reading romance, a blending of life truths and passion (and ,of course, super steamy scenes)…Full Review
Get your copy of Drive today!
---
 My musings…
-DISCLAIMER: I am going to try to articulate how amazing and inspiring STILL is. I will; however, I'm sure, fall short. So, basically, what you need to know is BUY THIS BOOK/SERIES. It will change you. It will inspire you. It will make you yearn for real romance, not the stuff of fiction, but the stuff of real life.
Kennedy Ryan begins her book with quote from Nina Simone, "An artist's duty, as far as I'm concerned, is to reflect the times." There is no truer example of this than the Grip series (Flow, Grip, and Still) from Kennedy Ryan. The social concerns she infuses with the romance of Grip and Bristol is evidence that romance can have a real voice in the world of literature, that it can speak of social issues that need to be fixed and inspire people not only to find real love that survives the trials and tribulations of life but also to seek change through understanding and acceptance at the hands of love…Full Review
Get your copy of the Grip series today!
---
My musings…
It has been over a year since a novel has gripped me, and not just a novel but a series. The Renegades and particularly Rebel has enraptured me, heart and soul. I never want to leave these characters and this world Rebecca Yarros has created, and Rebel is just the shining star of an already beloved series.
What has made me love this series is the Renegades. This cast of characters are a real family, and the author writes about them in a way that you feel the love they have for each other. They will sacrifice and bleed for each other, provide endless, no strings attached support for one another, and give complete acceptance for what they desire and want. They are wild, crazy, and reckless, but at their core Pax, Nova, Rebel, and Nitro are passionate and live every moment to the fullest while they can, knowing they have each other's backs if they stumble and fall. Even as the Renegades grew with Rachel, Leah, and Cruz over the course of the series, their zeal for life never falters, pulling these new characters into the fold, and this group just became something special, something that is so hard to put into words. This family, not by blood but choice, is stronger than any I can remember reading about, and it is one that most would long to have as well…Full Review
GET YOUR COPY TODAY!
---
 My musings…
This is going to be a relatively short and sweet review for two reasons. First, everyone should read this book with out any spoilers, even minor ones. Second, my words will never live up to how beautiful and poignant this journey is.
This book moved me on a real-life level. I didn't swoon over heroes, get overheated from the steamy scenes, or sit on the edge of my seat from angst or suspense. What this story did for me as a reader was to make me look at life as valuable. I know that seems clear, but in the hustle and bustle of life, we often forget to cherish the moments, truly live our lives, and love fiercely, even if it hurts us in the end. This story reminds you of all of that…Full Review
Get your copy today!
---
 My musings…
This review is going to sound similar to all of my other Penny Reid reviews, and while I apologize for my lack of varied diction and new commentary about her books, know that it is because this woman writes impeccable novels. Whether or not I love the story or the characters, I fall in love with her craft and her story-telling, and I am constant awe of her ability to take real world issues and authentic characters we would meet in the world and weave them into a romantic story-line, expertly balancing the essence of literature with the entertainment of romance.
Beau is a more complex character than I could have imagined. In previous novels, he is the fun and charming Winston brother, the protector of his twin. In his story, Beard in Mind, readers get to witness a whole different side to him. Readers get to see person who judges first before really knowing someone, but the author shows readers how flawed this thinking is as his character develops. Penny Reid also shows a man who seems to be stuck as everyone else in his family moves on, trying his best to move forward too, yet not really seeing success. At the end of the story, readers get to see a full evolution of a character and they also glean important themes from his changes: our perceptions of people are based on our experiences and taint our judgments of them, and in order to prevent this we need to be able to learn and grow, understanding those around us…Full Review
Get your copy of Beard in Mind today!
---
 My musings…
There is not one aspect of this story I disliked or wished was faster or slower. The set up, the growth from friends to lovers, the conflict, the resolution is all just fantastic. Kate Canterbary allows the readers to fall in love with this couple and invest in them together, because they see how good these two are for each other emotionally and physically. This reaction to them as a couple makes readers's hearts ache when the inevitable conflict appears, and the falling action is hard to witness (I felt like my own heart was breaking). The ending though is everything a Riley Walsh finale should be, and I couldn't keep my smile off of my face.
The Walshes are such a great family. I want to be a part of this group of dysfunctional siblings that are a tad crazy and unfiltered but filled with so much love. This story is such a wonderful way for the Last Walsh sibling to find love, and I couldn't, as a reader, ask for anything more…Full Review
Get your copy of Preservation today!
---
 My musings…
The basic plot line of this story is not that surprising. With the way book one ended, readers have a pretty good idea of how the conclusion will unfold, and Aly Martinez doesn't really deviate from that story. There are moments, though, were readers will audibly gasp, and think "No!! Don't do this to me!" and hope their hearts won't crumble. At the end of the day, this duet has a message of hope, of finding light in the darkness, and no matter how emotional it is on the journey with Porter and Charlotte, readers achieve that sense of peace at the end of it.
Aly Martinez is one of my favorite writers, and not because of her characters and stories, though they are great, but because of her ability to craft emotional prose that not only gives readers a great romance but also gives them real-life themes and motifs of hope and survival. And who doesn't need a bit of that in the world…Full Review
Get your copy of the Darkest Sunrise duet today!
---
 My musings…
What readers will love most about this book is the theme, the idea that no one knows how much time he/she has left in this world and so he/she shouldn't waste it. Time is precious and not guaranteed, and people need to live their lives to the fullest with the people they love and attaining the things they hope and dream to have. It is about making every single moment matter, so that at the end, whether that is tomorrow, next year, or 50 years from now, there are no regrets, no what ifs, and no I wish my life would have been. Rosie and Dean teach readers to take happiness now and revel in every single moment.
While I have loved all the Sinners of Saint, Dean and Rosie's story, Ruckus, is going down as my favorite. It gripped my heart from the very beginning and bled me dry, but I loved every minute of the romantic torture L.J. Shen provided. This is one of those stories that will stay with me a long time from now, and one that makes readers look at life differently, better, and it will be a favorite of 2017…Full Review
Get your copy of Ruckus today!
---
 My musings…
This story will suck readers from the very first word. A.L. Jackson has this way of leaving enough breadcrumbs to the Zee's secret to keep readers engaged and guessing about the reveal without making the plot stagnant. On top of the perfectly paced suspense, she really brings the series full circle with the connection and explanation of Mark and his involvement with the band. As if it couldn't get better, the chemistry and romance between Zee and Alexis is expertly intertwined with the past and the suspense of the present to create a novel readers won't be able to put down. What will make lovers of the series so happy is the way she leaves the band. The men of Sunder and their ladies are special and their stories are brilliant, and A.L. Jackson gives them all the ending that is so worthy of the series, the beloved characters, and the many Sunder fans.
Stand by A.L. Jackson is complete perfection from cover to cover. It is everything readers could have ever asked for as the conclusion of this phenomenal series, and, although it is always so sad to say goodbye to well loved characters, this send off is everything they deserved!
No fear. Just life…Full Review
Get your copy of Stand today!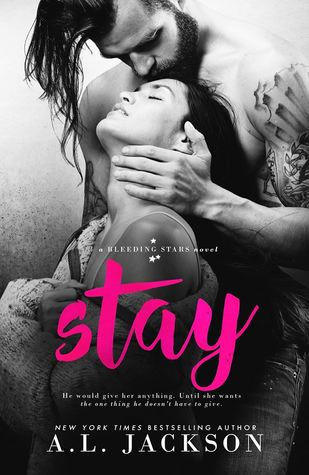 ***Stay is another top read choice***
---
 My musings…
Ahh! OH MY GOD!!! I absolutely loved this book.  It is a hide behind my shirt, I can't finish, but oh, how I must finish this book type of story. I, truly and completely, loved this book!
These characters are fantastic.  Dash is the older brother of Amelia's best friend, Lexi, and her seemingly unrequited crush.  When readers really get to meet him, as well as other flashbacks, reveal a sadder and more conflicted character.  Even as an adult, Dash has moments of despair that flash behind his eyes.  It is clear he has feelings for Amelia, but there always seems to be something holding him back, even as an adult. He is really such a original and lovable hero, readers yearn for his happiness  and for him to work past what is weighing him down so that he can grasp his own happiness with Ammy.  Amelia, the heroine, has been hurt and damaged by her past with Dash.  She lacks the ability to fully trust others, but her pull to Dash is too hard to resist, and really, readers can't blame her for that.  Additionally, Amelia is good to her core.  Kind, compassionate, understanding, forgiving, she has one of the biggest hearts I can recall in a heroine.  Even with these core attributes, Ella James never portrays her as a pushover or as one succumbing to Dash.  It is always her choice and what she desires and craves. These two, from the moment they are young, are meant for each other, and it is real and complementary…Full Review
Get your copy of The Boy Next Door today!
---
 My musings…
Just as in previous Knitting in the City books, Penny Reid not only details the romance of two engaging and complex character, but she brings so many other issues relevant to our society today. The conversation on loneliness, the use and possible abuse of robots, the need to have rules established to protect and sustain humanity, and even the discussion of what makes a good relationship are all topics addressed, but she infuses these ideas in an organic way that matches the personalities of the characters she has created. Her stories become more than a romance, but also focused solely on the romance (if that makes sense). The couple and their relationship still remains the forefront of the plot while making the readers think about the other topics brought up and discussed. Readers will be entranced by the relationship of Matt and Marie, and their quirks and honesty will win over readers, making them one of my favorite couples of the series.
Every time I hear Penny Reid is releasing a new book, I can barely contain my excitement. With each book, I know there will be something unique, something I haven't read before, and I know that it will be smart and intelligent story-telling. Dating-ish is simply another story to exemplify the talents and Ms. Reid, and adds another reason to the list of why she is one of my absolute favorite writers ever…Full Review
Get your copy of Dating-ish today!
---
 My musings…
I couldn't have asked for a better conclusions. T.M. Frazier has delivered an epic conclusion for one of the most iconic romantic anti-heroes I have ever encountered. We see him move forward and find peace, and yet Frazier still gives us Preppy moments we have come to expect from him. We still get the dark with his light. True to the series, this story is suspenseful and will keep the readers on the edge of their seats, anticipating how it is all going to play out. With the end of the series, the epilogue takes on a larger importance, and T.M. Frazier nailed it. 110%. She delivers all of the emotions and feelings, making this reader cry. The way she brings it back full circle, and how she leaves each member of this crew who I have grown to love and feel like they are a part of my family couldn't have made me any happier.
Unbelievable. Fantastic. Epic. The King series going down as one of my favorites of all times. This series has lived in the grey, balancing right and wrong, good and bad, and at the end of the day I want to live in the grey with them, because although they are bad boys, they are good men with a hearts of gold, and none more so than Preppy…Full Review
Get your copy of Preppy today!
---
 My musings…
Not only will the characters consume readers, but this story will stick with them long after closing the book. Each character has this emotional journey, and Meghan Quinn makes readers feel it all, the good and the bad.  At the end of the book, though, this author leaves readers with hope.  Hope that people can heal, hope the people can find love again, and hope that the future can be brighter, better, and more beautiful.  This is not a story of tragedy, but a story of hope.
Meghan Quinn's talents absolutely shine with Dear Life.  It is poignant and beautiful, exposing the raw and emotional ramifications of life tearing a person down.  But Meghan Quinn also shows the audience that through each tragedy there is something to learn, some way to become stronger and better, and possibly to find love again! This life-altering story is one the should be read world-wide for the themes alone, so her incredibly beautiful words are just icing on the cake…Full Review
Get your copy of Dear Life on Amazon!
---
 My musings…
This story is beautifully laced with hope and pain. There has been so much hurt for Graham experienced at the hands of those who shouldn't have harmed him and for Lucille, also at the hands of those she loved. And yet the fallout for both is different, but even with the different outcomes, these two are drawn to each other. Their connection inevitable. His dark, her light combine and twist into one of the most moving and real love stories I've read in quite some time. This romance focuses of life, on how we hurt and heal, and how we move on to get our happily-ever-after.
As I read The Gravity of Us, I could feel each word burrow into my soul a little more. These words, this story, these people affected me, showed me how to live a life filled with love and hope, showed me how to accept things for what they are and spin it in the best way, and showed me the importance of staying. It is impactful and moving and should be read by all. It is definitely a top read of 2017…Full Review
Get your copy of The Gravity of Us today!
---
 My musings…
You know when a book is so good you find yourself picking it up to read it, even if it is only for a minute?  You hope there is a line a the stop sign, so you can squeeze in one more page.  You ignore any type of responsibilities because you need more.  You're the Only One immersed me in the world and romance of Sky and Dillon, and it was perfection.
I absolutely adore Sky and Dillon and their story.  Sky is such a fantastic heroine.  Confident and independent, talented, stylish, and supportive, Sky is everything I respect in a heroine.  She is more than this surface level appearance, though.  She is complex, and has been shaped and molded by her past.  She struggles with trust and love, and she often protects herself by keeping others out.  She does, however, have the fortitude to push past her fear and attempt to find love and happiness. What readers will ultimately respect about this heroine is how she takes her future into her hands professionally and personally, and I enjoyed seeing her grow an develop throughout the novel. Just as Sky has growing up to do, Dillon does as well.  Dillon, throughout the novel, struggles with the pursuit of his dreams and being a stable and dependable man. Readers see him go back and forth between chasing his dreams and settling.  Even with his struggle, the kindness and loyalty he possesses shines through, making readers fall in love with him. His vulnerability and willingness to take a leap of faith, his strength in the face of difficulties, and his ability to put what matters first will have readers swooning over this hero.  These two are three dimensional, complex characters that will enthrall readers from their first moments together…Full Review
Get your copy of You're the Only One today! 
---
My musings…
The Hard Truth is like nothing I have ever read by Sawyer Bennett. Its reflection on life, on its hardships, on seeing our way through the darkness to enter the light hits deep in your soul, and leaves readers with a new respect and point-of-view on life.
These characters are so incredibly broken and flawed, saddled with diseases and circumstances that they shouldn't have ever been. These struggles are what put them in each other's path, and watching each change and evolve and grow during the trip shows the effects of love, kindness, compassion, and empathy. Seeing them change and evolve, dealing with the issues that plague them, trying to love every moment on their journey, while sometimes sad is ultimately inspiring. These four people end up pushing and motivating the members of their group, and,as a result, they begin to become better in certain ways…Full Review
 Get your copy of The Hard Truth About Sunshine today!
---
 My musings…
This story is a little different from the previous books in the Pucked series, which is to be expected, as Lance is the most damaged. Helena Hunting has crafted a story that shows the long and arduous process of healing from years of hatred and manipulation from others and sometimes self-inflicted. Her development of Lance throughout the story will hurt you with each memory that is told, and readers will completely empathize with his character. They root for him! They want him to see his value as they do! They want him to find love with his lady! Ms. Hunting does an amazing job at blending his story of redemption with the romance with his heroine. The way she weaves these two plot lines together has them being supports for the others. His evolution as character coincides with their evolution as a couple. What I love most about this story line is that while the conflict revolved around who I thought it would, it didn't play out the way I thought it would, which only exemplifies how much Lance has changed and grown from his healthy and loving relationship with his lady. The ending of the story is also the stuff of dreams, providing the reader the happy ending that these two characters desperately deserve.
Helena Hunting is a fantastic author, an automatic one-click writer for me, and she gets better and better with each book. I honestly don't know how she continues to do it, but I hope it never ends, as her stories have heart, humor, and heat, which is everything a phenomenal romance should have. Pucked Off is all of this and more. It is true angsty romance perfection…Full Review
Get your copy of Pucked Off today!
---
 My musings…
I cannot explain how much I love this novel! Seriously, my words will not be enough. It was light, fun, and so romantic.  I laughed, I swooned, and my heart swelled with joy.  It is simply FABULOUS!
These characters more than anything make this entire novel.  Their personalities, their chemistry with each other, and their story is just phenomenal.  I absolutely adore Charly, and I found myself becoming enamored with her character just as everyone in the novel seemed to do. She is fun and sweet, and she is a spitfire. I really just love every single aspect of her character. Then there is Vaughn. Oh, Vaughn!! I LOVE him! He is a famous actor who has a heart of gold and is grounded in the things that matter.  His dirty mouth, also, doesn't hurt! What I love most is these two together, though.  They way they interact, joking, bantering, and having fun at all times is so enjoyable to watch. They truly are magic together, and I was entranced from the opening pages…Full Review
Get your copy of Wardrobe Malfunction today!
---
 My musings…
This story is pure romance, and I love every single minuet detail. From the very beginning, Emma Chase pulls you into the story with Henry's attempt to fill his new royal role.  This is the first time that reader's truly sympathize with his character, as we see the immense pressure he is under.  His plan to escape these pressures is what sets him on the path the Meet Sarah again.  With each moment you see them together, the reader falls under their spell, falling in love right along with the characters.  The way Emma Chase writes makes you feel it, every wonderful and hopeful aspect of falling in love. Unfortunately that means that we also feel their pain, and there are many heartbreaking moments, times when I could feel tiny fissures in my heart from the pain. But that is love, right? There is good and bad, growth from your interactions, mistakes made, hearts hurt and healed. Emma Chase delivers in every single aspect, and I couldn't have asked for a better story with more love.
Emma Chase continues to be a oneclick author for me.  Her stories have so much heart, so much love, and they are always beautifully written. She never disappoints, and Henry and Sarah's story is just another jewel on this author's bedazzled crown, as it will be a top read of 2017 for me…Full Review
Get your copy of Royally Matched today!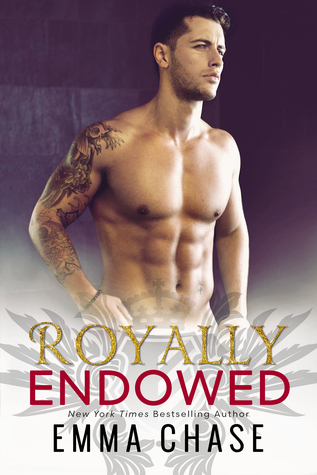 ***Royally Endowed is another top read choice***
---
 My musings…
I love this story, every single word, every single line, and every single page. From the very beginning, Vi Keeland pulls readers into the story with the antics that ensue in the first chapter and the natural chemistry between the characters. The interactions with secondary characters brings in the conflict of the story, leaving the two main characters, who readers will love, untarnished by climax and falling action of the story. With EGOmaniac, Vi Keeland has pulled together a story that will have readers rooting for these two not only to get the HEA they deserve with each other but also the HEA they deserve with the other people they care about.
EGOmaniac is pure reader perfection! Steamy, sexy, romantic, fun, and entertaining with its fantastically developed characters, engaging plot, romantic themes, making this book my FAVORITE Vi Keeland book to date and top read of 2017…Full Review
Get your copy of EGOmaniac today!
---
 My musings…
Once readers start this story, they will not be able to put it down.  Alessandra Torre brilliantly creates this tension filled relationship that can be felt from the opening pages.  With each passing month, she builds up reader anticipation for Kate and Trey to finally come together.  The constant back and forth between the characters and the recognition and declaration of their physical attraction should lead to readers being frustrated with these two, but it doesn't. These almost moments will have readers' hearts aching.  Every time Trey or Kate is forced to watch the other interact with another person hearts will crack a little.  Alessandra Torre makes readers feel like the characters' feelings are their feelings, their longing, their passion, and their heart break. What readers will love most, though, about this story is the conflict and the resolution of the story.  Trey's lifestyle in the bedroom provides the much needed conflict to break down this seemingly compatible in every way couple.  His ownership of what turns him on, along with his ability to recognize how he has changed, only serves to makes readers become more enamored with this cocky and self-assured hero. The resolution, Kate's growth as a character, makes the reader admire Kate for her ability to open her mind while also sticking to behavior with which she is comfortable.  The resolution gives the readers the HEA they desperately want while also staying true to the characters.  Alessandra Torre puts the cherry on top of this sexy and decadent novel with her epilogue, which is perfection.
Love in Lingerie
 is pure magic! Each word, each interaction, each look across the table is emotionally charged, enticing the reader to fall in love.  Trey and Kate's energy captivates readers' hearts, and they will have no choice but to continue reading until the very final word has been read.  Even then, readers will be reluctant to walk away from Trey and Kate. Their relationship and Alessandra Torre's words are just that good, making 
Love in Lingerie
 another top read of 2017…
Full Review
Get your copy of Love in Lingerie today!
---
 My musings…
Sarina Bowen delivers another hockey romance that will sweep readers right off their feet! With her beautiful writing, suspense filled plot, and endearing characters, Hard Hitter is guaranteed to be a reader favorite.
Patrick O'Doul will steal everyone's heart. The brusque and often rude captain of the Brooklyn Bruisers is so much more than meets the eye. With a troubled past, he has lived most of his life in isolation, until one yoga instructions starts to break down his walls. Watching him fall for Ari makes the reader enamored with O'Doul. Being able to witness his walls crumble and his protective nature come out showcases the heart he has been hiding behind his churlish demeanor. With the secondary conflict that arises for Patrick, readers also get to see that he is honorable and truly cares for his teammates and the organization. Watching his development as a character, going from closed off to open to relationships of all types is completely endearing and wonderful…Full Review
Get your copy of Hard Hitter today!
---
My musings…
More than just the romance though, A Thousand Letters has so many themes that will resonate with any reader.  The idea of truly living life, of dealing with death, and of forgiveness and second chances are universal, allowing readers to connect to Wade and Elliot's story on a secondary level. The way in which Staci Hart conveys these ideas, through the use of excerpts from poems only serves to hit home the themes that she expresses with her plot and character development, plus it made my English heart flutter with the beauty of the words she selected to highlight the message of her novel.
This novel is so much more than a romance, but a commentary on life.  On letting go, of living, of forgiveness, and of the importance of second chances.  This story of redemption, although painful at times, ultimately leaves the reader inspired not only to live, but also to take a second chance and to forgive themselves as well as others…Full Review
Get your copy of A Thousand Letters today!
---
 My musings…
This story is everything I wanted for Kai and Banks. It is emotional, tumultuous, sexy (you have no idea what is in story for you), suspenseful, and although it is on the darker, more unconventional side of romance, there are always these incredibly sweet and intense moments between the hero and heroine. Throughout the novel, readers get to see them struggle in the past and present to embrace and fight their feelings for each other. We see them scheming and trying to out play each other, and we see them with the whole group trying to navigate the very difficult situation with Damon, the struggle of forgiving a friend who betrayed them all so horribly with getting retribution for everything he has done. The ending will absolutely have you on the edge of your seat and will break your heart, and while the main characters get that HEA we always seem to want as readers, there are two more books left in the series, so we know there are still unresolved plot issues with the overarching plot line of the series, dealing with the four Horseman and the betrayal that has rocked them to their core. I will tell you that the little tease Penelope Douglas shared with readers at the end of the book has me already salivating for 2018 and the release of Kill Switch.
We may have had to wait some time for Hideaway, but, as always, Penelope Douglas delivers another unforgettable read. It is worth every day of waiting, because it's beautifully written, it showcases their darkest desires and demons, and beneath these characters we get a glimpse of ourselves. We get to see that the world isn't black and white but gray, and we get to see the lines aren't always so clear. And this is ultimately why I love Penelope Douglas's stories; she isn't afraid to show us the darker sides of humanity that we choose to suppress like Kai, embrace like Damon, control like Michael, or hide from like Will. This integration of romance with a glimpse of humanity is what entices readers not only to one-click her books but also to immerse themselves in her worlds, and this is world that will seduce you, making readers never want to leave…Full Review
Get your copy of Hideaway today!
---
Happy reading,