Book boyfriends!! Is there anything better than meeting a hero that just hits every single attribute you love in man?  Hot as sin, a little dominate and possessive, confident enough to let his independent woman be who she is, and underneath all that sexy dominance is a heart of gold, showcasing his kind and compassionate side.  This year, I seemed to lean towards the bad boy, but isn't that what romance heroes are all about?
Without further ado, check out my top book boyfriends of 2017
---
 My musings…
This hero is so unlike the average romance protagonist readers meet.  He isn't suave, isn't drop dead gorgeous, doesn't know how to woo women, and is completely inept in picking up on obvious and clear signals, and I absolutely adore him for it.  It isn't possible not to fall in love with him.  Everything from his manners to his charm to his inexperience makes him completely desirable, and I had no chance to resist him, very much like the heroine of the novel… Full Review
Get your copy today!
---
 My musings…
Lance is one of the main reasons I love this book so much. My infatuation with this character began with his appearance in Forever Pucked, and I lost my mind when I found out Lance would be the hero of the next book in the series. My fangirling is completely warranted, as Lance is so incredibly complex and tragic, yet still shows incredible strength and grit. My heart lies in pieces over this man. The self-loathing, knowingly emotionally harming himself with a toxic relationship, broke my heart into tiny little pieces throughout this book. I had an actual ache permeate throughout my heart. I just wanted to hold him and tell him that he is worthy of love from himself and others. Even though he has this self-hatred and low self-worth, he still is incredibly caring and sweet. Watching him with his heroine and his friends as the novel progresses, only showcases how worthy he is of all the greatest things this world has to offer, but more than anything he is worthy of real love Watching him learn this lesson is so hard, but it is worth it. When he evolves throughout the novel and finally gets that HEA, my heart was so full with love for him and his lady…Full Review
Get your copy of Pucked Off today!
---
My musings…
Lord, oh, Lord, Drew Fisher, I wasn't prepared for you.  I wasn't prepared for his dichotomous nature, with the sweetest words that had me swooning so hard I was a puddle on the floor and the dirtest words that had my blood heating up, flushing my skin, and let's be honest, the sweet and the dirty gets me every time. He is so much more than a man of words, though, he is a man of action.  With each act, look, touch, he shows how much he loves, and his endless dedication to those he cares for only serves to have readers fall more head over heels in love with him.  And they will. There is no doubt in my mind that readers will absolutely fall in love with Drew…Full Review
Get your copy of This is Reckless today!
---
  My musings…
Mount, the man no one talks about, the man no one one wants to meet is the anti-hero of my dreams!! The more depraved, the more dangerous the better for me, and Mount fits this to a tee!! It is what makes him alluring and irresistible. This man commands power with no words, his presence alone emits danger, and others sense it and fold to his desires and wishes. How HOT is that?? On top of all of that, this man exudes sex, and there is no question as to what he could do to your body if you let him command it. Of course, we get to see a slightly different version to him when he is alone with Keira, but it is a small change in his behavior. He doesn't want to force her, he wants her to submit freely and willingly. Yes, he plays with her, arouses her, demands things of her, but he never forces her, and this taps into female desire to be seduced and owned sexually. The moments with Keira and the moments with his minions also serves to show how severe he is in business and how much softer he is with Keria, both sides making him completely and totally captivating . You feel like he is a lion drawing you into his den, and you don't care that he will devour you because it will be that good…Full Review
Get your copy of Ruthless King today!
---
My musings…
Grip is a special character, probably my favorite hero EVER. I know that is a crazy claim, considering I've read almost read 300 romances in 2017 alone. It is, however, completely true. He is the one hero who I love completely, not one aspect of his character is a turn off. His love and devotion to Bristol is unparalleled, especially in this novel, and he loves her in a way that we all want to be loved by a person. He accepts her fully, never trying to change her or push her for something she doesn't want. Grip also exudes passion in all parts of his life: his love for Bristol, his work for change with Iz, and his love music. What really pushes him over the top in STILL, though, is the end and how he chooses to handle every aspect of their awful and unimaginable ordeal. After STILL, I respect this man more than I ever did, and I can say with absolute conviction that he is the type of person I not only want, but he is the type of person) I dream of for my daughters one day…Full Review
Get your copy of Still today!
(Free in Kindle Unlimited)
---
 My musings…
Riley is amazing in a strangely endearing wreck of a man kind of way. He, at times, acts younger than his 30 years, considering his love of comics, but he has this vibrancy for life. It emanates from him. You literally just want to sit and soak in his energy. He is clumsy, yet has this incredible gift with his hands, drawing or preserving old historical homes. While he is often a mess, he is anything but in the bedroom, and I love seeing this dominating yet incredibly caring man take care of his lady. What will really make readers fall under the spell of the Riley Walsh, though, is the way he loves. He loves with abandon, holding nothing back. It is the way we want to be loved. All of these parts of this man, the good, the bad, and the crazy, create one of the most irresistible heroes I have ever encountered..Full Review
Get your copy of Preservation today!
---
 My musings…
Dean Cole is so much more than I ever thought he was in the previous books. His complexity, his motivation, and his brokenness all endear readers to him and make them sympathize with him as a character. His emotional dysfunction hidden behind the playboy mask makes him the perfect match for the physical dysfunction caused by Rosie's illness. Rosie, God, how I loved Rosie. Her need and desire to protect others, to lessen the blow from her illness on others, and to live her life to the fullest even with her physical weaknesses make her an admirable heroine. She longs to be treated as more than her illness and she finds this in the hands of Dean. These two heal each other, and make each other whole, better, and happy. They embrace each others flaws, and together they begin to live a full life with all the aspects they desire and crave, even with certain secrets waiting to take them down…Full Review
Get your copy of Ruckus today!
---
 My musings…
One of the many aspects that made me love American King so much is that we truly get to see the inner workings of Ash. We get to see what motivates and drives this man from his perspective, and what we see will astound readers. He is honestly one of the most honorable and loyal characters I've ever met with integrity that is unparalleled. He balances wanting to please and love his Prince and Queen with taking care of his Kingdom, and we see how much of a struggle that is for him the whole way through the book. This struggle makes him human, makes him sympathetic, and makes readers wish for a ruler like him. The flashbacks and inner dialogue also show readers a side of Ash we have always expected existed but never really saw. His love and devotion for Greer and Embry is the stuff of legends, literally. This man loves with his whole being. His decisions, his thoughts, his actions, and his pleasure all centers around these two and their happiness. Even when they are broken and shattered, he still thinks about them and what they need to be happy and safe and that is all they want for him in return…Full Review
Get American King today!
---
My musings…
There is one part of the book where T.M. Frazier talks about being in the grey, and that is where these characters live, especially Preppy. He is diabolical and has committed many atrocities for which he should be incarcerated, and yet, he has one of the biggest hearts of any hero I have ever met. Incredibly loyal, this man values family, the one he has created, and truly exhibits that family is more than just blood. This man who has been through so much throughout his life has finally found a home and peace among his friends and his life, and his happiness gave me no greater joy. Part of what brings this peace is Dre. Like T and Doe, she never attempts to change Preppy, but accepts him for who he is. She loves all of his darker parts and sees them as good. This isn't a blind ignorance. She loves all parts of him, because his heart and goodness overshadows it all. I swear I would forgive Preppy almost anything just like the women in his life…Full Review
Get your copy of Preppy Part Three today!
---
 My musings…
Aaron is just everything I love in romance hero. He is so sweet, nurturing, compassionate, caring. Basically insert any characteristic that would exemplify the perfect partner. He longs to make her happy, treat her well, and be understanding. He has no qualms about talking about forever and talking about what his end goal is with her. Meghan Quinn, though, makes his character more complex with his insecurities and relationship with the other members of this family. This aspect of his characterization creates not only sympathy for Aaron, but we want him to see himself the way we do and the way the heroine does. He is so worthy of love and happiness, and reader devotion to his character drives the whole story…Full Review
Get your copy of The Other Brother today!
---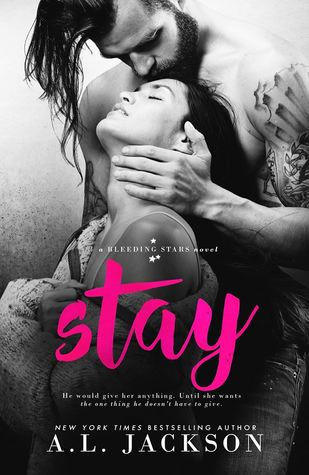 My musings…
Ash is not anything that he appears to be, and while readers expect this from the men of Sunder, Ash's mask he wears may be the hardest to bear.  Readers of the series know Ash as the life of the party, always looking for a good time and ready to throw down when needed, but there always seems to be something hollow, something missing, and when Ash finds it, he cannot let go.  The self-loathing, the lack of self-worth is not something that I ever expected to get from the cockiest members of Sunder, but this is a side that he keeps suppressed.  His vulnerability, his pain, and his desperate need for redemption will make readers want to reach out and hug him, because at the core of who Ash is he is a good man. The layering and fully developed characterization of both Willow and Ash not only showcases the incredible talent of A.L. Jackson but also is one of the many reasons readers will fall in love with Stay…Full Review
Get your copy of Stay today!
---
My musings…
Alexander Knightley is the hero of my dreams. He is intelligent, attractive, driven, and even though he has this gruff and seemingly truculent persona, he is incredibly thoughtful and sweet. When he turns on the charm, readers need to be prepared to swoon because there is no way to resist his charisma. What really makes him the perfect romantic hero is that he also brings the heat in the bedroom, and it isn't in that over-the-top dominant kind of way. He is vocal and tells Violet what he wants, but it is counteracted by the care he shows here.  There is no misinterpreting his acts as anything other than care and eventually love.  Readers will also become so invested with his character that they will root for him to evolve and to change his ways, to truly begin to live in the moment, and their emotional reaction to the inevitable setback that occurs in the novel hurts them just as much as it hurts the heroine. Louise Bay makes sure, though, the Alexander Knightley is the true knight in shining armor by the end of the story…Full Review
Get your copy of The British Knight today!
---
Check out these other Best of 2017 Heroes that the readers of Belle's Book Talk loved:
---
Happy reading,