I LOVE a series, especially a series of stand alone books, clearly.  I am an absolute sucker for series where authors foreshadow characters and their plot lines, usually causing me to stalk these authors to find out the next publishing date, but I also love that these series of stand-alone books allow readers to catch up with old characters that we love from the same series.  Being able to live in the same world but get different stories from different characters is truly like getting the best of both worlds!
*At least one book, if not the whole series, was read in 2017.
---
My musings…
Adriana Locke has started another amazing series with Crank.  The Gibson boys have absolutely stolen my heart, and like the Landry family, she has effectively made me love the whole family, every single rough-around-the-edges Gibson man.
Walker Gibson is the perfect blend of broody, grumpy man and swoon-worthy hero.  I love the way in which he can be shut down and closed off, but they Adriana Locke shows us tiny glimpses of the heart beating beneath the coldness with the actions he takes.  His interactions with his brothers as well as his cousin and Nana makes him even more charming.  As with most heroes, his skills in the bedroom as top-notch, but I thoroughly enjoyed is domineering side and the verbal sparring between the two in and out of the bedroom. It really matched who he was versus being the same old intimate moments between hero and heroine…Full Review
Get your copy of Crank today!
Free in Kindle Unlimited
---
  My musings…
Meghan Quinn cannot write a bad romantic comedy! I swear every time I think this one is my favorite, she releases a new one and I'm blown away yet again!
I'm so happy that Tucker got his HEA, and that readers got to see a different side of him. This caring and considerate man with a heart of gold won me over from the very beginning. Even with the past weighing him down, he still finds happiness among his friends and Emma, and readers will love watching him work through his issues and become a man that chases after what and who makes him happy. Plus, his swoon factor is off the charts, making him my favorite Meghan Quinn hero (So sorry Andrew and Adam! It's been fun!)…Full Review
Get your copies of the Binghamton series today!
---
 My musings…
I adore this cross-over novel, which is part of The True North Series and contains characters from the Brooklyn Bruisers series (all can be read as standalones). Bountiful is sweet and sexy with a genuine hero, a sassy heroine, and a little girl that will absolutely melt your heart.
One of my favorite aspects of the book is the characters.  Every single one, from the main characters to the secondary ones, are so enjoyable and developed, and I found myself looking for clues that we would eventually get their stories (fingers crossed)…Full Review
Get your copies of The True North series today!
---
 My musings…
I may have survived the Checkmate series, but barely. Each of these stories is filled with such angst and heartbreak that I felt my insides ache, and although, team Layla is not my favorite of this duet series, their story is the most heartbreaking.
Logan, if possible, just got better in This is Beautiful. From the way he cares for Kayla to the sacrifices he makes for her and the countless selfless acts his real makes this knight in shining armor shine a bit brighter. His endless understanding, though, is what makes this story hurt so bad. With every day that passes, we see how each forgotten memory is a lash to his pure and kind heart, and every time he felt it, I felt it, too…Full Review
Get your copies of the Checkmate series today!
---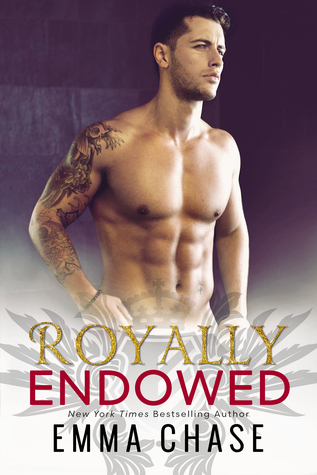 My musings…
Emma Chase has always been a favorite of mine, but she has truly created something fantastic with this series of standalones.  Each story and each character has hit the bulls-eye every single time, and Royally Endowed completes the hat trick.
Ellie Hammond stole the show for me in this one.  Her whole aura and attitude for life drew me to her character, making it clear to see why Logan would have been enamored with this spitfire. The way in which Emma Chase writes her character makes Ellie vibrate with life, like readers can feel the essence of her character through the pages. Ellie makes readers want to live life freely and taking every single moment it has to offer.  It is intoxicating and lovely, and readers, as well as Logan, have no choice but to succumb to the charms of this woman…Full Review
Get your copy of Royally series today!
---
 My musings…
Dr. Neuro by Max Monroe might very well be my favorite story by this phenomenal writing duo. With the perfect balance of humor and romance, Nick and Charlotte's story enchanted me from their first encounter.
Nick was a secondary character in the final installment of the Billionaire Bad Boys series, Scoring the Billionaire, acting as the absentee father to Winnie's intelligent and lovable daughter, Lexi. As readers of that series, we don't really have a great impression of him, but in Dr. Neuro we get to see a whole different side of Nick. We see his motivations, what pushes him to make the wrong, but in his head right, decisions. We see him working every day to make it right with Winnie, Wes, Remy, and Lexi. Basically, Max Monroe gets readers to fall head over heals in love with this man, and to see him really come to life when he is with Charlotte only adds to the already alluring Dr. Raines. He checks off all of my boxes: sexy, intelligent, compassionate, doting father and boyfriend. If I was single, he would be the example I compare all men to…Full Review
Get your copy of the St. Luke's Docuseries today!
---
 My musings…
The Real Dirty Duet is absolutely my favorite from this series!! It is so steamy and sweet, and the journey for Boone and Ripley is one that kept me entertained from cover to cover (seriously devoured it in like 2 hours because I couldn't put it down).
Boone Thrasher is still that bad boy, southern gentleman, country boy readers loved in book one. If it is possible, readers get to see an even sweeter and romantic side to this man. I swear when he visits his family, freaking swoon!! His down to earth nature, his adherence to his roots, his focus on what is important, really important, in the world, makes him sexier than his looks and skills in the bedroom. His dedication to winning Ripley over and his wooing of her is incredibly romantic, and he has the perfect balance of protecting her, yet giving her room to stretch, giving her the independence and freedom she needs and craves…Full Review
Get your copy of Real Dirty & Real Sexy today!
---
 My musings…
M. Robinson is another author that gets it when it comes to anti-heroes, consistently making me fall in love with bad men and violent criminals. Plus, I always enjoy the emotional angst and drama that her story-lines provide, and El Santo is just another example of each of the aforementioned attributes.
Damien is a man forced into evil and into committing atrocious acts in order to survive and save himself.  However, as the novel progresses, these attributes become a part of who he is, slowly changing the young man in the beginning of the novel to the cold-hearted killer as the novel progresses.  The act that stimulates the beginning of his evolution as a character is not only hard to witness, but it allows the reader to see a glimpse of young man readers want him to be as well as the killer they will come to know.  It also serves as a moment of self-realization that only serves to further convince him of his lack of goodness, ultimately affecting his relationship with Amira.  The dichotomy of his character only continues to grow from here, as we get to see his heart when he is with Amira and Rosario, but we also get to see the dangerous and lethal side of him, giving readers that hero we have come to expect and love from this author…Full Review
Get your copy of El Santo today!
---
My musings…
If it is at all possible, I am more in love with Landon and Heidi than Jensen and Em, and I absolutely adored them. The Wright Boss has all the angst and heat that makes a forbidden romance so delectable, and I was captivated from the first chapter.
Landon is a hero that grew on me. In book one, The Wright Brother, and at the beginning of this story, Landon was kind of a push over with his wife/ex, Miranda. I mean how many chances can you give someone who clearly manipulates everything. His growth throughout the novel, though, turns him into a hero to adore, and I ended up really loving the way he stands up for Heidi and their relationship, showing that he won't cave…Full Review
Get your copy of The Wright series today!
---
My musings…
Sawyer Bennett has brought the Wicked Horse back, and it is better than ever!! I loved the first series so much, which takes place in Wyoming, and I wasn't sure if I could love this one as much, but do I ever!! Steamy. Sexy. Debauchry. What more could I ask for???
Jerico and Trista are electric. From the moment they touch, their chemistry is off the charts. And while their initial meeting and sexual relationship is the result of something deceitful. It quickly becomes more, because it is romance, and Sawyer Bennett is a genius and delivering spice with her sweet…Full Review
Get your copies of the Wicked Horse Vegas series today!
---
 My musings…
I bow down to the queen of suspenseful romance! Hideaway by Penelope Douglas is absolutely every single thing I wanted from book 2 in the Devil's Night Series: edge of my seat plot line, OH MY GOD revelations, a phenomenal heroine, more development of our beloved Kai, and steaminess galore. It is complete and utter perfection!
Kai has always been the quiet, almost reserved, and certainly the most kind of the Horsemen, and with Hideaway, we get to see that he has still retained all those attributes; we do, however, get to see more behind the man in the silver mask. Readers get to see what has really troubled his soul and mind since the events of Corrupt, we get to see what he grapples with internally, and we get to see him give chase to the woman he covets. The back and forth between the past and the present not only shines light on who he was in the past in relation to the present, but it also shows the development of his relationship with Banks over the course of their lives from the time of their first meeting. The use of flashbacks spliced with the present only enriches his character, and for the first time, readers truly get to see behind the figurative mask he wears, even around his closest friends. I can guarantee that readers will not be disappointed…Full Review
Get your copy of The Devil's Night series today!
---
 My musings…
OH MY GOD!!! I absolutely love every single aspect of The Learning Hours – How to Date a Douchebag by Sarah Ney.  It is romantic comedy perfection, and I never EVER wanted their story to end.
This hero is so unlike the average romance protagonist readers meet.  He isn't suave, isn't drop dead gorgeous, doesn't know how to woo women, and is completely inept in picking up on obvious and clear signals, and I absolutely adore him for it.  It isn't possible not to fall in love with him.  Everything from his manners to his charm to his inexperience makes him completely desirable, and I had no chance to resist him, very much like the heroine of the novel…Full Review
Get your copies of How to Date a Douchebag series today!
---
Happy reading,